Post Feedback | Printer-Friendly | Send Article to a Friend
June 9, 2009 - by Elliott Richards
Featured Listings
Bangkok House· For Thai near Times Square, enter Bangkok House...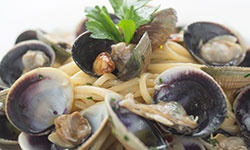 Da Marcella· A Mediterranean taverna in the Theater District...

There is a sense of the extraordinary at the revival of South Pacific at the Vivian Beaumont Theater. The first three notes of "Bali Ha'i" lure audiences back into what may be Rodgers and Hammerstein's greatest scores -- and then into a bittersweet story about bored American Seabees on the verge of a major World War II battle and the romance between nurse Nellie Forbush from Arkansas and a French plantation owner, Emile De Beque.

The production, for which Bartlett Sher won the Tony Award for best director, restores the original's 1949 orchestrations and returns to Broadway a long-absent musical that is humorous, poignant, tragic, inspiring and offers a still-pointed lesson about prejudice.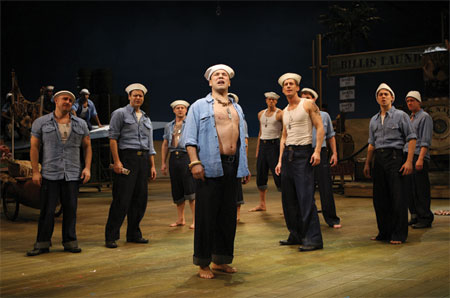 The show still stars the Tony-winning Paulo Szot, who plays Emile with operatic machismo. Kelli O'Hara, the original Nellie, who was nominated for a Tony and is on temporary pregnancy leave, has been replaced by Laura Osnes (who made her mark on Broadway last season starting as Sandy in Grease).

"She's every bit as good as Kelli," says Danny Burstein, who plays Luther Billis, the always-hustling Seabee with an unrequited crush on Nellie. "It can be difficult when a new person comes in, and there are different rhythms and you don't the luxury of five or six weeks of rehearsals. But Laura came in and exceeded all expectations."

Burstein says that when the show opened last year, 59 years after the original premiered on Broadway, there could have been significant pressure -- if he thought a lot about it.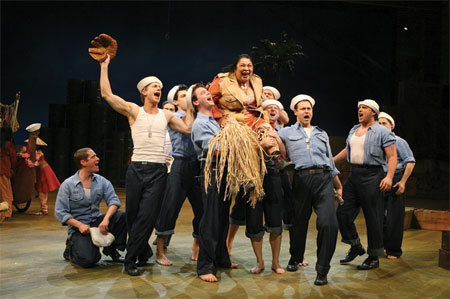 "But once you start rehearsals, you're not thinking of getting it right for anybody, just in playing the truth in the moment," he said.

It would be hard not to be intimidated by a musical with South Pacific's pedigree. It is based Tales of the South Pacific by James Michener, Oscar Hammerstein II and Joshua Logan (who directed the original and wrote the book).

Burstein notes that Sher said early on that revival would not be a museum piece; that it would bring South Pacific into the 20th century. It uses state-of-the-art lighting and compelling projections illuminating maps and excerpts from Michener's book, and is performed on a moving, three-quarter thrust stage that slides back to reveal the orchestra during the overture and pre-Act II "concert" of the iconic score made up of: "Some Enchanted Evening" and "A Cockeyed Optimist." "Bloody Mary" and "There Is Nothing Like a Dame." "Younger than Springtime" and "I'm Gonna Wash That Man Right Outa My Hair." "Honey Bun" and "Happy Talk." And more.

The power of the original material and the brilliance of the new production have evoked strong reactions. "People say, 'I want you to know I saw the original production with Mary Martin and this is just as good,'" says Burstein. "And you see some of these older people crying at the curtain call and you know you've brought back this wonderful memory for them; you've brought them back to their youth."

For Burstein, getting a handle on Luther was a matter of seeking depth in a character who could be a cliché.

"One day I was talking to Bart and we came to the conclusion that nothing gets this guy down, nothing can make him stop. Things are thrown in his face; he's put down the other sailors, by his commanding officer and he's rejected by Nellie... he's told no all the time, but he just perseveres."

Burstein imbues Billis with melancholy and the same touch for broad comedy that led him to a Tony nomination for his role as Aldolpho in The Drowsy Chaperone. And, as with Adolopho, he has turned the role into a tour-de-force crowd-pleaser performance that keeps getting better over time.

In drag during a show on the New Hebrides island where South Pacific is set, he's half Milton Berle, half Carmen Miranda (in a bra with cups made to look like coconuts). In other scenes, he channels Bert Lahr, George Burns, W.C. Fields and George Raft.

Interestingly, Burstein took on the role of Billis once before -- as a teenager in summer stock. "But I never would have imagined I'd play the role on Broadway," he said. "This is a dream come true."

South Pacific is playing at the Vivian Beaumont Theater, 150 W. 65th St. For reservations, call 212-239-6200 or click here.



Archives: Related Articles
Most Popular Articles on CGNY