(9/28-10/4) There's more to do in NYC now than there's been since the mid-March lockdown. With the state infection rate below 1% for more than a month, the Governor has cleared the way for indoor culture to return. Museums can reopen with safety and cleaning protocols in place, although admission will be limited to 25% of capacity. The list of reopened cultural venues is lengthening; last week we added the New Museum, Fraunces Tavern Museum, the Society of Illustrators, and MoMA PS1. This week sees the return of the Intrepid Sea, Air & Space Museum.
Culture fans also have two major exhibitions to enjoy, spread out around the city. The reimagined 58th New York Film Festival will feature drive-in and virtual screenings. The outdoor screenings will have extensive health and social distancing procedures in place. Drive-ins are located in three locations, one each in Brooklyn, the Bronx, and Queens. The festival runs from September 17th through October 11th. Photography fans will want to check out the 9th annual Photoville Festival, a free photo destination that combines online community storytelling events with photo exhibitions in public spaces throughout all five boroughs. The festival runs from September 17th through November 29th.
This detailed map of open restaurants shows over 10,000 venues now serving; included in that number are more than 5,000 places where you can eat outside. More than 340 streets have been closed to traffic and opened to expanded outdoor dining plans. Shopping malls got the green light to reopen this week—read on for more reopenings and other things to do!
FALL FOLIAGE CRUISES

Fall foliage cruises are back! Circle Line Sightseeing Cruises is back plying the Hudson, departing from Pier 83 in Midtown Manhattan and cruise under the George Washington Bridge, along the majestic Palisades, under the new Cuomo Bridge, and turning back to the city at Hook Mt. The cruise sails Saturdays and Sundays from October 3rd to October 31st. Onboard food and beverage options include bratwurst, sandwiches, pizza, nachos, salads, and snacks, plus a full bar serving up hot and cold beverages, beer, wine, and cocktails. For COVID times, the boats are thoroughly cleaned every day; guests and staff are required to wear masks; all parties must practice social distancing by sitting six feet apart from each other; and food and beverages may not be consumed inside the boat.
In addition, Circle Line takes kids on a free ride on the legendary 90-minute "Landmarks" cruise. Landmarks leaves every day (except Tuesday) at noon and heads down to the Statue of Liberty for selfies, and then up the East River, going under the Brooklyn and Manhattan Bridges for more amazing shots. All Circle Line boats have spacious, outdoor decks perfect for safe, social distancing. The boats also have concession stands where drinks and kid-friendly food like pizza and hot dogs are available for purchase. Use discount code KIDSFREE20 at checkout. Limit two per transaction. Offer only valid with the purchase of at least one adult ticket. circleline.com
NEW YORK'S ACTIVITY AUTHORITY
Get editors' curated recommendations and have more fun:
FREE TACOS
New in Hell's Kitchen, Casa del Toro serves up authentic Mexican food and drink. After closing up shop while New York was on pause, the bar and restaurant have come charging back. You can dine here IRL: there is sidewalk seating outside and you can enjoy the launch of the restaurant's Oaxacan outdoor oasis. Tucked away from the car horns and traffic are vibrant gardens inspired by the Ethnobotanical Garden of Oaxaca. Sunday, October 4th you can join Casa del Toro to celebrate National Taco Day. Anyone who attends their Taco Day nightly celebration, starting at 5pm, will receive their choice of a tinga de pollo (braised chicken, avocado, and onion) or frijoles negro taco (slow-cooked black beans, queso cotija, guacamole, and arugula). In addition, other taco varieties will be available for just $3 each. casadeltorony.com
DRIVE IN MOVIE
The Sol Cinema Cafe is a coffee shop by day, and cinema by night, created by ImageNation Cinema. On Saturday, October 3, they'll be hosting a car-only drive-in at the East River Plaza. The film, Bakosó: Afrobeats of Cuba, follows DJ Jigüeto to his hometown of Santiago de Cuba to find musical inspiration. Preceded by a mix from Bembona. Not amplified, in-car only. solcinemacafe.com/drive-in-movies
BROADWAY BY BALCONY
When we can't have Broadway, we can have the next best thing: a Broadway star performing live. Midtown boutique suite hotel The Kimberly celebrates its long-awaited reopening this Thursday, October 1st at 7pm. Broadway star Alexandra Silber and an accompanying pianist will set up on one of the hotel's numerous balconies to perform Broadway classics. Silber will serenade dinner guests from a third-floor balcony overlooking the outdoor dining areas of The Kimberly's house restaurants, Bistango and Empire Steakhouse. A celebrated soprano, Ms. Silber's credits include Tzeitel in the Tony-nominated revival of Fiddler on the Roof. kimberlyhotel.com
CITY-WIDE DANCE OUT
The Dance Rising Collective, a new collective of artists and administrators, presents Dance Rising: NYC, a hyper-local dance out across all five boroughs Thursday, October 1st and Saturday, October 3rd from 5-5:30pm. Professional dancers from NYC will take to the parks, windows, streets, and rooftops to dance, and bring attention to a cultural sector that's still mostly on pause. dancerising.org
SKY HIGH YOGA
Edge, the highest outdoor sky deck in the Western Hemisphere, is back open for 360-degree views with jaw-dropping glimpses of the Empire State Building, One World Trade Center, the Hudson River, and much more. Starting this Friday, September 18th, you can also enjoy a socially distant fitness experience. Edge has partnered with Equinox Hudson Yards to offer an all-new 'sky high' yoga experience that merges fitness with an inspiring atmosphere. Join the launch at a morning yoga class on Edge's 100th floor outdoor sky deck. Please let me know if you would like any additional information! Tickets will be released on a week-by-week basis and are $50 (ticket price includes Edge's reduced general admission adult ticket price of $36). Class equipment, including yoga mats, will be provided by Equinox Hudson Yards. edgenyc.com
FREE FITNESS
Athleta is hosting free fitness classes each weekend over the next 3 weeks. This Saturday, October 3rd, join in for yoga in Staten Island; Saturday, October 10th will feature salsa dance in Brooklyn. Classes are free but a $5 refundable registration is required to hold the space. athletanyc.com
NATURAL BROOKLYN
Etienne Frossard
As Brooklyn Bridge Park reopens, more live events are being added to the calendar. This Friday night you can join the Amateur Astronomers Association of New York to take in the night sky. A socially distant experience (weather permitting), you'll find high-powered telescopes readied for stargazing sessions.
For more to do with kids this weekend, visit our sister site New York Metro Parents.
LIVE JAZZ IN CENTRAL PARK
Marcus Strickland, E.J. Strickland, Ben Williams, JosieSay © Jimmy Katz
Jimmy and Dena Katz, creators of Giant Step Arts, a groundbreaking, artist-focused non-profit dedicated to supporting visionary jazz musicians, have taken their programming to the park. Walk with the Wind is a series of free performances in Central Park that honor the memory of John Lewis. The shows take place, weather permitting, on The Mall at 1pm. Saturday, October 3rd you can hear saxophonist Melissa Aldena and bassist Pablo Menares with a drummer; Sunday, October 4th brings saxophonist Darius Jones with drummer Gerald Cleaver and bassist Dezron Douglas. giantsteparts.org
OUTDOOR FILMS AT HUDSON YARDS
The safe, outdoor cinema at Hudson Yards continues to serve up classic flicks, picnic boxes, and beer and wine through October 18th. In addition, catch live sports. hudsonyardsnewyork.com/events/live-sports-backyard
LIVING HISTORY

Get back out into the real world with the South Street Seaport Museum, which is opening up the 1885 tall ship Wavertree to the public. Entry continues this weekend on October 3rd and 4th, in addition to October 10th; timed entries are available from 11am-5pm at Pier 16. Free tickets provide access to the ship's outdoor decks. seaportmuseum.org/visitwavertree
ART MEETS STYLE
Art by EPPERSON (foreground) and Yelaine Rodriguez (background). Photo credit: Connie Zhou.
Get some art as you shop for style with Long Gallery Harlem, which has mounted a new installation inside Nordstrom NYC. On view through Thursday, October 29th, Styling: Black Expression, Rebellion, and Joy Through Fashion celebrates style within Black culture as a historical form of creative expression, rebellion against oppression, and source of joy. Some 15 artists are represented, meaning you'll see a range of work here (curation was done by Souleo). long.gallery/stylingblk
LEARN ITALIAN THIS FALL—REMOTE OR IN PERSON
The gifted language instructors at Collina Italiana on the Upper East Side are passionate about sharing their language and culture, giving students a feeling of connection with the beating heart that is Italia. The faculty here understands that learning goes beyond just mastering grammar or following rules in a book. That's why many classes are dedicated to Italian food, travels, culture, politics, literature, and beyond. The school's philosophy is to help New Yorkers immerse themselves in Italia's beautiful culture through the unique experience of each instructor. Whether your goals include being able to speak to locals on a trip to Italy one day, or just learning how to correctly pronounce "bruschetta" at your neighborhood trattoria, Collina Italiana can help you achieve them and soar far beyond. You can join the fall session of classes now! There are private lessons for both adults and kids in person, or online options for individuals and groups (onsite group lessons begin in a month). Health and safety remain a top priority and Collina Italiana follows New York state safety protocols for in-person learning. LEARN MORE NOW!
MUSEUM OF THE DOG REOPENS
The Museum of the Dog was founded by the American Kennel Club in 1982. After a stint in St. Louis, the museum is back in NYC and better than ever, with new exhibits and interactive displays and a deep catalogue of dog-related art. New to the museum is the exhibition "Presidential Dogs," which opened Tuesday, September 8th, and continues through January 3, 2021. The exhibit will look back at the breeds that have lived at the White House and their influence on the American public. Specific presidential dogs will be highlighted, from George Washington's Foxhounds all the way to Bo and Sunny the Portuguese Water Dogs. 101 Park Ave., 212-696-8360, museumofthedog.org
TOUR PACKAGES
Since 1990, 5A has been an industry leader in travel and incentive programming in North America. In that time they have prepared hundreds of custom travel experiences for groups and individuals, built new and groundbreaking travel routes, and helped tens of thousands of people experience the beauty and culture of the continent. NYC tour packages with hotel accommodations are designed for travelers arriving on Thursdays. Per person price base in a SGL/DBL King Room:

Full day Hudson & Full Day Wine Tour – Departs Fri/Sat/Sun 8:30am
Washington & Philadelphia Departs – Thu/Fri/Sat/Sun 7am
New York Bridge Tours – Fri/Sat/Sun 12:30pm
212-286-3333, fiveaincentiveplanners.com
REOPENING NEW YORK: ARTECHOUSE

Head to the historic boiler room of Chelsea Market to experience ARTECHOUSE, a new immersive art space that's reopen as of Thursday, September 3rd, after several months joining New York City's pause. The venue is being re-inaugurated with "Intangible Forms," a kinetic audio-visual laser performance and installation by Japanese multimedia artist Shohei Fujimoto. The exhibit conveys the sensation of stepping into the engine room of a spaceship, or perhaps being in the audience for an orchestra made out of light. Minimalism and technical know-how are both on display as the art builds and shifts, with sound to complement. You can see this installation through Wednesday, October 14th. ARTECHOUSE is ensuring guest safety by limiting capacity and using best practices for health and cleanliness. (For a limited time, all online bookings will receive an automatic $5 discount on tickets purchased.) artechouse.com/nyc
BEAT THE BOMB IMMERSIVE VIDEO GAME EXPERIENCE

Beat The Bomb, an immersive video game experience based in Dumbo, Brooklyn is opening up with new experiences and safety measures. The ultimate social distancing activity, Beat The Bomb is perfect for families, small groups, learning pods and quaranteams who are looking for a new kind of challenge—kind of like an escape room. The hour-long experience features a series of four games broken out into different rooms, allowing for a unique flow that separates groups for better distancing. The goal: earn time on the bomb clock by beating levels. Then disarm the paint bomb before time runs out… or GET BLASTED! (PPE has always been a part of the experience, but it's really coming in handy now.) beatthebomb.com
BEERS IN BROOKLYN

New York City beer favorite Sixpoint is back. Their "Small Batch" program is making a triumphant return with more hours in their brewery courtyard, more ways to get beer fast, and at-home delivery throughout the state. Enjoy a socially distant brew in the beer garden starting this weekend and continuing on Saturdays and Sundays at 40 Van Dyke St. in Red Hook. Hours are noon to 7pm on Saturdays and noon to 5pm on Sundays. Masks will be required when standing and they ask that people only drink while seated at a table. Complimentary snacks are provided for all patrons. sixpoint.com
ROOFTOP SUSHI

To experience an oasis—and top-flight sushi—head up to the top of the Sanctuary Hotel New York in Midtown West and its Sushi Lab Rooftop. Amid a vibrant scene and ample space for social distancing, you'll find modern sushi and favorite Japanese accompaniments. Omakase is back in a big way, with the chef serving up a selection of 10 signature courses, or a journey for the senses with 15 dishes in "The Lab Experiment." Hand rolls, specialty rolls, and fresh salads fill out the array. sushilab.nyc
EMPIRE OUTLETS HOSTS FREE PROGRAMMING

Empire Outlets, a retail center on Staten Island, is the only outlet mall within the five boroughs of New York City and the first of its kind in one of the shopping capitals of the world. Located just across New York Harbor from One World Trade Center and the Statue of Liberty, a free 20-minute Staten Island Ferry ride connects you with deals on your favorite brands—and some of the best views of the New York skyline.
For those who need a little R&R on Sundays, Empire Outlets will host a FREE weekly morning yoga session provided by Staten Island North Star Yoga. All levels are welcome for this one-hour session along the waterfront from 10 to 11am. Participants must bring their own towels and mats and will receive a special promo code towards their purchase at Nike at Empire Outlets. Stay tuned for socially-distant outdoor Flick Fridays coming up soon! empireoutlets.nyc
WINE + OYSTERS + LIVE TUNES

Industry City is making the most of summer with the killer combo of oysters, live jazz, and crisp wine every Saturday. Oyster impresario Mother Shuckers (Brooklyn's only oyster cart) is setting up shop at Sahadi's outdoor seating in Courtyard 3/4 and shucking on demand. It's on from 4-8pm. industrycity.com/event/live-jazz-music/
VIRTUAL TOURS OF THE UNITED NATIONS

Ahead of an in-person reopening, UN Visitors Services is presenting virtual tours and briefings, hosted by the UN's legendary multilingual tour guides. Online visitors can learn about the organization's roles and can get insider angles on famous spaces like the General Assembly Hall and Security Council. Tours are available for groups or "UN Kids." visit.un.org
YANKEE STADIUM VIRTUAL TOURS

Yankees Stadium holds many stories inside its walls. Experience the historic team's history from your own grandstands with Yankee Stadium Tours' new virtual visits. The Yankees are holding tours twice a week, every Tuesday at noon and every Thursday at 2pm, for about half an hour each. You can reserve a spot here, and prepare to learn more about New York. The tour features iconic sites like Monument Park, essentially the Yankees' Hall of Fame, honoring the franchise's greatest players, managers, and coaches. You can also get a peek at the New York Yankees Museum, which features historic jerseys, baseballs, and more detailing the Yankees history. Book now, as tours are quickly reaching capacity.
THE CITY RESPONDS

Photo by Milo Hess.
It feels like we're living in the middle of history which makes the new outdoor exhibit at the Museum of the City of New York more than fitting. The museum is sharing the public's stories of experiencing the COVID-19 pandemic and the uprising against police violence. The first phase—an outdoor installation—has already been mounted, featuring some of the many images that have already been submitted. This first exhibition is the starting point for a new exhibition that will tell the stories of 2020 and what comes next for NYC. You can visit the exhibition outside the museum's building on the Upper East Side/East Harlem (the museum itself has reopened, with free admission through September 14th). mcny.org/nyresponds
HAVE A QUESTION ABOUT THE CITY?

City Guide brings you "Everything to Do NYC," a community of people helping each other get everything we can from the city. Looking for a restaurant? Ask ETD. Want to share a great find? Let us know about it. It's your go-to group for how to get everything you can from everything in New York. facebook.com/groups/everythingtodonyc
DATE NIGHT SPECIALS

You can find American cuisine with French influences at NYC favorite The Ribbon on the Upper West Side. You can expect delights for all palates, including spit-roasted meats, seafood, and Blue Ribbon classics like legendary chicken. With dining rooms closed, the Bromberg brothers' 25+ years of renowned hospitality is being focused on pickup and delivery. From Thursday through Sunday, take advantage of their "Date Night Package." For $64.99 per person you can enjoy a decadent spread that comes with two 1-pound grilled lobsters, baked potato, coleslaw, corn on the cob, and a bottle of Cava. theribbonnyc.com/delivery
NEWLY REOPENED!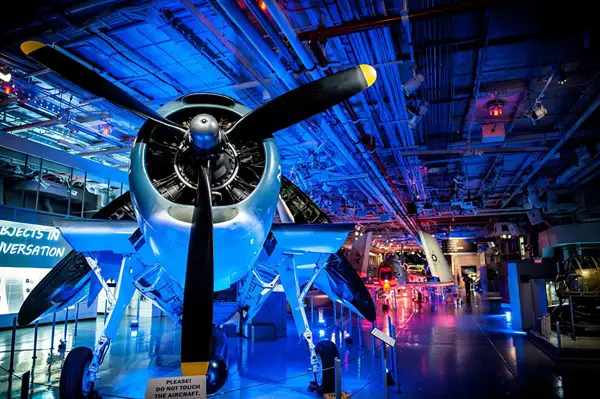 Founded in 1982, the Intrepid Sea, Air & Space Museum takes visitors on an interactive journey through history to learn about American innovation and bravery. After several months on pause, the museum is back as of Friday, September 25th. Among the treasures here you'll find the Space Shuttle Pavilion, home to Enterprise, the world's first space shuttle, which paved the way for America's successful space shuttle program. Also on display are 27 authentically restored aircraft, including the Lockheed A-12 Blackbird, the world's fastest military jet and spy plane, and the British Airways Concorde, the fastest commercial aircraft to ever cross the Atlantic Ocean. For the safety of both staff and visitors, many new safety procedures have been put in place—you can read about them here. Pier 86, W. 46th St. and 12th Ave., 212-245-0072, intrepidmuseum.org

Ripley's Believe It or Not! Times Square invites guests of all ages to experience the unbelievable mysteries of our world. Home to rare artifacts and thrilling interactive exhibits, this one-of-a-kind attraction is perfect for those who want to immerse themselves in the unusual, the unexpected, and the unbelievable. Hours have just been updated to 7 days a week, 11am-6pm (the last ticket is sold one hour prior to closing). For a safe experience, new initiatives include enhanced cleaning and disinfecting schedules; hand sanitizer stations throughout the attraction; limited capacity; face coverings required for all guests and staff; new signage; and temperature checks for staff. In addition, interactive exhibits will remain closed until it's safe for them to open. ripleysnewyork.com
Even omakase is back. This chef-driven sushi tradition is returning with an outdoor dining version, available at Omakase Room by Tatsu in the West Village. Four tables outside the 14 Christopher St. location let Chef Tatsu provide a full omakase dining experience. From Tuesday through Saturday, Chef Tatsu and his team offer two seatings, at 6 and 8pm. There are eight seats available at each seating. The edomae-style omakase meal ($130) consists of 14 pieces of freshly prepared sushi plus dessert. Chef Tatsu will work at his counter inside the restaurant, bringing pieces of sushi to the guests seated outside with assistance from his server team. Sake is available by the glass and bottle, in addition to beer, wine, and special Japanese teas and soft drinks. (Food and beverage menu here.) The outdoor space evokes a Japanese rock garden. Reservations for parties of two can be made via Resy. Accommodations for solo diners or parties of 3+ may be arranged by calling the restaurant directly at 212-367-2067. Delivery options are available as well. omakaseroom.nyc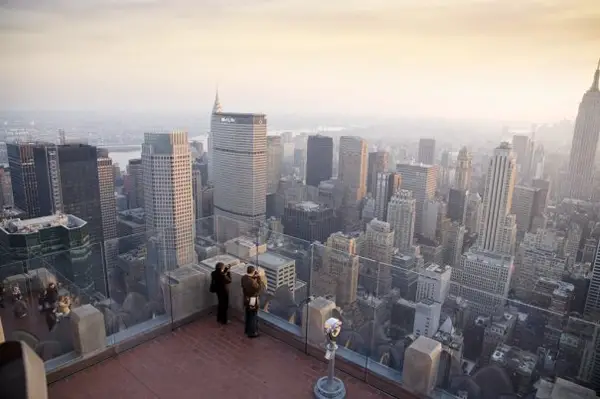 Top of the Rock, a stunning perch atop Rockefeller Center, offers wholly unobstructed views of the city's most iconic landmarks, including the Statue of Liberty, the Empire State Building, the Chrysler Building, the rivers, and all of Central Park (its size can only truly be appreciated when seen from above). The Grand Viewing Deck on the 69th floor offers unparalleled views of the city and the 70th Floor is an open-air perch with completely unobstructed views—no glass or anything. Top of the Rock reopened to the pubic on Thursday, August 6th. Social distancing is easier here: Top of the Rock has more open-air viewing space than any other observation deck in New York City. New hours for the Observation Deck are daily 1-9pm; guests will enter from West 50th Street, between Fifth and Sixth Aves., and proceed with timed tickets to the glass stairs upon entry. Visitors without a pre-purchased ticket will be directed to the box office. Capacity will be limited, masks are required, and hand sanitizer is available throughout the attraction. Note that kids 12 and under will get in free with the purchase of an adult ticket through Labor Day. topoftherocknyc.com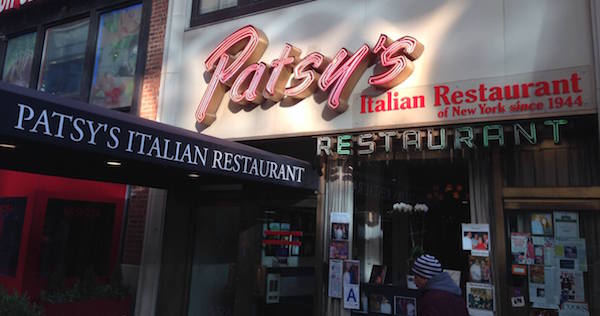 New York restaurants come and go, but Patsy's Italian Restaurant is forever. The famed eatery—which only has one location, right in the heart of Midtown Manhattan—turns 76 this year and is only getting better. After being on pause for several months, takeout and outdoor dining have returned. Expect classic favorites of home-style Sicilian cuisine like rigatoni Sorrentino, linguine with clam sauce, veal rollatine Marsala, and chicken Contadina. Hours will be 4-9pm Wednesday-Sundays; customers can make reservations by calling 212-247-3491 or emailing [email protected]. patsys.com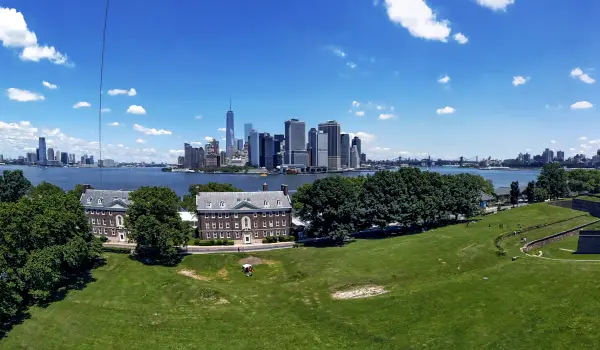 Image: Nestor Rivera Jr/Flickr
Governors Island, a short ferry ride from Brooklyn or downtown Manhattan, is New York's summer playground. A former strategic battle site in the Revolutionary War, the island now hosts visitors during the warm months for outdoor activities. After several weeks of coronavirus shut down, the island is back open for visitors as of Wednesday, July 15th. Hours will be 10am-6pm on the weekdays, extended to 7pm on the weekends. Manhattan ferries run daily from the Battery Maritime Building at 10 South St. There will be Brooklyn access as well, leaving from Atlantic Basin in Red Hook, although they'll be available on the weekends only. (A third way of travel will be a dedicated weekend shuttle from Wall Street/Pier 11 that will run roughly every 30 minutes, ferry.nyc.) Social distancing should be observed on all ferries and the island, with face coverings required for travel. govisland.org
The west side's beloved elevated park, The High Line, will reopen on Thursday, July 16th. To accommodate our new normal, capacity at the park will be greatly reduced. Free timed-entry tickets are opened every two weeks on Mondays. A limited number of walk-up passes will also be available at the entrance, but advance planning is recommended. Traffic will only flow in one direction, starting at Gansevoort Street. All visitors must enter at the southern end of the High Line, at Gansevoort Street and Washington Street, and move northwards. In this first reopening phase, the High Line will be open only to 23rd Street. Citywide safety protocols will also apply here, including the requirement of wearing a mask or face covering and maintaining 6-foot social distancing. thehighline.org

As of Thursday, July 16th, lobster boat rides are back! The North River Lobster Company is NYC's only floating lobster shack and this week it returns to summer cruising form. You'll find all kinds of rolls (see above), from the classic signature to specialty rolls like the Lower East Side everything bagel option. There's also clam chowder, a full raw bar, and sangria, frozé, buckets of cold beer, and fishbowl cocktails to match. For safety, the boat will be thoroughly cleaned multiple times a day, all staff and guests will wear face coverings, and admission will be at half capacity to ensure social distancing. Departures from Pier 81 will run 1pm, 3pm, 5pm, 7pm, and 9pm, every Thursday, Friday, Saturday, and Sunday. northriverlobsterco.com

An NYC favorite in the heart of Greenwich Village, Villa Mosconi is known for homemade pastas and fresh seafood. This week they've begun their phased reopening, starting off with take-out and delivery, and transitioning to outdoor dining. An expansive menu of Italian classics will be edited down to a focus on customer favorites and market-driven seasonal options. Cocktails and wine will be available for outdoor dining or to-do service. Table reservations are suspended for now but you can get more information at 212-673-0390. villamosconi.com

Hershey's Chocolate World is the place to go in NYC when your sweet tooth starts kicking in. Located in the heart of Times Square, the newly reopened store features chocolate experiences for everyone to enjoy. At Hershey's Kitchens Bakery indulge in a chocolate-filled brownie or peanut butter blossom cookie. Relax with a refreshing Hershey's chocolate spritzer or warm up with a Hershey's melted hot chocolate. If you can't make it to the Hershey chocolate factory tour in Hershey, Pennsylvania, Hershey's Chocolate World in Times Square is the next best stop. Hours are now 11am-7pm. hersheys.com
The Rockefeller Center Autumn Greenmarket returns! Head to the plaza (they're observing GrowNYC COVID Guidelines) through October 23rd. Wednesday-Friday every week stop by between 8am and 5pm for the best of harvest. Specialty products from regional farms include seasonal produce, ciders, honeys and syrups, baked goods, wines, and spirits. Rockefeller Plaza between 48th and 50th Streets and Fifth and Sixth Avenues, rockefellercenter.com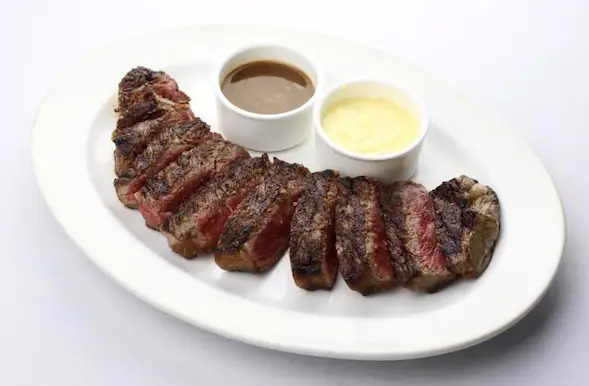 Benjamin Prime combines modern elegance with traditional steakhouse classics, while also showcasing signature standouts from highly regarded sister property Benjamin Steakhouse. After perfecting both steakhouse and seafood concepts in their arsenal, Benjamin Restaurant Group is highlighting the grill at Prime, serving up USDA prime dry aged steaks and succulent seafood in unique ways. As of Wednesday, July 8th they are open again for outdoor dining! Hours are 11:30am-10pm on the weeknights and 4-10pm on Saturdays. Don't miss the return of the Power Lunch Menu, weekdays from 11:30am-4pm; Just $39 covers an appetizer like crab cake or lobster bisque, followed by entrees like a USDA Prime junior New York sirloin, and desserts like a classic New York cheesecake.
benjaminsteakhouse.com/prime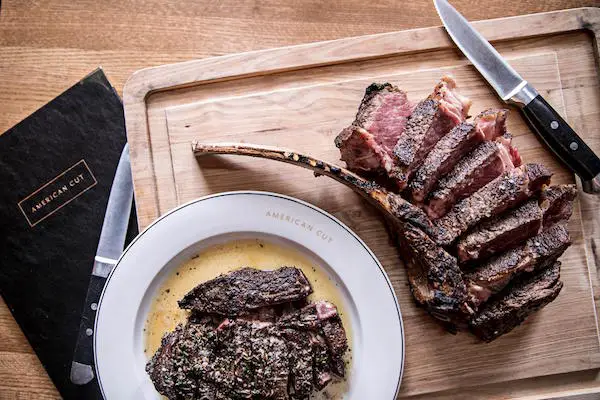 After rave reviews for his namesake Tribeca restaurant, Chef Marc Forgione has made a name in the world of steakhouses as well. At American Cut, old New York elegance is matched with the chef's 21st century sensibilities. New this week, American Cut's Midtown East location is once again available for delivery and pick-up. Many signature dishes can be found, in addition to bottled cocktails (3 for $21) and bottles of wines at up to half off retail prices. The tantalizing menu items include the house tomahawk Creekstone Farms dry-aged steak (above), an OG Caesar salad, striped bass, the house burger, and a chili lobster starter. bbot.menu/americancutdeliveryorpickup
Havana Central's all-day menu boasts the best in Cuban cooking. Dig into classic dishes like Cuban sandwiches, empanadas, jerk-seasoned chicken wings, "ropa vieja" beef stew, mango salmon, and vegetarian paella. You can once again enjoy it in person, as outdoor dining comes to Times Square, daily noon to 9pm (tables available on a first-come, first-served basis). You can also dive into this great cuisine with pick up and contactless delivery. Cuban family meals, grocery boxes (fruit, chicken, and vegetables, order by 5pm Wednesday for pickup after 1pm on Friday), and Caribbean cocktails to go are all also available—12oz and 32oz mojitos are highlights (tropical flavors optional). Note that Havana Central has expanded its delivery zone: covering 16th to 79th Sts., both east side and west. havanacentral.alohaorderonline.com

Although the Statue of Liberty and Ellis Island remain temporarily closed, Statue Cruises is once again out and about in New York Harbor. Sixty-minute tours, complete with history and stunning views, can now be booked. Lady Liberty and the museum are closed, but the Park Service has now granted entry to Liberty Island and Statue Cruises is the only way to access it. Tours run four times daily out of the Battery Park departure point in Lower Manhattan at 10am, 11:30am, 1pm, and 2:30pm. These tours will continue until Liberty Island and Ellis Island reopen (Statue Cruises is the exclusive provider of ferry service for the National Park Service to the two landmarks). Tickets are $26/adult, $19/seniors, $14/child and free for children three years and under. Tickets may be purchased in advance (strongly encouraged) from the Statue Cruises website or at Gangway 5 in Battery Park. statuecruises.com

Photo: Julie Larsen Maher © WCS
Friday, July 24th welcomed the return of New York's zoos—the Central Park Zoo, Prospect Park Zoo, Queens Zoo, and the most famous of all, the Bronx Zoo. (Famous for a good reason—there are 8,000 animals there, spread across a habitat that includes 265 acres of hardwood forest). Guest health and safety are the top priority, with social distancing, limited capacity, one-way paths through the park, and touchless interactions. Open exhibits at the Bronx Zoo include the African Plains, African Wild Dogs, American Bison, Baboon Reserve, Big Bears, Birds of Prey, Children's Zoo, Himalayan Highlands, Sea Lion Pool, Tiger Mountain, and the Wild Asia Monorail. Visit the Bronx Zoo's Know Before You Go section to learn more. You'll need to get your ticket in advance (no tickets will be sold at the gates). A touchless entry will let you in, but you must have a face covering, and follow spacing markers to ensure social distancing. bronxzoo.com
JOIN THE RUBIN FOR PARTICIPATORY INSTALLATION "THE LOTUS EFFECT"

The Rubin Museum of Art is an arts and culture hub powering connections between contemporary life and the world of the Himalayas. The Rubin has recently launched a new participatory installation, The Lotus Effect, in response to the COVID-19 pandemic. Lotuses take root in murky waters and bloom above the surface, giving them important symbolic resonances. For The Lotus Effect, the Rubin invites the public to fold a lotus flower and dedicate their origami creation to someone or something that has helped them overcome a challenging time. When the Rubin reopens, people can contribute their folded piece to an installation in the museum that will serve as a community-built symbol of gratitude and resilience. Brooklyn-based origami artist and engineer Uttam Grandhi has provided video instructions to create a folded lotus. While the Rubin is closed, participants can share photographs of folded lotus creations on social media using the #TheLotusEffect and tagging @RubinMuseum. For much more, visit rubinmuseum.org/TheLotusEffect.
NYC RESOURCES

The Metropolitan Opera is streaming operas FREE nightly.
The New York Public Library provides access to more than 300,000 FREE e-books and e-audio books.
NYC Health information page for COVID-19.
NYC restaurant world information.
Stream hundreds of Broadway shows (by subscription).
15 Broadway shows you can watch from home.
Broadway performances live—from stars' living rooms.
The New York City Ballet presents a spring digital season.
Virtual programming will keep you connected to the York Theatre Company.
One World Observatory has made One World Explorer, the attraction's Digital Skyline Guide, available for remote watching. Virtual helicopter tours of the city's most iconic sites are available now.
51 New York TV shows and movies.
5 eras of New York to enjoy in books and movies.

2,500 museums and galleries you can visit virtually.
The New York Botanical Garden in bloom from home.
Exploring Ripley's Believe It or Not! Times Square.
The Top of the Rock launches a brief virtual tour on YouTube.
Fun at-home activities for kids.
6 podcast series to help you understand New York.Discover the best of New York, from hidden gems to iconic landmarks, through The New York Landmarks Conservancy's "Tourist in your own Town" Video Series.
VIRTUAL MUSEUMS
Explore the world of design with Cooper Hewitt.
Experience the Intrepid Museum anywhere.
New-York Historical Society from home.
A portal to the map collection of the Brooklyn Historical Society.
Virtually visit the Louis Armstrong House Museum.
The Merchant's House Museum from home.

You can take a virtual tour of the Tibetan Buddhist Shrine Room at the Rubin Museum of Art. (You can find two hours of meditative chanting as well, if you're searching out some respite.) The Rubin has also, for the first time, launched a digital assemblage of more than 300 items from the museum's collection.
VIRTUAL TALKS, LECTURES, AND EVENTS
Thought Gallery has hundreds of livestream talks, lectures, performances, and more. Check out sessions with celebs, live concerts, and opportunities to learn the latest on everything from science to philosophy to social justice.
VIRTUAL ESCAPE ROOM
Missing escape room adventures? NYC fave The Escape Game has some great play-at-home editions including Unlocked: The Heist—Vol. 1: Chasing Hahn, which includes all the pieces of the original mission kit, ready for play in quarantine. They've also just launched a new series, The Escape Game Remote Adventures. These are escape games you play with your friends, family, and co-workers on Zoom from anywhere in the world. Players progress through the room using an online clue bank, a live Game Guide, and a 360-degree view of the room. theescapegame.com/remote-adventures
GREAT NYC MEALS ARE WAITING!

Among the top steakhouses in the city, Benjamin Steakhouse serves its guests with class and plenty of taste. Extraordinary sirloins, ribeyes, and filets are dry-aged by the steakhouse and served with sides like crab legs and bleu cheese-topped home fries, as well as Benjamin's own steak sauce. Although dining rooms are closed, their full menu is available for pick-up at Benjamin Steakhouse New York City and Westchester locations. Revised hours of operation will be Tuesday through Saturday from noon to 8pm. They are offering special deals on packaged meats to cook at home! Look for a very appetizing $5 a burger patty, $14 for a filet mignon, $9.95 per piece for USDA prime rack of lamb, and $20 a pound for cuts of meat that include Porterhouse and bone-in New York Strip. Packaged meats are available for door-to-door delivery in the Hamptons all summer—with free shipping for all orders over $299. For in person dining outdoors includes their oyster happy hour, Tuesdays through Fridays from 4-7pm, featuring $1.50 oysters and half-off select beer and wine at the bar. benjaminsteakhouse.com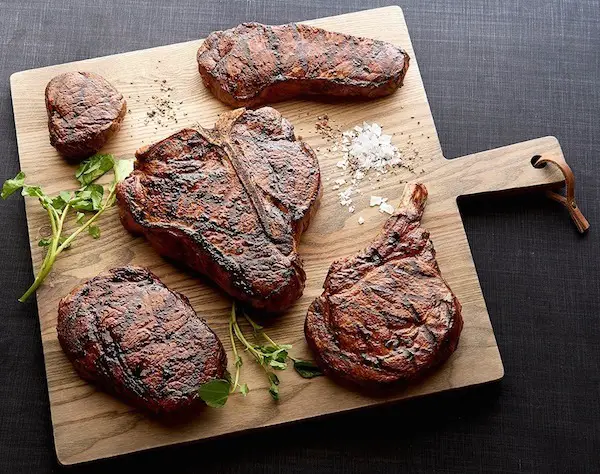 Morton's The Steakhouse in midtown is open daily from noon until 8pm for pick-up. Celebrate the season with a special "Summer Menu," $49 per person, available for take out or delivery. Choose a starter from Caesar salad, summer tomato bisque, or prosciutto-wrapped mozzarella, followed by entrees that include grilled jumbo shrimp and scallop Cobb salad, grilled salmon fillets, filet mignon with loaded mashed potatoes, and a 16 oz. double bone pork chop with apricot and horseradish chutney. Sides include creamed spinach, summer sweet corn, broccoli florets, or sour cream mashed potatoes. There's even a choice of dessert! Think summer berry trifle, double chocolate mousse, or Key lime pie. If you're celebrating a grad, grill packages ready for cooking at home are also available, with specially priced bubbly pairings. (You can also ask for Morton's full a la carte delivery menu.) Grubhub link.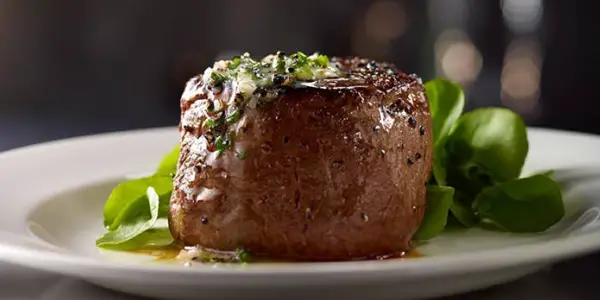 Del Frisco's Double Eagle Steakhouse New York reflects the energy, vibrancy, and romanticism of the city. And once again you can experience it yourself in person! Del Frisco's midtown patio is now open and serving customers. Steak is only the beginning on a modern menu, which you can check out here. (In addition, you can get this elevated steakhouse experience with to go options. Curbside pickup brings 10% off all to-go orders, and half off of all bottles—up to $400 vintages. In addition to the midtown location you can find this special at Del Frisco's Grille in midtown and downtown.) delfriscos.com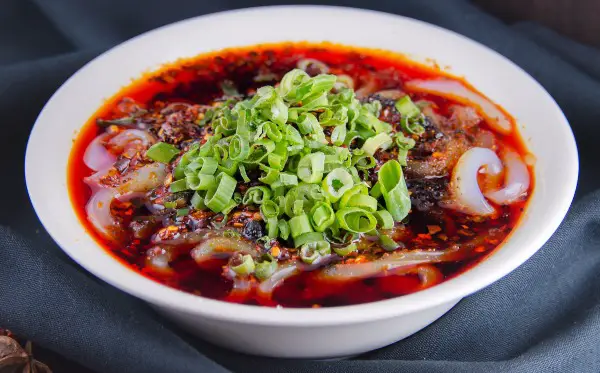 It's getting harder and harder to find Chinese food for delivery, let alone some of the best Szechuan cooking in New York City. Ding Chinese Restaurant in Midtown West is serving up authentic bites, including house specials like a spicy Chef's Tofu, shredded beef, dan dan noodles, sauteed string beans, soups, three-pepper chicken, and dozens more fresh, flavorful dishes. dingszechuanrestaurant.com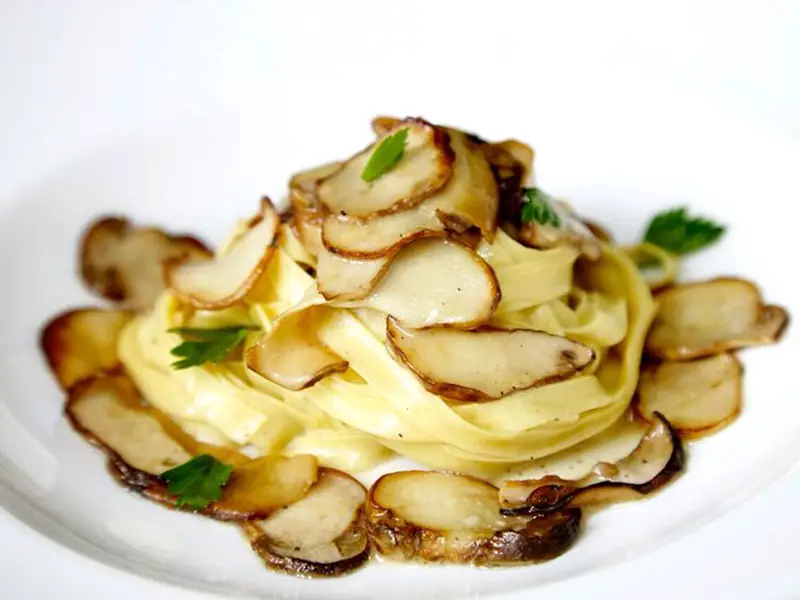 La Masseria brings the Italian countryside to Manhattan, the name itself referring to the key structure on the farms in the Puglia region of Italy. Although for now you can't enjoy the restaurant's terrific atmosphere, you can access the great, authentic cooking—an extensive menu serves up house favorites. Think fettuccine with meat sauce, eggplant parm, cavetelli with shrimp, veal scaloppini, and many more. If you've got a crew to feed, there's also a "cena per famiglie" menu, with food enough for six and temptations like grilled salmon, rigatoni, penne with bacon, radicchio, and smoked mozzarella, and chicken parm. Save room for desserts like homemade tiramisu, flourless chocolate almond cake, or vanilla cheesecake. They're also serving drinks to go, so add a beer, cocktail, or glass of wine to your order. NEW! Outdoor dining is now back, so snag a seat on their lovely sidewalk patio and enjoy the in-person experience. lamasserianyc.com
La Masseria dei Vini brings the Italian countryside to Manhattan, combining traditional and modern approaches without one overpowering the other. Although for now you can't enjoy the restaurant's terrific atmosphere, you can access the great, authentic cooking. The Midtown West favorite will be available for pick up and delivery. House specialties fill the menu: think rice balls, eggplant parm, baked breaded calamari, homemade fresh spaghetti, orecchiette with sausage and broccoli, lasagna, gnocchi, and homemade ravioli stuffed with veal in a mixed wild mushrooms sauce. NEW! Patio now open for outdoor dining! masseriadeivini.com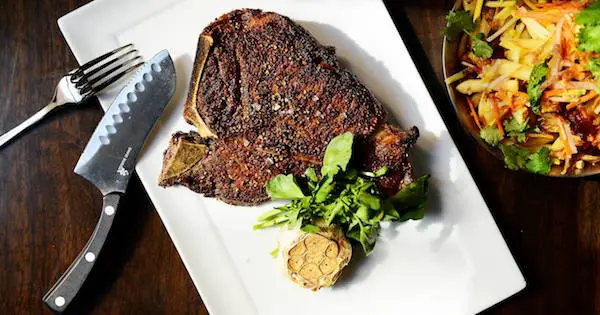 Celebrity chef David Burke has reopened his Upper East Side townhouse restaurant with a 2-course prix fixe takeout and delivery via Caviar and Grubhub/Seamless. New specials from David Burke Tavern bring together a choice of one appetizer and one main for $39; sides and desserts are available a la carte. Temptations to start include an elevated Caesar salad, K-town-style wings & rings, roasted asparagus, and burrata with a marinated tomato salad. Follow up with possibilities like the skirt steak and crispy fingerling potatoes, cacciatore-style chicken, the DB Tavern burger and fries, ginger salmon, lobster roll, and cavatelli with short rib and truffle cream. Kids have their own $12 menu with choices of buttered pasta, chicken fingers and fries, or mac 'n' cheese. Cocktail kits and special pricing on their wine bottles! davidburketavern.com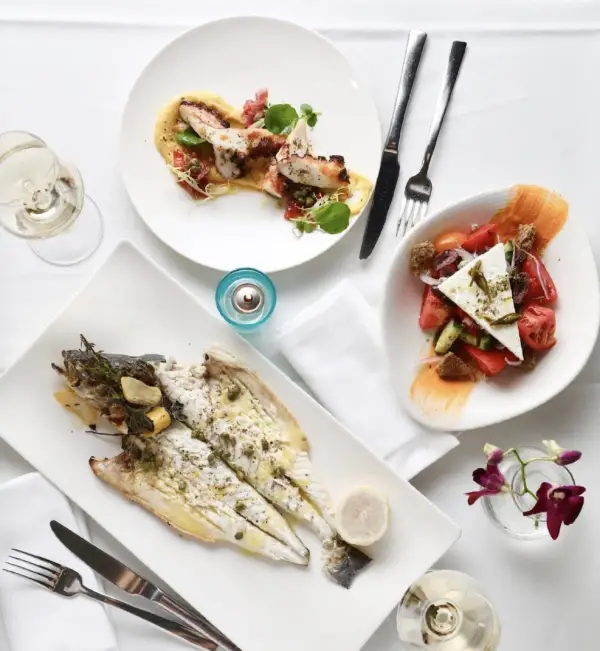 Even with the city on pause, Nerai is still bringing Greece to Midtown East. Experience the fresh flavors of the Aegean Sea for delivery and pick up with popular items like Maine lobster with Metaxa bisque and house-made squid ink linguini, lamb chops, Cretan meatballs, spicy feta, saffron orzotto with octopus, shrimp, and mussels, and shrimp Santorini linguini. Available weekdays from noon-9pm, Saturdays 5-9pm, and Sundays from 2-8pm (full menu here). nerainyc.com
If you're feeling more like Italian than Greek, Nerai's sibling Segreta Cucina Italiana brings in a Rome-trained chef for some red sauce favorites. Think meatballs, Sicilian octopus, caprese salads, wild mushroom truffle ravioli, whole grilled branzino, chicken parm, and cauliflower Milanese. Full menu here. segretanyc.com
DENTAL CARE

Since 1981, Linhart Dentistry has been taking care of New York City. As of June 1st, they are back open to treat patients. Among the new safety measures will be three separate, sanitized waiting areas, increased spacing between appointments, pre-screening of patients, in-office testing, medical-grade air purifiers, daily deep cleanings, and staff in PPE.
SNEAK PEEK NEXT WEEK
OYSTER AND WINE WORKSHOP

Oysters have long played a major role in the economy—and cuisine—of New York City. Head down to sustainable seafood restaurant Seamore's at Brookfield Place in Lower Manhattan to learn more about the art of enjoying oysters. A series of special oyster shucking and wine workshop. A Seamore's oyster expert will take guests through step-by-step techniques of how to best shuck oysters, hands-on demonstrations, and, of course, a taste testing. The $90 class includes a dozen oysters of four varieties, four wine pairings, and a glass of wine at the end. Guests will also take home a shucking knife and glove set so they can impress their friends when we all get back together again. The 'Sip & Shuck' workshops are every Monday and Tuesday at 5pm and run for 90 minutes, through October 20th—a great way to learn a new skill in a socially distanced environment.
Keep up with the best of NYC—newsletter launching soon!
---
EVERYTHING TO DO NYC

Want free advice on what to do and see in New York? Join our Facebook Group Everything to Do NYC, a place for people to ask questions and get tips on how to make the most of the city.