Hidden gems in NYC are part of what makes New York a city of contrasts, from imposing skyscrapers to acres of parks; rows of neon-lit theaters to wide-open water views. Beyond the epic, New York rewards the hidden, the unexpected, the off-the-beaten-path discovery. So enjoy its larger-than-life, front and center delights—but don't forget the unknown ones as well. The mix is what makes New York, New York.
Glass Waterfall Tunnel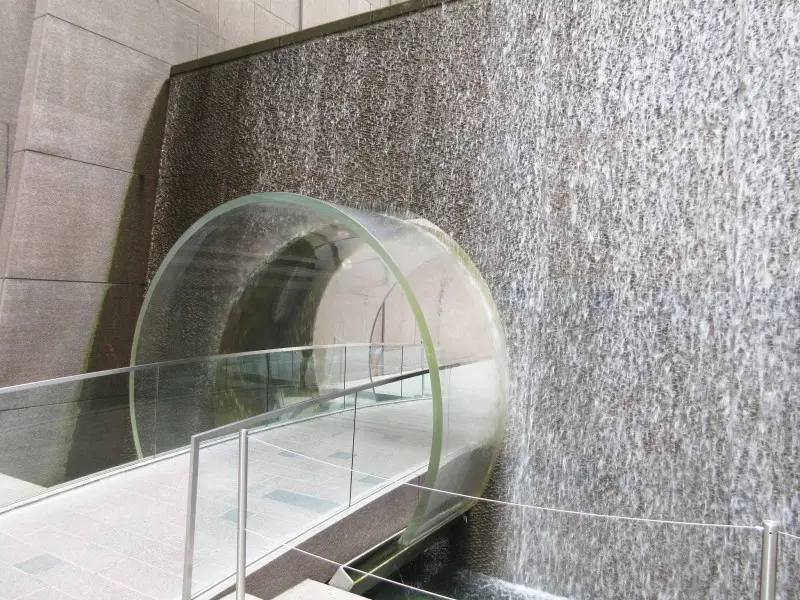 Brecht Bug/Flickr
Some of New York's hidden gems are more hidden than others. They may be smaller, more off the beaten path, or have somehow remained off the radar. The Glass Waterfall Tunnel in midtown is one of those.
Well, it's not exactly off the beaten path, located as it is in Midtown Manhattan, but it is small in scale, and many people will give you a blank stare when you mention it.
The "gem" in question can be found between 48th and 49th Sts., and it's been there since the mid-1970s. The 17-and-½-foot-long glass tunnel serves as a walkway—as well as a photo op. The waterfall itself is about 40 feet long and 20 feet high and is part of the McGraw-Hill Park (a mini park with tables and chairs—a good spot to sit and enjoy a cup of coffee).
The best part? Finding it in the middle of a crowded urban area—and the fun of the unexpected encounter. After all, the whole point of a hidden gem is when you stumble upon it.
Between West 48th and West 49th Sts., between Sixth and Seventh Aves.
Mahayana Temple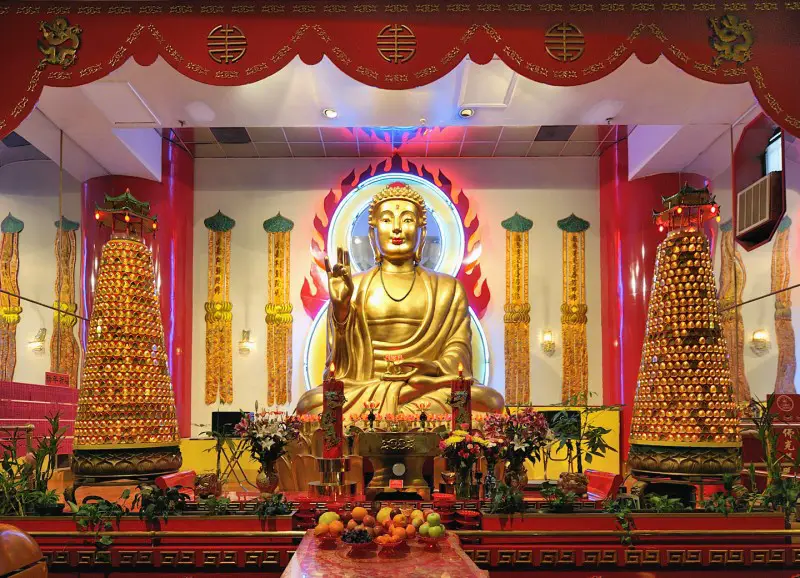 Frank Maiello/Flickr
There's no way the imposing Mahayana Buddhist Temple on Canal Street in Chinatown (built in 1997) would fit into the "hidden" category—it couldn't be more visible if it tried.
What is hidden, however, is the incredible interior—and the fact that it's open to the public.
When you enter (past the gold lion guardians outside the doors) you'll be in a small vestibule--the temple proper is in the back, through a wooden archway. There's a lot to see, so ask questions (or, if it's possible, see if you can go on a tour). The largest Buddha in the city (16 feet tall!) sits peacefully in the back; the walls are adorned with images from the life of Buddha. Don't miss the large Dharma bell, used mostly for special occasions, and the often-poignant offerings made by families.
And if you can, make sure to get a fortune scroll: you were fortunate to find the temple, and who knows how many other hidden—or not hidden—gems are in your future?
133 Canal St., 212-925-8787, en.mahayana.us
Times Square Sound Installation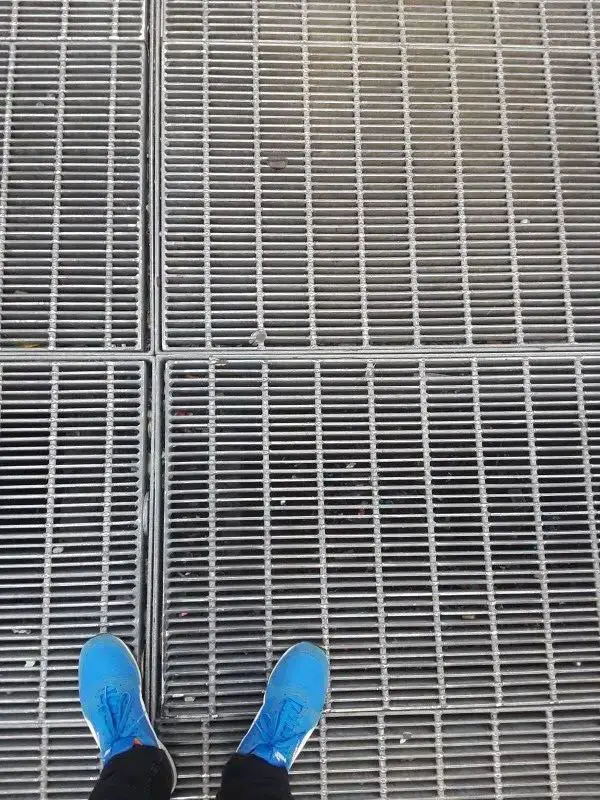 The actual grate. By Found5dollar - Own work, CC BY-SA 4.0.
People go to Times Square for many reasons—the theater, the lights, the billboards…the humming noise coming from a grate?
Originally installed in 1977, the humming noise is a sound installation created by artist Max Neuhaus. Unlike the rest of Times Square, which seems to shout, "Come look at me! Over here!" the installation is unmarked and often, in the surrounding din, unheard. Located in the pedestrian triangle on Broadway between 45h and 46th Streets, the installation is a "sound texture" that resembles a loud vibrating hum. It was originally installed from 1977-1992, then reinstated in 2002, and now maintained by the DIA Art Foundation. Called (somewhat confusingly) Times Square, it incorporates electronic sound generators placed under a grate, and is the only public work by Neuhaus in the Untied States.


And should you get a hankering to seek it out early in the morning or late at night, never fear—it can be heard every day of the week, 24 hours a day.
Broadway between 45th and 46th Sts., diaart.org
Bust of Sylvette, 1968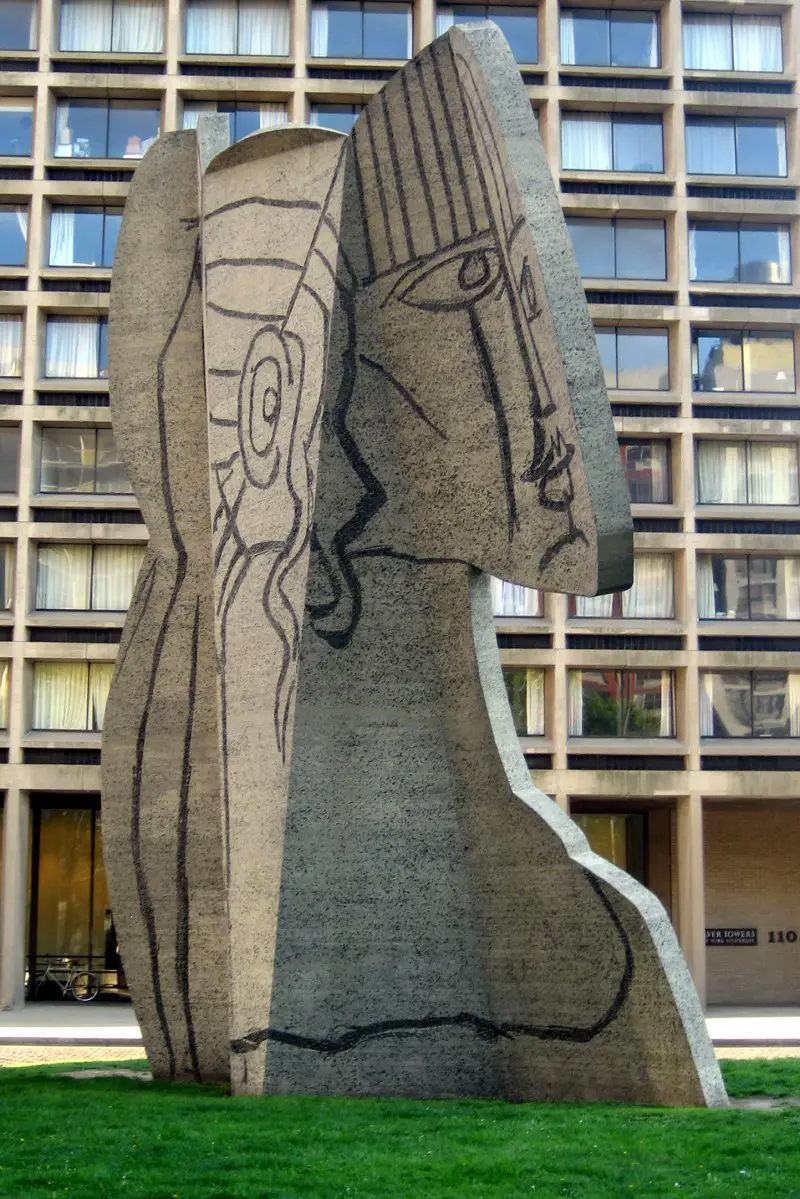 Wally Gobetz/Flickr
Nestled near NYU's campus in downtown Manhattan, passersby will come upon a sculpture perched on the lawn in front of some tall buildings. This isn't just any sculpture—it's actually Picasso's "Bust of Sylvette," and it was declared a New York City landmark in 2008. (As were NYU's Silver Towers, designed by architect I.M.Pei. Pei himself chose the sculpture to adorn the area.)
The sculpture was inspired by Sylvette David, one of Picasso's models, and constructed by Carl Nesjar, who was Picasso's fabricator from the late 1950s until Picasso passed away in 1973. The dark lines that characterize a number of Picasso's works were created by a technique called betograve, an invention of Nesjar's. The technique involves pouring concrete into a form packed with gravel, and then carefully sandblasting the surface of the concrete to expose the gravel underneath.
Weighing in at 60 tons, the sculpture offers a fitting counterpart to the roughly textured surface of the buildings behind it. If you venture to see it, you'll have accomplished something Picasso did not: he never saw that work in person, because he never visited the United States (his membership in the French Communist party is to blame for that).
505 LaGuardia Pl.
Louis Armstrong House Museum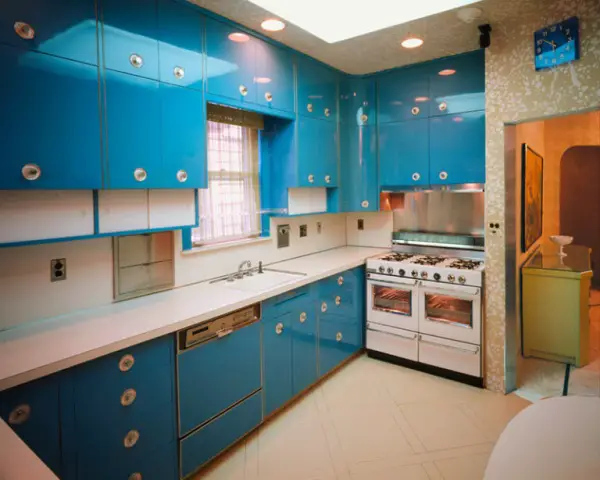 The Louis Armstrong House in Queens gives fans of the famed musician a chance to delve deeply into his life and work. It's also a chance to explore the actual house in which he lived.
After Armstrong passed away in 1971, his wife Lucille continued to live in the house, and made it known that she hoped the house would become a museum that honored her husband. After many years of legal wrangling, the building finally opened to the public for tours in 2003.
Today, the museum includes items from the Armstrongs' personal collection and encompasses 1,600 recordings, 86 scrapbooks, five trumpets, 120 awards and plaques, 650 reel-to-reel tapes in hand-decorated boxes, 12 feet of papers, and much, much more.
Among the offerings: Armstrong-related materials donated to the museum by friends and family make up The Satchmo Collection; it includes a 1934 Selmer trumpet given to Armstrong by King George V of England; and two scrapbooks compiled by Armstrong bassist Arvell Shaw.
The museum has numerous other collections, including furniture, paintings, appliances, and other objects left in the house (The Louis Armstrong House Collection), as well as The Jay Anderson Collection, which includes several hundred Armstrong sound recordings and books.
34-56 107th St., Queens, NY, 718-478-8274, louisarmstrounghouse.org
Column of Jerash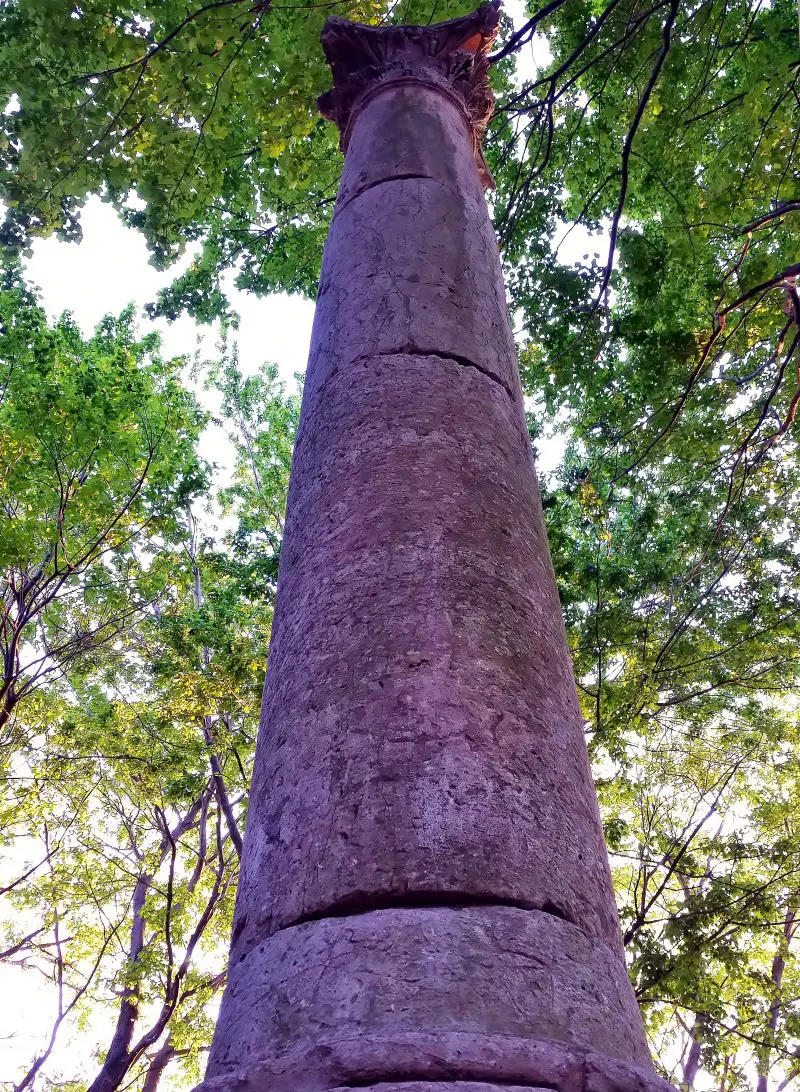 gigi_nyc/Flickr
A remarkable artifact from the second century AD sits not in a museum, but in the middle of a public park in Queens. The Column of Jerash is thought to have been created by Romans in the ancient Jordanian city of Jerash, known then as Gerasa. It's still unclear as to where, precisely, the column, with its modified Corinthian column, would have stood. (Columns were often repurposed and placed in new locations.)
The column was given to the New York World's Fair Corporation and the City of New York by King Hussein of the Hashemite Kingdom of Jordan during Jordan's participation in the New York World's Fair of 1964-65. Standing 30 feet tall, the column is found east of the Unisphere in the park. It has the distinct—and unusual—honor of serving as a monument to both the World's Fair as well as its role in antiquity.
Flushing Meadows/Corona Park, Queens, NY, nycgovparks.org
Apiary at the Queens County Farm Museum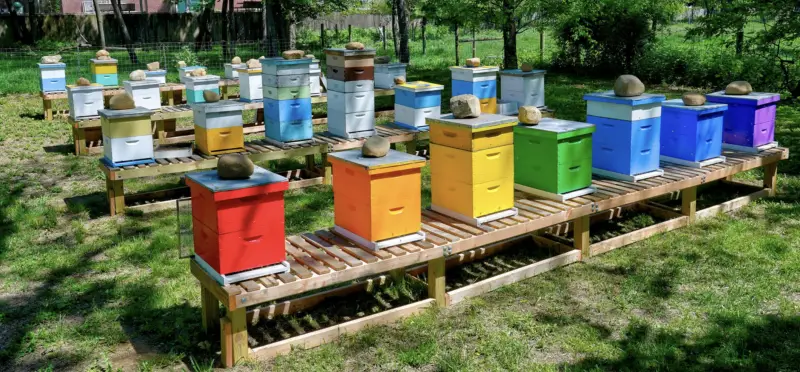 Image courtesy Queens County Farm Museum.
Did you know that the Queens County Farm Museum houses the single largest apiary in New York City? More than two million honeybees make their home there. The apiary serves many purposes: it has increased the rate of pollination at the farm and also built the farm's production of honey to about 3,000 pounds per year in partnership with local honey retailer Andrew's Honey.
Visitors can observe the bees in an observation hive, and also take urban beekeeping classes that focus both on the bees as well as apiculture (beekeeping) needs, such as colony care and beekeeping equipment.
One-third of food crops in this country depend on bees for their pollination. With bee populations declining, now's the time to get up and close and personal with them and learn as much as you can.
Can't make it to the apiary itself? From May-November, you can tune into the Farm's live BeeCam to keep an eye on the bees and see just how busy they really are.
73-50 Little Neck Parkway, Floral Park, New York, 718-347-3276, queensfarm.org
Elevated Acre
Image courtesy 55 Water Street.
Up a nondescript escalator set back from the sidewalk in downtown Manhattan, you'll find a green lawn, an amphitheater, incredible views of the Brooklyn Bridge and New York Harbor, a meandering Brazilian hardwood boardwalk (30 feet above the East River!), and a summer beer garden. This is Elevated Acre, and it's exactly what it says—an acre of land overlooking the city—and open to the public. It's a great quiet spot for a lunch-hour break or simply a respite from the city. Summer sees more of a crowd, as programming includes live concerts and movie.
There's plenty to do in the neighborhood as well—it's not far from Battery Park and Wall Street.
The former empty and somewhat desolate space is now brimming with seasonal plantings and strategically placed benches to enjoy them., as well as small tables to perch your coffee cup. So, take advantage of local food trucks and cafes, grab a snack, and indulge in a very New York pastime—enjoying New York by temporarily escaping from it.
55 Water St., 212-747-9120, 55water.com
77 Water Street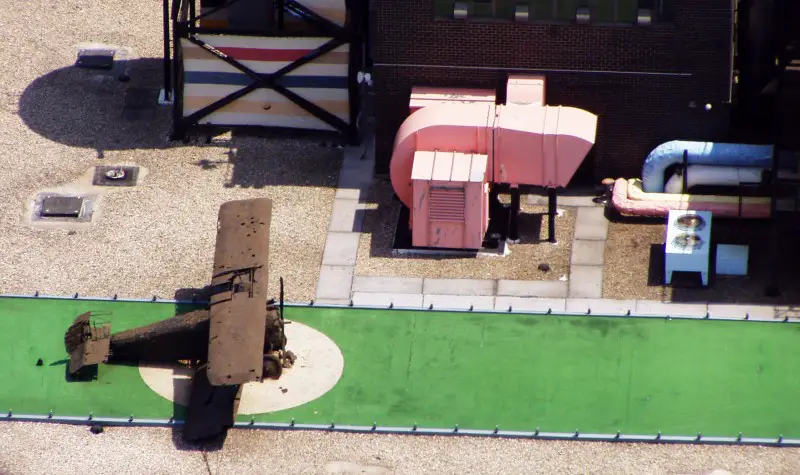 Phil Hollenback/Flickr
When you look up in New York, depending on your vantage point, you're bound to see any number of things—the tops of skyscrapers disappearing into the clouds; the occasional lost balloon, a flock of birds. But if you're lucky enough to see the roof of 77 Water Street in lower Manhattan, you'll see something way more unusual—a replica World War I fighter plane that looks as if it might take off at any moment. And yes, those are indeed landing lights.
The plane was modeled after a 1916 British Sopwith Camel (Snoopy's choice), and was installed by crane in 1969, before the building had opened for business. Why is it there? To give the people in nearby buildings something fun to look at, of course.
And the building's surprises don't stop there: venture into the lobby, and you'll find a turn-of-the-century-style penny candy shop. It may be a replica as well, but the shop is real—you can actually purchase some goodies there.
Between that and the plane, you'll certainly feel as if you've stepped back in time—even if you never leave the block.
77 Water St., 77waterst.com
Chartwell Booksellers
Image courtesy of Chartwell Booksellers.
New York has general interest bookstores, bookstores that specialize in mysteries and art and children's books…and one that focuses on a single person. That's right—one person.
Billed as "the world's only Winston Churchill bookstore," Chartwell Booksellers, now in its 40th year, lies tucked away in a midtown office building. Named for Churchill's country home, it carries books about Churchill, books of his writings—including rare first editions—as well as autographed letters and documents, signed books, and other ephemera. (In the interest of transparency, they also carry a very small selection of literary collectibles as well as books about art and jazz and rare photography books.)
But it's Churchill who's the focus, and whether you're a novice or a seasoned collector, or just there to browse, you'll be fascinated by the inventory. And lest you think the store is stuck in the past, rest assured they have one foot firmly in the present—they have their own YouTube channel.
In the lobby of the Park Avenue Plaza Building, btw. Park & Madison Aves., 55 E. 52nd St, 212-308-0643, chartwellbooksellers.com
Alley Pond Park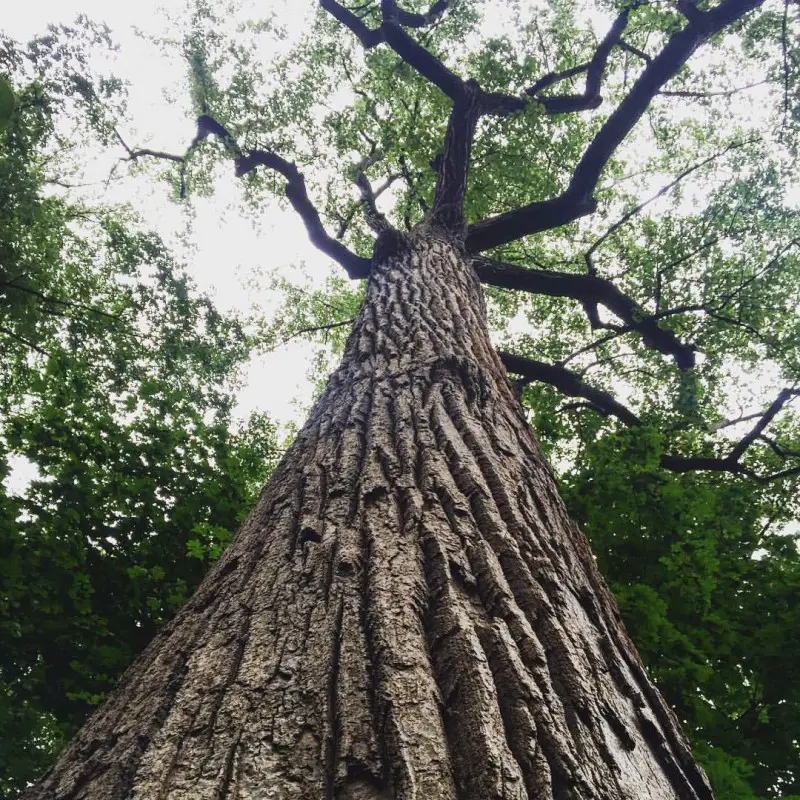 Anne Ruthmann/Flickr
Alley Pond Park in Queens holds many charms, from its walking trails to its marshes, its environmental center, and its forests. But it also has two particular features of note: A Dutch windmill, and what is thought to be the city's tallest and oldest tree.
The original windmill was built in 1870 to pump water to a nearby farm. In the early 1900s, the windmill was turned onto a two-room house. The original was destroyed by arson, but a replica was built, and it now stands in the park. It actually pumps water for the park to use—and sometimes houses a colony of bats.
But that's not the only notable feature of Alley Pond Park: It's also home to the tree that is largely considered to be the tallest and oldest tree in the city. That honor goes to The Alley Pond Giant, a tulip tree, that when last measured clocked in at 134 feet high; it's also estimated to be between 350-450 years old.
From a windmill to a tulip tree—a Dutch treat, indeed.
Little Neck Bay to Springfield Blvd., Union Turnpike, nycgovparks.org
Rutherford Observatory, Columbia University
By Mikhail Klassen at English Wikipedia - Transferred from en.wikipedia to Commons., Public Domain.
Stargazing can be hit or miss in New York—but there's an easier way: The Rutherford Observatory at Columbia University, residing on top of Columbia University's Physics Lab. Fact of the day: this was one of the original labs used in The Manhattan Project, and it was also where Enrico Fermi conducted the first nuclear fission experiment in the United States in January of 1939.
This year, the university is holding several public events, ranging from the showing of sci-fi films during the summer (these are followed by a lecture separating fact from fiction); as well as public lecture and star-gazing nights—offered every other Friday during the school year. They're free and include guided stargazing, slide shows, and a Q&A with astronomers.
Family Astro events are held three times a year—families with kids 6-12 can spend an afternoon at the observatory for a themed afternoon; past themes have included meteors and comets, and solar eclipses.
And perhaps most enticing: every month or so, portable telescopes are set up on the corner of 125th Street and Adam Clayton Powell Boulevard so anyone wandering by can enjoy an astronomy lesson and some skygazing.
550 W. 120th St., 212-854-6864, outreach.astro.columbia.edu