When it comes to culture like museum exhibits, New York is hard to beat. From art to history to design, the city's institutions are packed with exhibits that provoke, intrigue, and entertain. Right now you can see the original animals that inspired Winnie the Pooh, an immersive show in Chelsea, haute fashion in Brooklyn, and much more. Here are our picks for the can't-miss museum exhibits of the season.
Museum Exhibits NYC | Thierry Mugler: Couturissime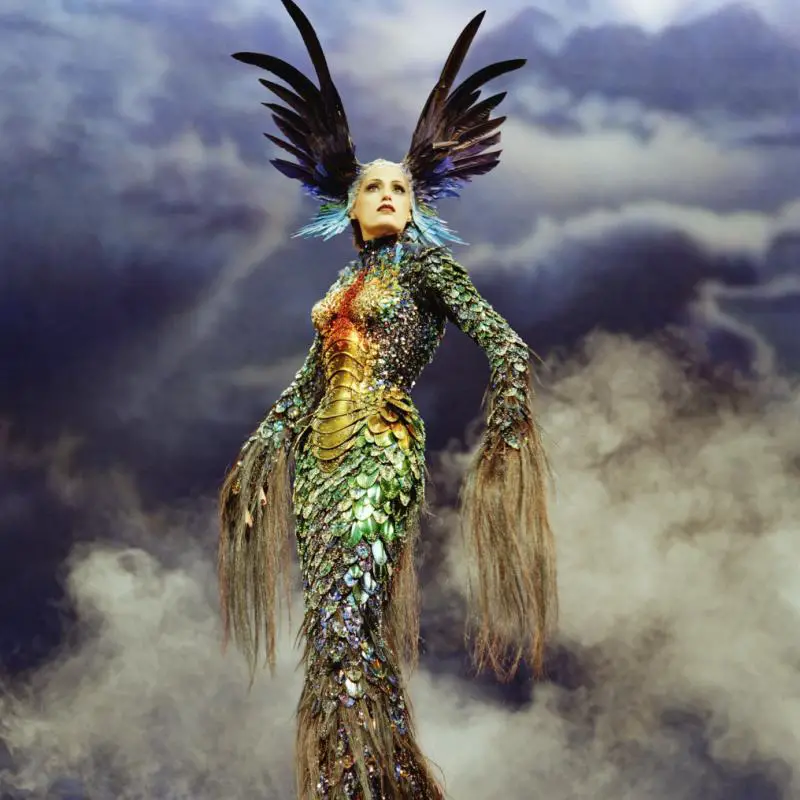 Thierry Mugler: Couturissime. Alan Strutt (British, born 1967). Yasmin Le Bon, Palladium, London, 1997. Evening Standard, October 1997. Haute couture Fall/Winter 1997–98 collection ("La Chimère"). © Alan Strutt.
Continuing a run of fashion blockbusters at the Brooklyn Museum, Thierry Mugler: Couturissime is the first retrospective of the edgy French designer. The exhibition features over 100 outfits ranging from haute couture to stage costumes, with an expanded fragrance section centered on Mugler's trailblazing scent Angel.
Museum Exhibits NYC | Hip Hop: Conscious, Unconscious

Lisa Leone—Wyclef Jean and Lauryn Hill, East Harlem, New York City, 1993 while shooting Vocab video.
Fotografiska New York is a museum experience for the modern world. A new exhibition here looks at a New York City original creation. Hip Hop: Conscious, Unconscious takes in a massive outpouring of creativity, starting in the Bronx in 1973, and drawing on African, Latino, and Caribbean American contributions. Laid out by chronology and geography, focus areas include the early years, East Coast, West Coast, the South, and the newer wave of artists who have emerged since the mid-aughts. Among interwoven themes, the exhibition highlights the role of women in hip-hop, the "four elements of hip-hop" (rapping, DJing, breakdancing, and graffiti), and several debated "fifth elements" including fashion and beatboxing. Ephemera complements the photography to create a vibrant portrait of a New York City-born culture that went on to sweep the world.
Museum Exhibits NYC | Alex Katz: Gathering
Installation photo: Ariel Ione Williams and Midge Wattles.
The rotunda of the Guggenheim is showing off Alex Katz: Gathering, a retrospective for an artist who is a lifelong New Yorker. Paintings, oil sketches, collages, prints, and "cutout" works run from intimate portrayals of riders on the subway in the 1940s all the way up to more contemporary immersive landscapes.
Museum Exhibits NYC | The Little Prince: Taking Flight
Antoine de Saint Exupéry (1900-1944). The little prince flying over a planet with mountains and a river, New York, 1942. The Morgan Library & Museum, MA 2592.34. Photography by Graham S. Haber.
Once the personal library of financier J. Pierpont Morgan, The Morgan Library & Museum now offers a showcase for both the exquisite building, an Italian Renaissance-style palazzo, and its holdings of rare books. The Morgan collection includes the original manuscript of Antoine de Saint-Exupéry's beloved The Little Prince (1943). A current exhibition reveals the creative process behind the book—much of it was composed in a studio off of Fifth Avenue in midtown—through Saint-Exupéry's remarkable watercolors, drawings, and manuscript drafts. Through February 5th, 2023.
Museum Exhibits NYC: MoMA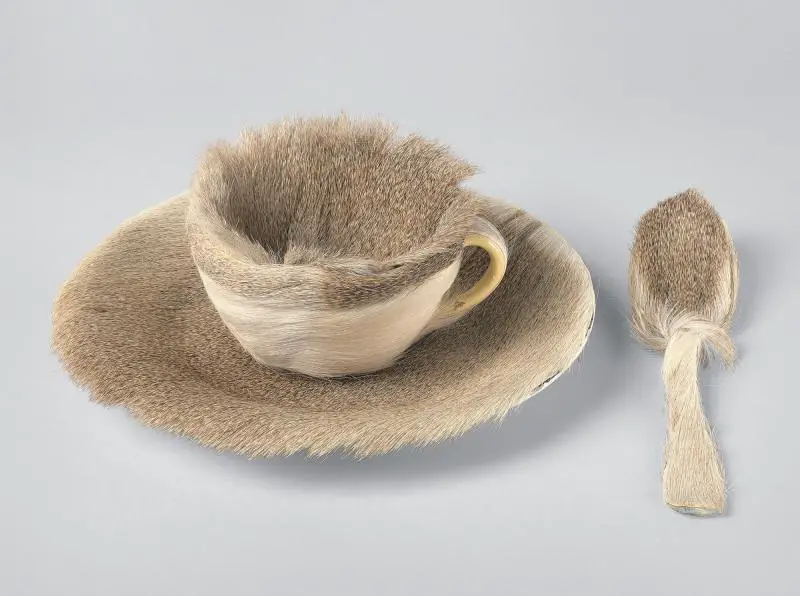 Meret Oppenheim. Object (Objet). 1936. Fur-covered cup, saucer, and spoon. Cup 4 3/8″ (10.9 cm) in diameter; saucer 9 3/8″ (23.7 cm) in diameter; spoon 8″ (20.2 cm) long, overall height 2 7/8″ (7.3 cm).The Museum of Modern Art, New York. Purchase.
The Museum of Modern Art's galleries feature priceless works by the likes of van Gogh, Picasso, Matisse, Mondrian, and Monet. A rich offering of special exhibitions is also always on view, including the current Meret Oppenheim: My Exhibition. The first major transatlantic exhibition of this visionary Swiss artist's career shows off a lifetime of innovation through her paintings, sculptures, objects, collages, and drawings.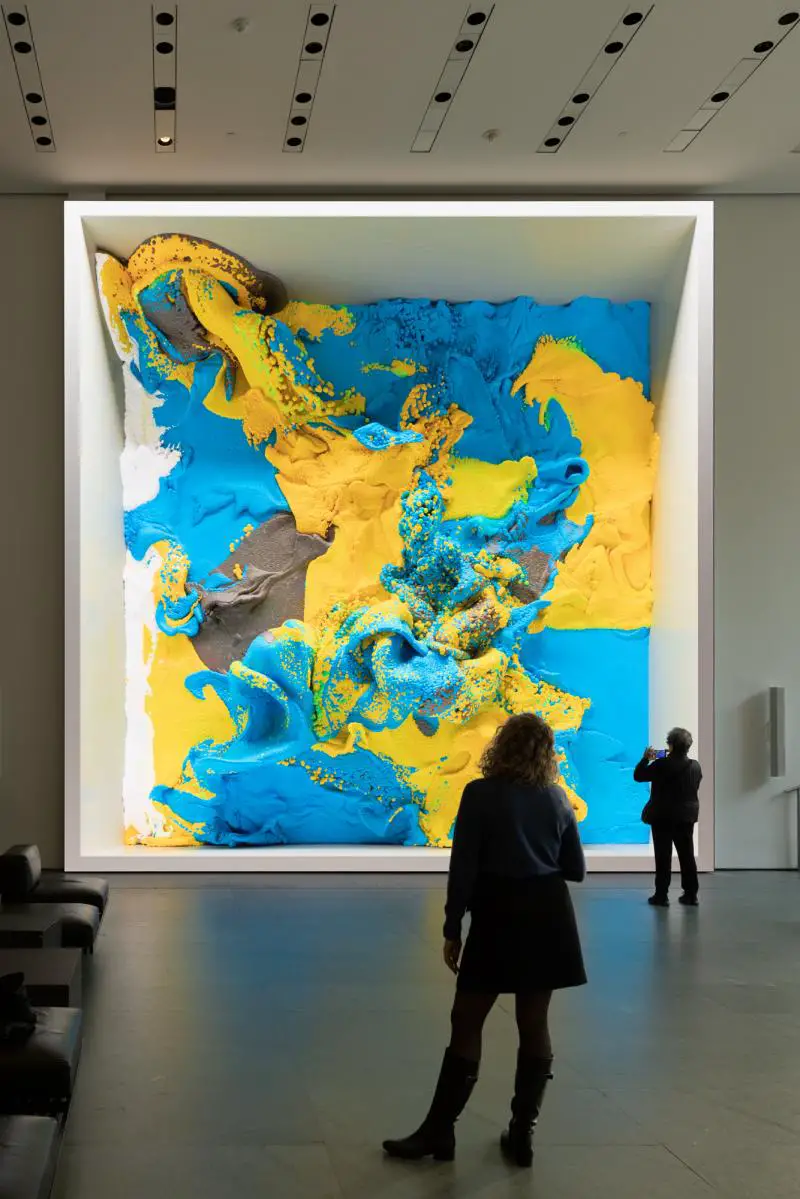 Installation view of Refik Anadol: Unsupervised, The Museum of Modern Art, New York, November 19, 2022 – March 5, 2023. © 2022 The Museum of Modern Art. Photo: Robert Gerhardt.
While you're there, don't miss special project Refik Anadol: Unsupervised. Three digital artworks by Turkish-American new media artist and designer Refik Anadol use artificial intelligence to transform more than 200 years of art from the MoMA collection. The installation continuously generates new forms on a large-scale media wall in the Gund Lobby.
Museum Exhibits NYC | Divinity in Maya Art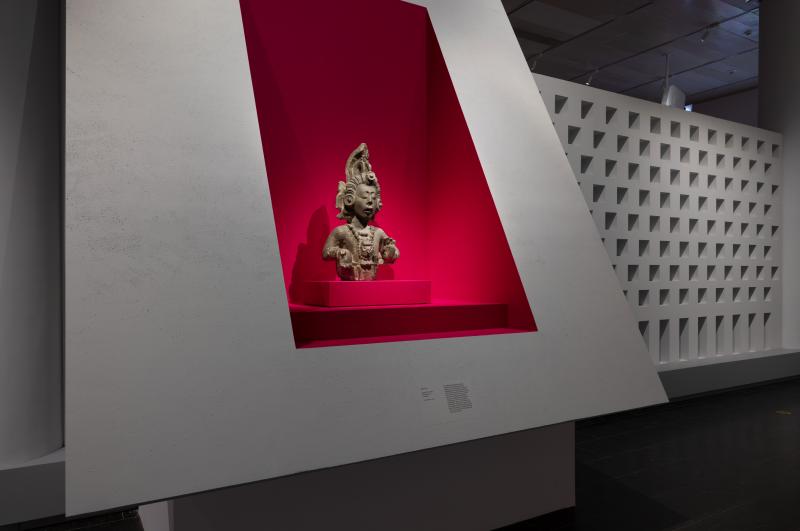 Installation view of Lives of the Gods: Divinity In Maya Art, on view November 21, 2022–April 2, 2023. Photo by Richard Lee, courtesy of The Metropolitan Museum of Art.
Lives of the Gods: Divinity in Maya Art gathers rarely seen masterpieces from Mexico and Central America. The works trace the life cycle of the gods, from creation to dazzling transformations as flowers or fearsome creatures of the night. Through April 2nd, 2023.
Museum Exhibits NYC: Edward Hopper's New York

Edward Hopper, Manhattan Bridge Loop, 1928. Oil on canvas, 35 × 60 in. (88.9 × 152.4 cm). Addison Gallery of American Art, Phillips Academy, Andover, MA. © 2022 Heirs of Josephine N. Hopper/Licensed by Artists Rights Society (ARS), New York. Image courtesy Art Resource, NY.
Known for paintings of quiet, moody places that can evoke a feeling of unease and loneliness, Edward Hopper often focused on New York, the city where he lived for almost 60 years. The new Whitney Museum exhibit Edward Hopper's America focuses not on a world of skyscrapers and crowded streets, but on the largely uncrowded areas, the hidden nooks and crannies, and the paradoxes of confrontation between old and new, public and private. Through March 5th, 2023.
Museum Exhibits NYC: Library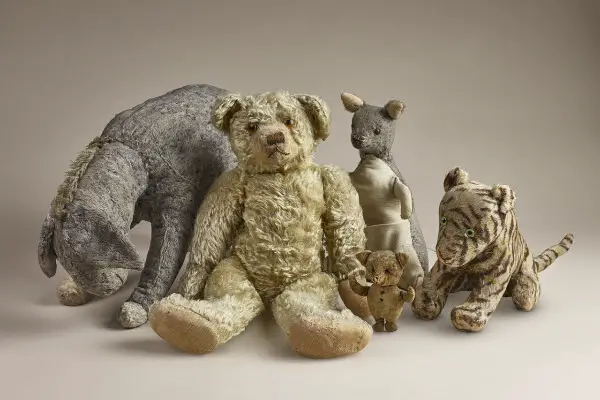 A lock of Edgar Allan Poe's hair, Thomas Jefferson's handwritten copy of the Declaration of Independence, Malcolm X's briefcase, the real-life Winnie-the-Pooh: the New York Public Library holds a lot more than books. For the first time ever you can explore a selection of the 56 million items in the collection with the opening of the Polonsky Exhibition of The New York Public Library's Treasures. Ongoing.
Museum Exhibits NYC: Fashion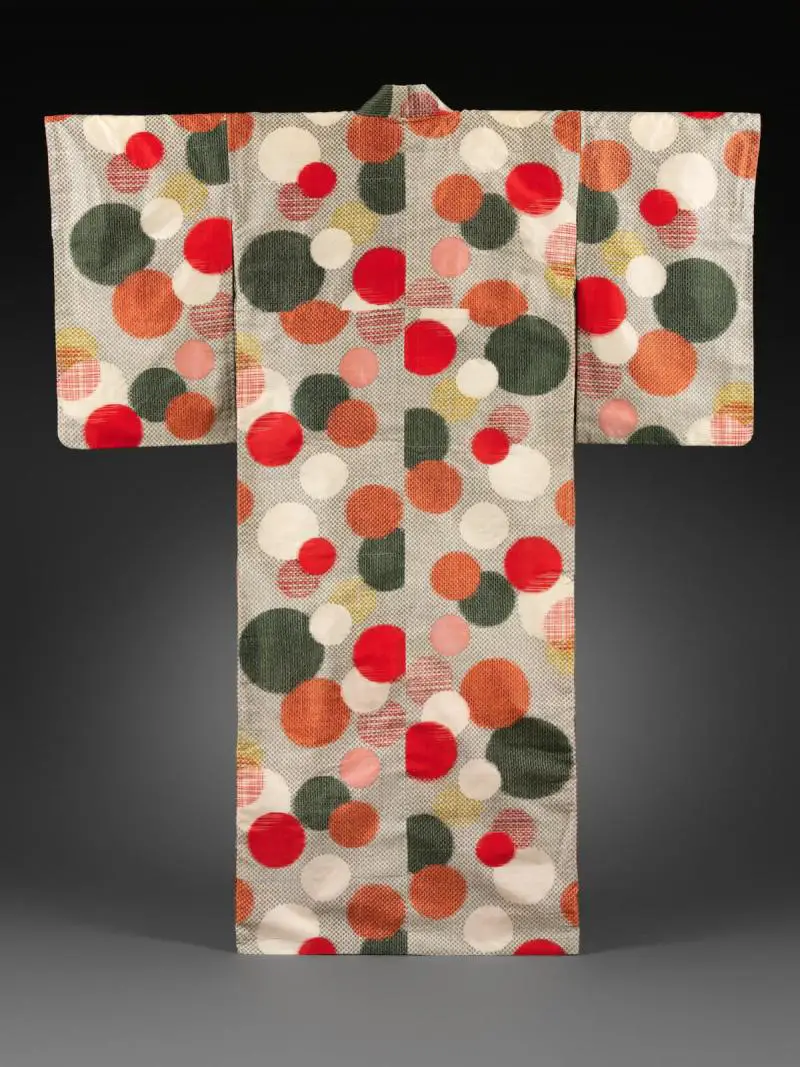 Image: Meisen Kimono with Water Droplets, Shōwa period (1926–89).
The Met traces the transformation of kimono fashion from the late 18th century through the early 1900s. Kimono Style: The John C. Weber Collection explores artistic exchanges between the kimono and Western fashion, with kimonos, Western couture, and Japanese paintings, prints, and decorative arts. through February 20th, 2023.
ARTECHOUSE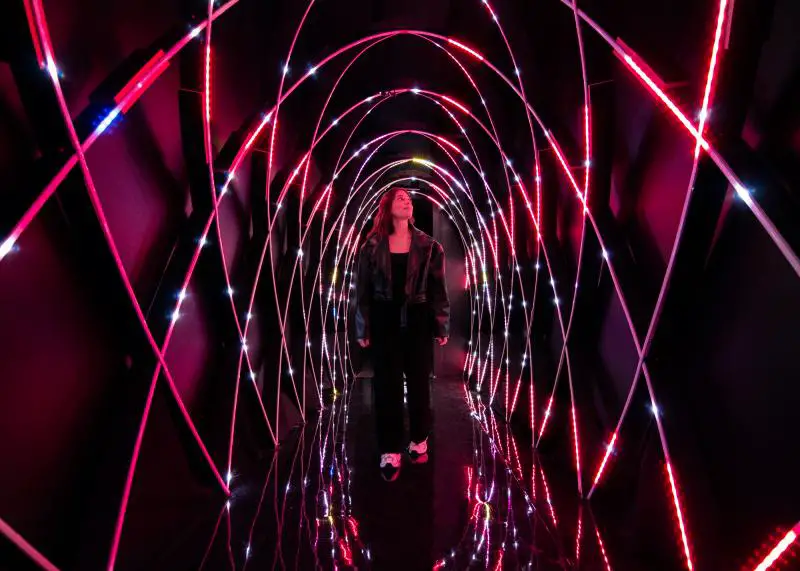 ARTECHOUSE Studio.
Head to the historic boiler room of Chelsea Market to experience the immersive art space ARTECHOUSE. You've never seen art like this before, as room-sized digital projections merge with sound design to create a cinematic experience. On view now is MAGENTAVERSE, highlighted by a 22-minute audiovisual exploration of Viva Magenta, Pantone's Color of the Year for 2023. (Pantone selected the color for its evocations of fearlessness, exuberance, and optimism.) The experience draws inspiration from nature, NASA, and the James Webb Space Telescope's views of outer space. Bespoke audio and projection technologies create a metaverse-like immersion—without having to strap on a headset. Opens Friday, January 20th.
Museum Exhibits NYC | Theaster Gates: Young Lords and Their Traces

"Theaster Gates: Young Lords and Their Traces," 2022. Exhibition view: New Museum, New York. Photo: Dario Lasagni. Courtesy New Museum.
The first American museum survey exhibition devoted to installation artist Theaster Gates is now open at the New Museum. "Theaster Gates: Young Lords and Their Traces" spans three floors, highlighting work of the last two decades and site-specific environments created just for this show. Civic commitment meets a poetic sensibility as Gates honors resonant people in his life and the radical thinkers who shaped his home city of Chicago and America as a whole. Through February 5th, 2023.
Museum Exhibits NYC: Himalayan Art
Museum Exhibits NYC: Eastern Art, Rubin Museum of Art, Gift of Shelley and Donald Rubin.
Chelsea's Rubin Museum of Art has a mission of presenting and preserving Himalayan art. You can get an overview in current exhibition Gateway to Himalayan Art, which introduces visitors to the main forms, concepts, meanings, and traditions of Himalayan art in the Rubin collection. The newest addition here is an interactive space, The Mandala Lab, which is oriented around five immersive experiences, drawing on film, scent, sound, and a sculpture that invites collective breathing. Through June 4th, 2023.
Museum Exhibits NYC | Deconstructing Power: W.E.B. Du Bois at the 1900 World's Fair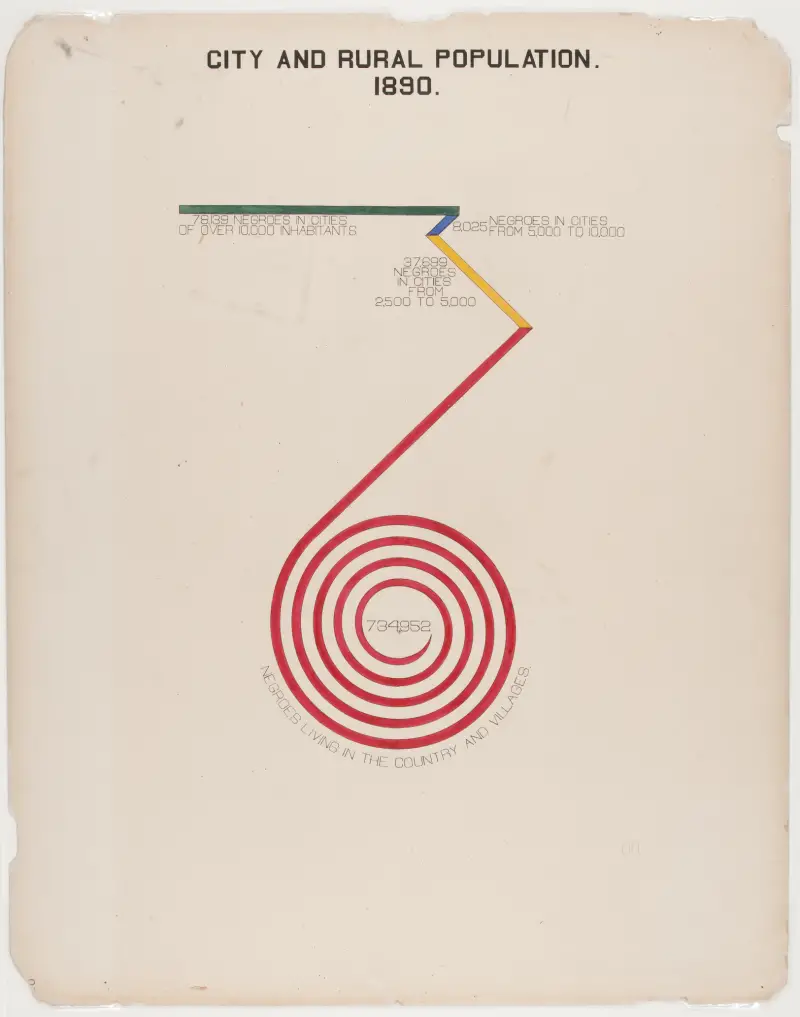 Data Visualization, "City and rural population. 1890.", 1900; Designed by W. E. B. Du Bois (American, 1868–1963) and students of Atlanta University (Atlanta, Georgia, USA); Ink and watercolor on board; 71 × 56 cm (27 15/16 × 22 1/16 in.); Library of Congress Prints and Photographs Division
The exhibit Deconstructing Power: W.E.B. Du Bois at the 1900 World's Fair at Cooper-Hewitt showcases two facets of the World's Fair that took place in Paris at the turn of the century. Decorative arts from Cooper-Hewitt's own collection are placed in context with 20 data visualizations that W.E.B. Du Bois created for the fair, with the aim of exploring how design can be an agent that both reveals and hides the dynamics of equity and power. Through May 29th, 2023.
Museum Exhibits NYC: Architecture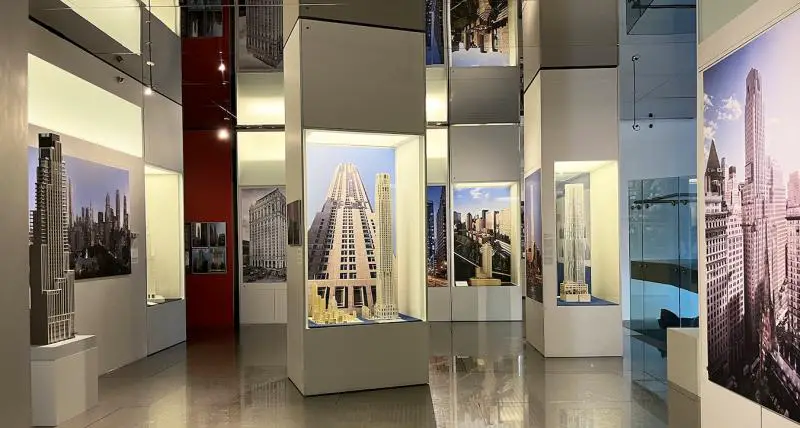 Located in the world's foremost vertical metropolis, the Skyscraper Museum celebrates NYC's rich architectural heritage and examines the historical forces that have shaped its skylines. On view now is RESIDENTIAL RISING: Lower Manhattan since 9/11, which looks at the more than doubling of Lower Manhattan's residential population in the two decades since the turn of the century. The main space of the gallery is devoted to a dozen featured projects, 9 new and 3 conversions. Many are represented in stunning models, from Frank Gehry's bricolage of form and façade for 8 Spruce St. to marketing-suite extravagance such as for the conversion of One Wall Street. The show will run through January, 2023; admission is free but timed tickets are required.