The best restaurants with live music in NYC are scattered around the city, from Times Square to Hudson River Park. Whether it's a performance space with unexpectedly good food or a restaurant that ups its atmosphere with live sounds, NYC's musical talent is on display at meal time. A piano, jazz band, or guitar great might accompany your meal of sushi or steak—now that's our kind of concert! Savor the best of New York's culinary and musical worlds at these local favorites.
Times Square Restaurants with Live Music
The Iridium

Steve Miller with Jimmie Vaughan (credit: Arnie Goodman).
Rock 'n roll royalty has graced the stage of The Iridium for more than 25 years. Come to this Theatre District club, long the home stage of guitar icon Les Paul, for world-class guitar and music that ranges from rock to jazz to blues and everything in between. You'll eat well here, too. Cheese plates, flatbreads, and crab cakes are among the appetizer options. For mains, you'll find pasta, burgers, short ribs, salads, and that New York favorite: the Reuben. 1650 Broadway, 212-582-2121, theiridium.com
Ellen's Stardust Diner
The show goes on at Ellen's Stardust Diner. The 1950s-themed restaurant has been around since 1987 and brings back its retro vibes (founder Ellen Hart Sturm is a native New Yorker who was crowned Miss Subways in 1959). Catch close up performances by staff on their way to joining a long line of Broadway actors who have made Ellen's their launching pad. (Classic diner fare will have you fortified for a visit to Broadway after your meal!) 1650 Broadway, 212-956-5151, ellensstardustdiner.com


Birdland Jazz Club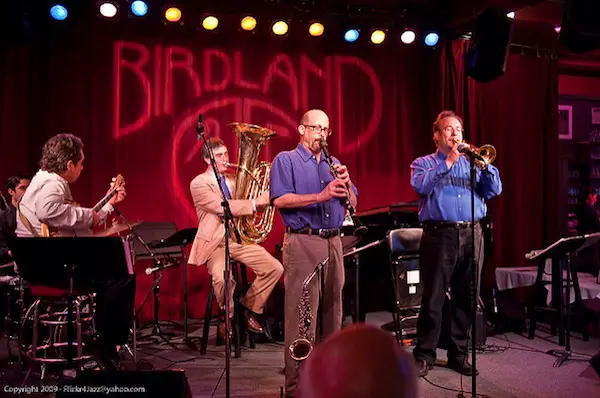 Some of the best jazz in Midtown can be found at the legendary Birdland Jazz Club. With musically diverse acts and an intimate, classy vibe, dress up a little and come early to grab a table before the show. The baby back ribs and jambalaya are particularly yummy, and the cocktails are strong. 315 W. 44th St., 212-581-3080, birdlandjazz.com
Chez Josephine
See a show before your show at Chez Josephine, conveniently located on 42nd Street near the Broadway theatres. There's live jazz every night of the week at this sumptuous French cafe inspired by Josephine Baker. Everyone can find something delicious on this menu, whether at lunch, dinner, or brunch. For dinner, have rack of lamb with ratatouille, while brunch hits include a classic croque monsieur. 414 W. 42nd St., 212-594-1925, chezjosephine.com
Upper West Side Restaurants with Live Music
Joanne Trattoria
Authentic Italian fine dining in a comfortable space is what you'll find at Upper West Side favorite Joanne Trattoria. The family-run spot adds to its atmosphere with live performances. Shows change weekly, although every Sunday 4:30-7pm you can enjoy jazz guitar from virtuoso Abe Ovadia. 70 W. 68 St., 212-721-0068, joannenyc.com
Midtown East Restaurants with Live Music
Club A Steakhouse
You'll enjoy your romantic dinner at Club A, especially if you're headed to a Broadway show afterward. This upscale multilevel steakhouse often posts a band on the bottom floor to get your toes tapping while you indulge. Whether you prefer filet mignon or ribeye, sea bass or lobster, you'll savor every bite. We also recommend a glass of red wine; it'll go perfectly with your steak and the red walls of Club A's interior. 240 E. 58th St., 212-688-4190, clubasteakhouse.com
Tomi Jazz
This Midtown East haunt packs a punch with incredible Japanese food and live music nightly. Tomi Jazz tends toward its namesake genre and charges a cover for Friday and Saturday night guests. You'll love favorites like the cod roe pasta, lychee cocktail, and honey toast for dessert. Another reason to come early: this small underground restaurant draws crowds and takes very limited reservations. 239 E. 53rd St., 646-497-1254, tomijazz.com
Downtown Restaurants with Live Music
City Winery New York City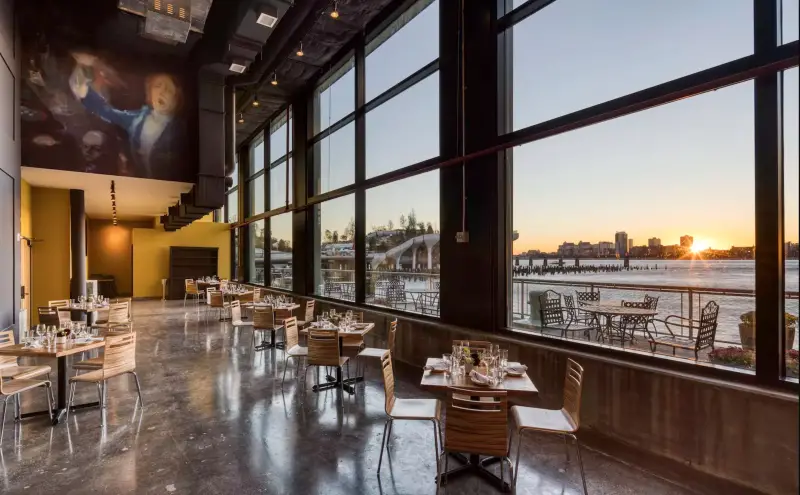 Photo: Adam Pass/City Winery.
City Winery New York City at Hudson River Park brings together great bites, wine to match, and views to remember. Enjoy brunch, lunch, or dinner in City Winery's restaurant and wine bar, where the food is is meant to be paired with a great glass of wine. The venue's two stages host a stellar array of big-name music and comedy performers. 25 11th Ave. (15th St./Pier 57 in Hudson River Park), 646-751-6033, citywinery.com/newyork
The Flatiron Room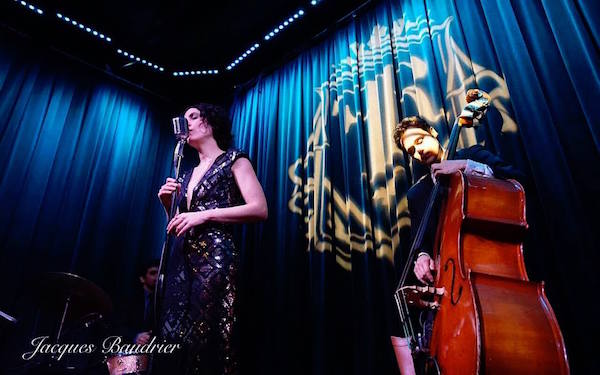 Photo: Jacques Baudrier
The Flatiron Room hosts jazz acts every night of the week on their sizable stage. But this is by no means a concert venue. Come sip one of their 1,000 varieties of whiskey, and sample some steak tacos or honey fried chicken with a biscuit. If you're into 1920s aesthetics, upbeat crowds, and big bass riffs, this is your pick. 37 W. 26th St., 212-725-3860, theflatironroom.com
Arturo's
Pizza and live jazz: that's all you need to know about Arturo's, located on the border of Greenwich Village and SoHo. Arturo's serves to-die-for coal-oven pizza (get the Diavolo) in this funky, surprisingly large spot on West Houston. The jazz band is a staple of the Village's live-music scene and a local favorite for good reason. 106 W. Houston St., 212-677-3820
Harlem Restaurants with Live Music
Minton's Playhouse
Another legendary jazz club is the "birthplace of bebop": Minton's Playhouse. Located in Harlem, Minton's is an elegant dining room and a wide stage decorated with a Harlem Renaissance-style mural. Minton's hosts a range of impressive jazz acts nightly. Enjoy some jambalaya, filet mignon, lobster ravioli, or snapper as you tap your toes to the beat. 206 W. 118th St., 212-243-2222, mintonsharlem.com
Brooklyn Restaurants with Live Music
St. Mazie Bar & Supper Club
It doesn't get more Williamsburg than St. Mazie, an enchanting bar and restaurant. You'll find jazz, blues, flamenco, and Americana daily on the diverse schedule, along with comfort food on the menu. Get a mezze platter to nosh while you listen, or go big at the Supper Club with a chicken sandwich or plate of risotto. If you're around in the warm months, try to grab a spot in the back garden. 345 Grand St., 718-384-4807, stmazie.com