(6/21-6/27) Looking for what to do in NYC this week? The city is in the midst of a major reopening; most capacity restrictions for retail, food, gyms, offices, barber shops have lifted. Oh, and if you're fully vaccinated you can skip the mask, indoors and out (exceptions like schools, public transportation, and hospitals still apply; many stores and cultural spots are also requesting them). Subway service has returned to 24/7. Read on for more in-person reopenings and other things to do in NYC this week.
This Week's Behind The Experience Video
The tallest building in the hemisphere. The largest screen. A ride that goes straight up at 23 miles per hour. Behind The Experience learns the secrets of One World Observatory, as well as tips like the best time for a visit. The video joins our recent visits to New York icons the Museum of the City of New York, Madame Tussauds, SPYSCAPE, and Benjamin Steakhouse. CHECK THEM OUT—it's fun!
WHAT TO DO IN NYC
Every passing day there's more to do—safely—in the city. Stay in the loop with:
---
MONDAY!
Photo by Ianqui Doodle/Flickr.
Make Music New York brings together 100 cities worldwide to mark the solstice and make a joyful noise. It's all free and broad in range, running from house music at The Apollo to piano-centric sets at the Oculus to flowerpot music in Brooklyn to an interactive drum jam in Queens. Special for this year will be a musical memorial to honor those lost to COVID, This Moment in Time. Beginning at noon, Ryan Sawyer and the percussion ensemble Talujon will perform new works on multiple arrays of gongs set up at the Seaport District. Afterwards, the public will be invited to play the gongs themselves. See the entire festival schedule here.
RIVER TO RIVER
The 20th edition of River To River, downtown's completely free summer arts festival, is now underway. It runs through the 27th of June with programming that ranges from film to art to dance to music.
THIS THURSDAY!
Believe it or not...hypnotist extraordinaire Jeffrey Powers can make you forget your own name. And think you have 11 fingers. And believe you speak fluent Martian. Powers's Las Vegas-style shows bring together comedy, mentalism, magic, and hypnosis to both astound and entertain. ETD Exclusives is inviting you to a private party this Thursday, June 24th at Ripley's Believe It or Not! You will enjoy food and refreshments catered by an iconic neighborhood restaurant. There's also a crowd-free tour of the world's greatest oddities and performances by sideshow entertainers. Sign up now, space is limited!
YUCATAN IN THE VILLAGE
Approachable fine dining defines Village newcomer YUCO, open this week. Dish highlights include sushi-quality ceviche (above), a squash blossom special flor en nogadas, wagyu ribeye steak, and "Corn Textures" to finish, bringing together sweet corn crème patisserie, aguachilies sorbet, corn shortbread, and carbon powder for a touch of smoky, bitter contrast. Specialty cocktails and a thoughtful wine list will complete your experience.
A NEW KOREAN GASTROPUB
Korean flavors meet American techniques at the brand new gastropub Barn Joo Nomad. This third rendition of Barn Joo puts more of a focus on elevated dining, with a specialty of the Korean-style open roll (above). Roll options range from uni and yellowtail to shiitake and black truffle mushroom; you can order them individually or in a set menu with house-made bone marrow soup. Beer, wine, cocktails, and Korean spirits are served, and there is both indoor and outdoor dining space.
BUTTERBEER IS HERE

The flagship Harry Potter New York is now open in the Flatiron District and yes, they're serving Butterbeer. This fan-favorite soft drink, loved by Hogwarts students and teachers alike, is available to New Yorkers as of Thursday. Choose from draft Butterbeer, Butterbeer ice cream, or bottled Butterbeer. They're being served in the Butterbeer Bar, which will liven up your Insta feed with a cascade of glowing Butterbeer bottles "floating" over the bar and Butterbeer moving magically across the ceiling through copper pipes. Fans will also find a brand-new bottled Butterbeer label, exclusive to Harry Potter New York and only available in-store.
COOPER HEWITT IS BACK

The Cooper Hewitt, Smithsonian Design Museum, housed in the historic Carnegie Mansion, has at last reopened, with a nice perk: all admission is free through October 31st. Timed entry tickets are required. Current exhibitions include Contemporary Muslim Fashions, through July 11th, which examines how Muslim women have become arbiters of style within and beyond their communities.
SESH COMEDY
Photo by Jordan Nicole.
Imagine dropping $10 to see the same comedians who perform at the Comedy Cellar. And when you show up they hand you a free drink. And it's BYOB. That's Sesh Comedy, with sets running Thursday, Friday, and Saturday, and on through the month. The venue is on the Lower East Side and the comics come from Comedy Central, HBO, Colbert, Daily Show, and more.
THE RETURN OF A LEGEND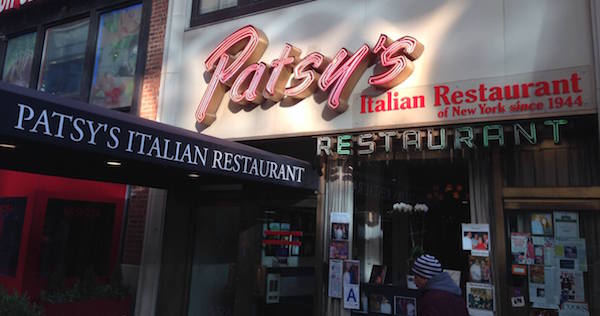 New York restaurants come and go, but Patsy's Italian Restaurant is forever. The famed eatery—which only has one location, right in the heart of Midtown Manhattan—turns 77 this year and is only getting better. After a pandemic hiatus, the restaurant is back and better than ever. Chef Sal Scognamillo, owner and operator of Patsy's Italian restaurant, is the third generation of Scognamillos to sit at the helm. The Scognamillo recipes at Patsy's have remained largely unchanged. Dishes like the stuffed artichoke appetizer, eggplant parmigiana, and spaghetti and meatballs are as rich and flavorful as ever. Ingredients like meats and cheeses are sourced from other family businesses who have worked with Patsy's throughout the years so every bite remains true to tradition. Patsy's maintains a strong community of repeat customers (including many celebrities) who know they'll get exceptional cuisine that remains note-perfect year after year. Hours for now will be Tuesday-Saturday, 5-9pm and Sundays 3-8pm. COVID safety protocols including an air purification system, social distancing, and partitions between tables will be in effect.
THE BEAST IS BACK!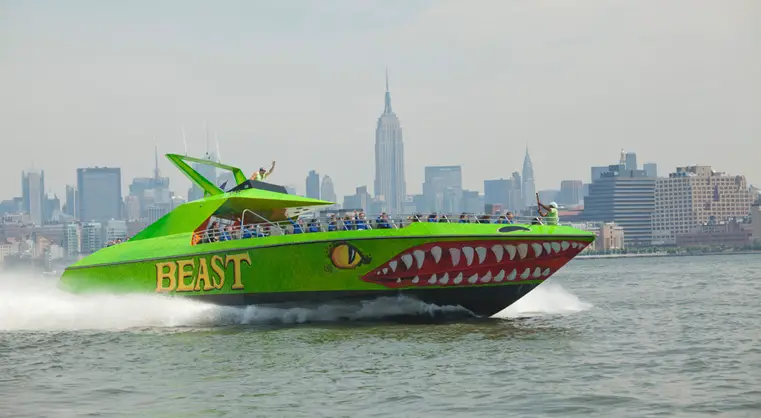 NYC's only jet-powered thrill ride attraction is powering through the Hudson once again. After a pandemic hiatus, The Beast relaunched last week. Come aboard to feel the rush of twin jet engines generating 1,400 BHP-horsepower that'll get you up to 45mph. Twist, turn, and skim your way down to Lady Liberty—if you dare. Departs from Pier 83 every hour on the hour 10am-6pm.
SHOP THE VILLAGE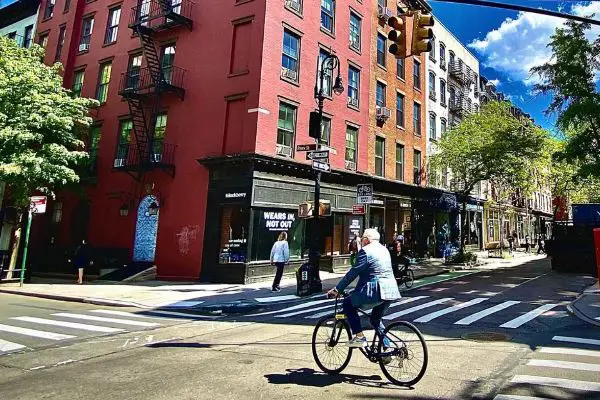 For the month of June, weekends will see a stretch of Bleecker Street closed to traffic and a full push of retail and activities. Shop the Village will combine curated store events with art, music, pop-up food vendors, restaurant deals, fitness, yoga, and interactive family fun. Look for extended store hours as well.
CREATURES OF LIGHT
Explore nature's own light show with a new exhibition, open this week at the American Museum of Natural History. Creatures of Light: Nature's Bioluminescence takes visitors from backyard fireflies to fish only found in the ocean's depths. You'll learn about glittering glowworms, sparkling bays, fluorescent coral, and the way fireflies (they're actually beetles) are the only insects in the world to have evolved their own language of light.
GRAND BAZAAR IS BACK!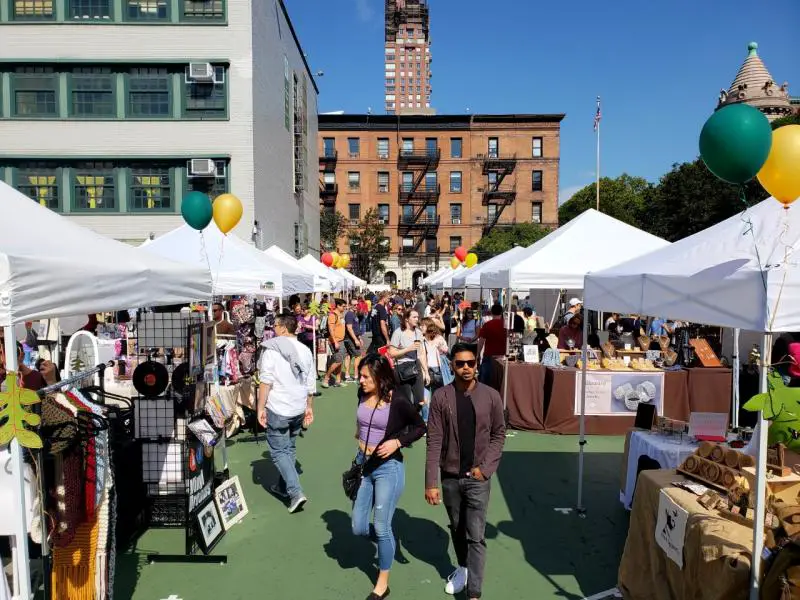 Grand Bazaar NYC is the oldest, largest, and most diverse curated weekly shopping market in NYC. Open every Sunday, after a long pandemic hibernation it returns this weekend. You'll find all kinds of creative makers and passionate dealers, vending one-of-a-kind, rare, and unique goods. Come hungry—there are great artisanal bites as well. (It's for a good cause, too: 100% of profits are donated to four Upper West Side public schools.)
CENTRAL PARK TOURS ARE BACK
Photo: Central Park Conservancy.
The Central Park Conservancy has at last resumed in-person tours. Enjoy a gorgeous part of the city with an expert leading the way. Tour options include Seneca Village, covering the largest community of free African-American property owners in pre–Civil War New York; Hidden Highlights of the North End, with stunning views of Manhattan; Heart of the Park; Statues and Monuments; Conservatory Garden Experience; and Discovery Walk for Families: North Woods. Space is limited to ensure proper social distancing.
A COLORI
Photo: Eataly.
Two NYC favorites, Color Factory and Eataly, have collaborated on a feast for the senses. La Pizza & La Pasta A Colori brings together food and art at Eataly NYC Downtown. For the visuals, artist HOTTEA takes inspiration from the sunrises in Torino and NYC in a ceiling installation. Color continues in an artist's palette of cheeses, a showstopping black risotto made with squid ink, and a bright green Neapolitan pizza. A wide range of cocktails, wine flights, and pastas further show off Eataly's mastery of seasonality, aging, and sourcing.
FULGURANCES, LAUNDROMAT
Photo by Caroline Thompkins.
After half a decade, Fulgurances has dropped its first offshoot outside of its Paris home. This week, Fulgurances, Laundromat has opened in Greenpoint. As with the Parisian original, an up-and-coming chef takes over for a 3-6 month residency. The first Chef-Resident is New York Times 3-star chef Chilean Victoria Blamey (Gotham Bar & Grill, Chumley's), who takes the reins fresh off a residency at Blue Hill Stone Barns. Expect an ever-evolving 5-to-6 course prix fixe of seasonal dishes with an optional wine pairing.
YOUR PERFECT PICNIC
Eat Offbeat had the brilliant idea of connecting refugee chefs with New Yorkers looking to broaden their culinary horizons. The results are cookbooks and meal boxes that bring home cooking from around the world into city homes. With picnic season upon us, Eat Offbeat has released a picnic box. It serves 6-8 (or less with some awesome leftovers) and includes a build-your-own shawarma kit (with vegan and chicken options), Sri Lankan and Senegalese snacks, sumac brownies, cheese 'n' crackers, a refreshing Venezuelan drink, and your own Eat Offbeat cooler bag. This box is available all summer long or until it gets cold outside again! Shipping in the NYC area only.
NOW OPEN! DISCO TACOS

Photo by Teddy Wolff.
Launched as a pandemic food truck, Disco Tacos has gone brick and mortar, bringing tacos, natural wine, and disco vibes to Williamsburg. The husband and wife team behind Fort Greene's Colonia Verde have opened a chic new space with expansive outdoor seating. Menu highlights include a half dozen taco options, grilled Mexican corn, disco fries, and desserts like churro donuts. Margaritas, mezcales, and natural wines tempt from the beverage side.
VITAL BROOKLYN
Photo: Madeleine Chan Stanley.
For the ultimate in bouldering you need to check out the new VITAL Brooklyn spread in Williamsburg. Taking over a massive circa-1910 warehouse, the facility covers treadwalls, kilter + campus & hang boards, slacklines, weight training, cardio machines, and an array of fitness classes.
RESTART STAGES
Via Lincoln Center's Instagram.
Lincoln Center's return to live performance is underway. Restart Stages is an outdoor performing arts center with 10 distinct spaces. Throughout the month of May, audiences are invited to enjoy performances by Lincoln Center, its resident organizations, cultural and community arts partners, and guest curators from across the five boroughs. As these are intimate shows, seating is limited—so limited that you'll have to enter a TodayTix Lottery. On the plus side, the tickets are free.
LIVE THEATRE IS BACK: OFF-BROADWAY'S PERFECT CRIME

The perfect show for CSI and Law & Order fans, Perfect Crime tells the story of attractive psychiatrist and suspected cold-blooded killer Margaret Brent, her wealthy husband, a deranged patient, and the handsome detective who's falling in love with her. New York's longest-running show, it's back post-pandemic for a 35th season. Perfect Crime features Catherine Russell, who has performed in the show since its first preview in 1987. She has never taken a sick day or a vacation day since then. Shows are Monday-Tuesday and Friday 8pm, Saturday 2 and 8pm, and Sunday 3 and 7:30pm. Seating is by socially distanced pods. perfect-crime.com
...AND THE OFFICE! A MUSICAL PARODY

Dunder Mifflin is reopening for funny business. The Office! A Musical Parody, the unauthorized send up of the hit TV series, is among the first Off-Broadway shows to resume in-person performances in New York City. Full COVID safety protocols are in effect for a parody musical from Bob and Tobly McSmith (FRIENDS! The Musical Parody and many more). Showtimes are Thursdays and Fridays at 7:30pm, Saturdays 2 and 8pm, Sundays at 3pm. theofficemusicalparody.com
CLIMB ABOARD HISTORY

Photo by Richard Bowditch.
Get into history at the South Street Seaport Museum, where the 1885 tall ship Wavertree is again open to the public. Wavertree was built in Southampton, England and was one of the last large sailing ships built of wrought iron (she was given a full restoration after an ignominious end, discovered serving as a sand barge in Argentina in 1967). The ship has been part of South Street since 1968 and serves as the flagship of the museum's fleet. Visit with a free timed ticket on Fridays, Saturdays, and Sundays, 11am-5pm.
LIVE SHOWS RETURN TO Q.E.D.
This Queens local favorite is back, with comedy returned to the docket. While the city eases back into normalcy events are only taking place Thursday, Friday, and Saturday, but sets are running steadily. (Space is limited, so advance ticket purchase is recommended). Among your options: improv Thursday night, Transplants Comedy on Friday night, and Nerd Is the New Black on Saturday.
BANDITS IN THE VILLAGE
Photo: Front of House.

Touchstones of classic comfort are a good fit for the moment. Last week, the team behind Borrachito and The Garret Bars dropped a cozy new space on the Village. Bandits is inspired by old-school diners and dives, with vintage New York accents. On the bar snack side you'll find wings, baked clams, a smash burger, and "have it your way" tots. Cocktails include the Purple Rain above, with lavender, butterfly pea flower, tequila, and soda. Both indoor and an elaborate outdoor setup are available.
ROSE GARDEN RECEPTION
Moxy Times Square's Magic Hour Rooftop Bar & Lounge has been transformed into your next Instagram obsession. More than 10,000 silk roses provide a colorful backdrop for sipping on pink rose cocktails. The Pink Rose Garden will be serving a specialty menu in addition to full dinner and weekend brunch options. (The Pink AF Pancake Stack is now available nightly until midnight.)
HARLEM JAZZ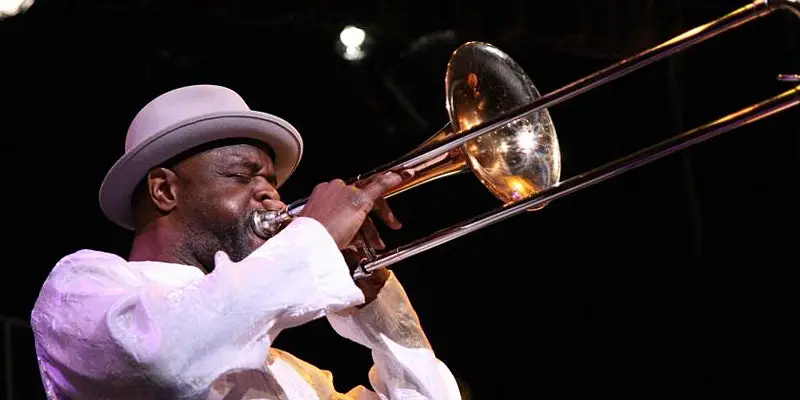 Legendary trombonist Craig Harris brings his progressive jazz chops to Harlem's Greater Calvary Baptist Church for a weekly residency. This Friday night he'll play one set and the series continues every Friday with different guest artists sitting in.
THE TENEMENT MUSEUM REOPENS
The Lower East Side's Tenement Museum tells the stories of the 7,000 immigrants who lived at 97 Orchard Street. After over a year of virtual programming, the museum is back for in-person explorations of New York history and the immigrant experience. Limited-capacity tours will be offered on site Fridays and Saturdays. There are also neighborhood walking tours delving into the overlooked spots and secrets of the Lower East Side, also for now on Fridays and Saturdays.
THE "PIAZZA DI BELMONT" IS BACK

The popular al fresco dining experience "Piazza di Belmont" has returned to the Bronx. A famous stretch of Arthur Avenue closes to cars from 6-10pm on Fridays and Saturdays, and 1-9pm on Sundays. Bronx Little Italy favorites will serve up authentic Italian favorites, with a restaurant list that includes Zero Otto Nove, Mario's Restaurant, Enzo's of Arthur Avenue, Estrellita Poblana III, Ann & Tony's, and Pasquale's Rigoletto Restaurant. Mangia!
GET READY FOR "THE READY"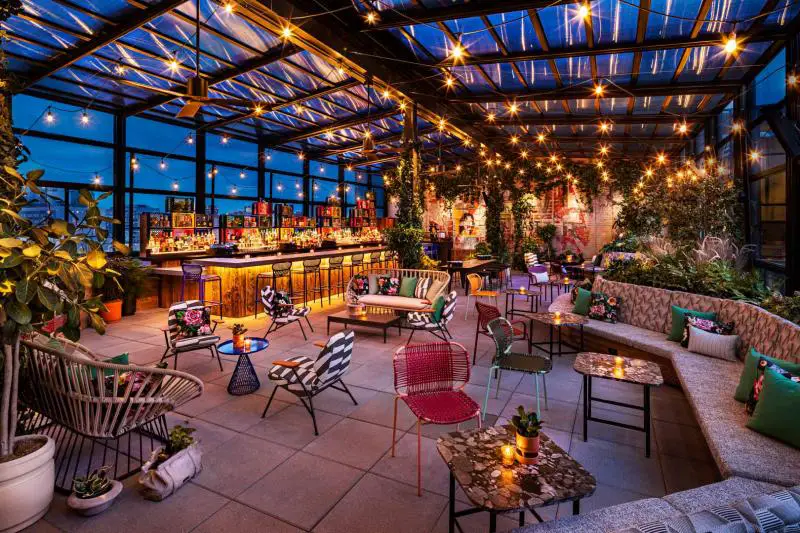 The Tao Group has launched its latest, a year-round rooftop affair atop the Moxy East Village. The Ready takes inspiration from the casual backyard gardens of the neighborhood. A beer pong setup doubles as a communal table. Cans and coolers highlight the drink offerings, drawing on local favorites like Bronx Brewery and City Light Lager. A taco stand with made-to-order tacos is joined by a selection of classic bar snacks.
ART AND LIVE MUSIC

Live outdoor events return to Culture Lab, with its Long Island City parking lot opened to music from 4-8pm on Saturday and Sunday. A local food truck will have bites and there will be beer from Rockaway Brewery. Entry is free. While you're there, check out the art at the Artists in Residency Exhibition 2021.
CÉZANNE ON PAPER
Paul Cézanne, Foliage (Étude de feuillage) (1900–04), watercolor and pencil on wove paper. The Museum of Modern Art, New York. Lillie P. Bliss Collection. Photo © MoMA, NY.
The MoMA has a new show that shows a different side of one of the 19th century's most beloved artists. Best known as a painter, Paul Cézanne (1839–1906) actually produced some of his most original works without canvas. Cézanne Drawing brings together more than 250 rarely shown creations in pencil and watercolor, along with key paintings that contextualize the development of a very modern vision.
KUSAMA: COSMIC NATURE

One of the most popular artists in the world is now on view in the Bronx. Japanese pioneer Yayoi Kusama shares her lifelong fascination with nature at the New York Botanical Garden. Monumental floral sculptures and immersive works inspired by plants and flowers are waiting. (Plus there are worse times of year to find yourself in a botanical garden.)
FREE JAZZ

William Parker, photo by Jimmy Katz.
A new season of the Walk With The Wind jazz concert series is starting up. There's a new location, Summit Rock in Central Park's Seneca Village, and a new inspiration: the legacy of late congressman and civil rights leader John Lewis. Socially distant audiences will gather for the likes of the William Parker Trio (William Parker pictured above).
LIVE PERFORMANCE RETURNS...

Photo by Robert Altman.
The Guggenheim's performing arts series Works & Process is bringing back live shows and you can't ask for a more epic setting—right inside the spiral of the Guggenheim's rotunda. Choose from 12 one-night-only Works & Process commissions developed in bubble residencies.
...INCLUDING LIVE THEATRE
The Daryl Roth Theatre has returned to live performance. The first production up is the socially distanced experience Blindness, based on the novel by Nobel Laureate José Saramago. Immersive sound design, lighting, and atmosphere bring viewers into the surreal story, which tells of a world changed in the blink of an eye by a global pandemic. The show runs through September 5th.
AERIALIST ENTERTAINMENT
Casa Del Toro in Hell's Kitchen is known for imaginative Mexican cooking in a vibrant setting. Every weekend going forward they'll be adding to the atmosphere with live aerialist performances. NYC-based dancer Eliana Wenick will be giving three shows Friday and Saturday nights starting at 7:45pm. Regional signatures, Oaxacan-inspired tacos, and sophisticated craft cocktails complete the experience.
LIVE MUSIC

Adam Pass/City Winery.
It's taken a year longer than expected, but City Winery's expansive Pier 57 location in Hudson River Park is at last open for live music. Limited to 25% capacity, intimate shows feature upcoming guests like Rufus Wainwright, Patti Smith, Steve Earle, Raul Malo, Joan Osborne, and Keb' Mo'. Full safety precautions will be in effect.
ROOFTOP SHOWS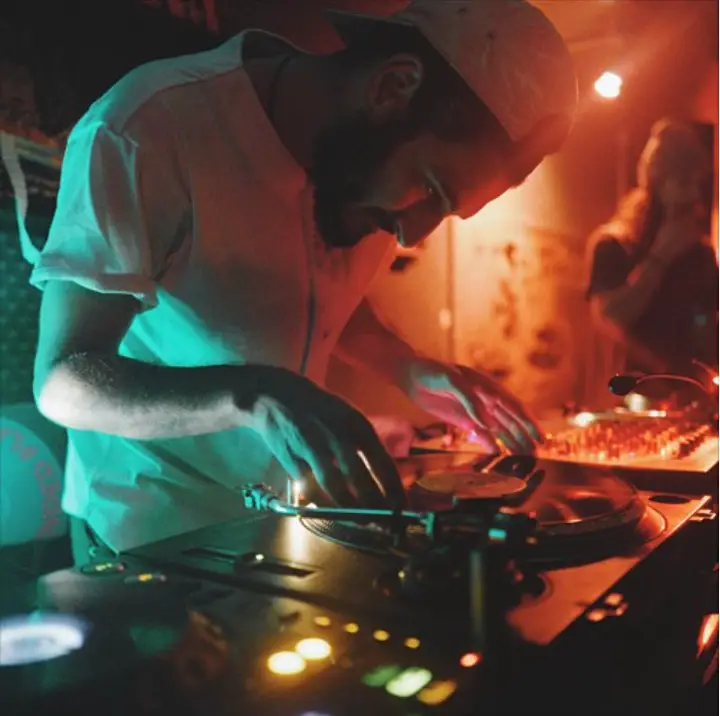 Bushwick's take on a dearly departed Wisconsin supper club, The Turk's Inn is gradually reopening. First steps include a series of outdoor concerts on the Kismet Garden rooftop. The Sultan Room Under The Stars open-air shows kick off next Wednesday with local rockers Native Sun. Additional entertainment can be found indoors and along the new street café.
SPRING UP IN BRYANT PARK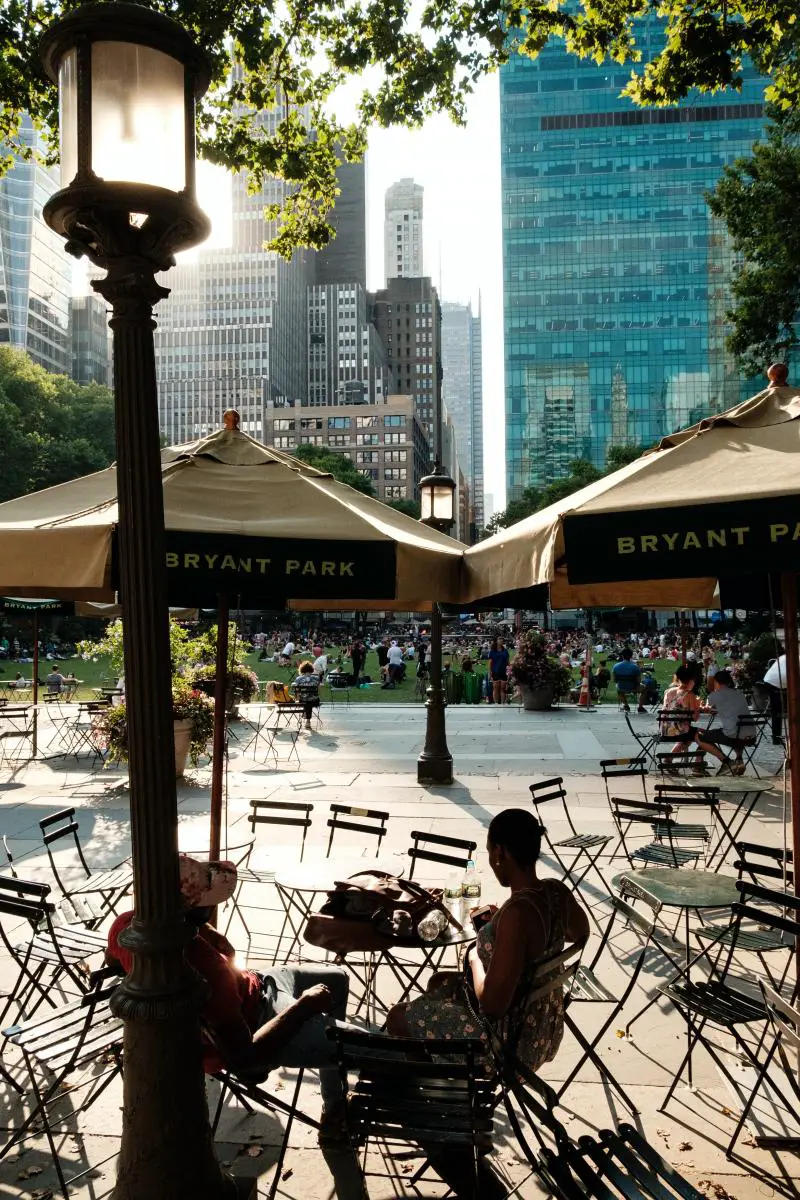 Photo by Krisztina Papp on Unsplash.
Bryant Park gains an immersive dining and shopping experience as Spring Up brings in art, antiques, jewelry, and artisanal bites from 40 local small businesses. From 11am-8pm daily, you can check out New York favorites that range from Hell's Kitchen Hot Sauce to The Truffleist to Bun Ramen to Ample Hills ice cream.
OUTDOOR WORKOUTS ARE BACK!
Start working on that pandemic body now. For a limited time, guests can experience a signature 45-minute Fhitting Room workout combining HIIT, cardio, and strength training on the stunning Showfields rooftop in NoHo. Workouts are taught by FHITpros and Fhitting Room is bringing the kettlebells (please bring your own mat and water). Also bring Bluetooth headphones and you can move along to a silent disco playlist. All safety protocols will be followed and class sizes will be strictly limited. Available Tuesdays, Wednesday, Thursdays, Saturdays, and Sundays. Reserve your spot here.
THE RETURN OF LIVE COMEDY

I guess we're all overdue for a few laughs? Midtown West comedy favorite Broadway Comedy Club is back with live entertainment and shows are selling out already. (Capacity is limited, as they work to keep events safe.) Red Room and Main Room events are already filling out the calendar, mixing in headliners and up and comers.
INTREPID IS BACK!

The Intrepid Sea, Air & Space Museum is again welcoming visitors. This National Historic Landmark, which served tours of duty in World War II and the Vietnam War, will be following full COVID safety requirements as it reopens. In addition to Enterprise—the world's first space shuttle—you can explore the entire historic aircraft collection on the flight deck and in the hangar deck. The museum also took advantage of some down time to open up new spaces and experiences, including the bomb elevator and the ship's pilot escalator.
TRAVEL BACK IN TIME

Merchants House Parlor by Denis Vlasov. Photo courtesy Merchant's House Museum.
Built in 1832, the East Village's Merchant's House was home to a prosperous merchant family and their Irish servants for almost a century. Miraculously, the house still retains the family's original furnishings and personal possessions. Stop by for a rare and intimate glimpse of domestic life in New York City from 1835 to 1865. During COVID times, the Merchant's House Museum is open on Saturdays and Sundays only, noon to 5pm. Admission is $15 and advanced ticket purchase is recommended.
NEW ART AT THE WHITNEY

Julie Mehretu, Stadia II, 2004. Ink and acrylic on canvas. Carnegie Museum of Art, Pittsburgh; gift of Jeanne Greenberg Rohatyn and Nicolas Rohatyn and A.W. Mellon Acquisition Endowment Fund 2004.50. Photograph courtesy the Carnegie Museum. © Julie Mehretu.
A vibrant new show of paintings and works on paper is now open at the Whitney Museum of American Art. This mid-career survey of artist Julie Mehretu is her most comprehensive overview to date, covering explorations of abstraction, architecture, landscape, and figuration.
NEW AUTHENTIC MEXICAN

Kuxe is the word for corn in the indigenous language Totonac, spoken by a native group that can be found in Puebla, Mexico. Celebrating that local cuisine, this Village newcomer from chef Julian Medina and restaurateur Louis Skibar serves "cocina de pueblo"—hometown cooking—with Mexican spirits to match. Traditional and modern techniques come together in an array of standout tacos.
BOTTOMLESS BRUNCH

Uptown favorite Ribbon 72 is back with indoor dining, on top of delivery and pickup options. There's a ton to choose from, including 90-minute bottomless brunches on Saturday and Sunday ($49.99) that include entree options like quinoa bowls, chicken 'n' waffles, eggs Benedict, challah French toast, or chilaquiles rojo.
FRICK MADISON LAUNCHES

Room 24: Four grand panels of Fragonard's series The Progress of Love are shown together at Frick Madison in a gallery illuminated by one of Marcel Breuer's trapezoidal windows. This view shows two of the 1771–72 paintings, with two later overdoors visible in the next gallery. Photo: Joe Coscia.
Like so many this pandemic year, The Frick Collection got the itch to renovate. While its historic home is getting spruced up, the art has taken up residence in the modern confines of the former Met Breuer. A two-year run here has begun, with a chronological and geographic survey representing the likes of Bellini, Gainsborough, Goya, Rembrandt, Titian, Velázquez, and Vermeer.
CALDER AT THE MOMA

Installation view of Alexander Calder: Modern from the Start, The Museum of Modern Art, New York, March 14, 2021–August 7, 2021 © 2021 The Museum of Modern Art. Photo: Robert Gerhardt.
Alexander Calder was one of the most beloved sculptors of the 20th century. His ever-changing works reward reflection and a new exhibition at the MoMA provides the space and setting for it. Early wire and wood figures, works on paper, jewelry, mobiles in motion, and monumental abstract sculptures are all on display, showing off the artist's range. Rarely seen works are also installed, including the large-scale Man-Eater with Pennants, on view in the Sculpture Garden for the first time in more than half a century.
A NEW IMMERSIVE ART EXPERIENCE

Head to the historic boiler room of Chelsea Market to experience the immersive art space ARTECHOUSE. The 2021 exhibition season kicked off with Geometric Properties. Patterns get a cinematic touch as math artist Julius Horsthuis presents a new reality. Commissioned for ARTECHOUSE NYC, Geometric Properties is the first solo exhibition of Horsthuis's work in New York City. His previous work has been featured in the Academy Award winning Manchester by the Sea (2016) and VFX-breakthrough film Koning van Katoren (2012). The installation is open to all ages and will be on view until September 6th. ARTECHOUSE NYC is open with limited capacity and protocols in place to ensure the safety and health of visitors.
THE QUEENS DRIVE-IN

After a sold-out run in the fall, the New York Hall of Science in Flushing Meadows Corona Park will once again be hosting movies on the very big screen. Tickets remain for coming attractions like The Shining, The Road Warrior, Dune, The Big Lebowski, and double features like Escape from New York + RoboCop and North by Northwest + From Russia with Love. Concessions from Queens Night Market vendors are happening as well. Gas up for some vintage entertainment!
GAME OF 1000 BOXES

Part game show, part audio-visual thrill ride, Game of 1000 Boxes is the city's brand-new social gaming experience. Gather up your best team of four and head to Midtown West to test wits, instincts, and button-finger agility. 360-degree digital projections make for a highly participatory show and no two are the same. At the end of the show, the winning team gets a mystery box and—more importantly—bragging rights.
PRIVATE POOL

Your own private pool room is a perfect solution to pandemic constraints. In addition to three locations in Brooklyn, the pool lounge company Sharks has dropped a new space in Rockefeller Center. "The Rock Room" is on the concourse level, just down from the Top of the Rock ticketing center. The room is completely private, accommodating up to four guests at a time (more if you arrange things ahead of time). They'll hook you up with cues, chalk, balls, and a Bose Bluetooth speaker. The space is also outfitted with an 8-foot pool table, a lounge area, a flat screen, a mini fridge for BYOB stocking, and a sanitization station. One hour is $50; you can also opt for private lessons.
VISIONARY ART

Niki de Saint Phalle. Last Night I Had a Dream. 1968–88. Painted polyester. Overall dimensions variable. Photo: Laurent Condominas. 2021 Niki Charitable Art Foundation.
MoMA PS1 presents Niki de Saint Phalle: Structures for Life, the first New York museum show of the work of visionary feminist artist Niki de Saint Phalle (American and French, 1930-2002). Sculpture, prints, drawings, jewelry, film, and archival materials will also be on display in a play, exuberant show that also connects to Saint Phalle's engagement with social and political issues.
ESTAMOS BIEN–LA TRIENAL 20/21

Joey Terrill, Black Jack 8, 2008, mixed media on canvas. Courtesy the artist.
El Museo del Barrio, the first museum in the country dedicated to Latino art and culture, launches a brand-new exhibition on Saturday. Estamos Bien–La Trienal 20/21 is the museum's first national survey of Latinx art. The selections highlight 42 artists and collectives from across the US and Puerto Rico.
KAWS: WHAT PARTY
KAWS (American, born 1974). WHAT PARTY, 2020. Bronze, paint. © KAWS. (Photo: Michael Biondo.)
Brooklyn-based artist KAWS receives his first ever career survey, looking at his overlaps of fine art, street art, commerce, and pop culture. KAWS: WHAT PARTY highlights a range of output, including drawings, paintings, bronzes, furniture, and monumental wooden sculptures of the beloved COMPANION character. Work never before publicly displayed is also on view, and throughout the exhibition visitors can directly engage with KAWS's work through Acute Art, an augmented reality app.
AWAKEN AT THE RUBIN

Vajrabhairava; Sino-Tibetan; 15th century or later; polychromed wood; Virginia Museum of Fine Arts, E. Rhodes and Leona B. Carpenter Foundation and Arthur and Margaret Glasgow Fund; 93.13a–oo.
The tail end of this endless pandemic winter is an excellent time to unplug and enter Awaken: A Tibetan Buddhist Journey Toward Enlightenment. This new show at the Rubin Museum of Art brings together 37 works of art spanning the 7th to the 21st centuries. Sculptures, scroll paintings, illuminated manuscripts, and ritual items encourage the recognition of the idea that everything is interconnected.
ROOFTOP TACOS!

NYC's hottest Mexican rooftop, Cantina Rooftop, is back open in the heart of Hell's Kitchen. The year-round rooftop restaurant under the helm of Chef Saul Montiel has a new brunch menu with temptations that run both sweet (tres leches French toast) and savory (steamed mussels with chorizo). Bringing a crew? There's a Giant Ass Taco for that, available by special order to share with six of your closest friends. Dinner is served Tuesdays to Fridays 4-11pm and weekend brunch is 11am-3:30pm.
ROOFTOP COMEDY

Bushwick's The Tiny Cupboard is reprising its live comedy shows. Safety is job one here, so expect limited admission, loads of social distancing, and no food or drink. (All Night Skate down the block is recommended for your pre-gaming.) "Dress like you're going skiing" is the advice and note that these shows do sell out.
JAPAN SOCIETY REOPENS

For the first time since COVID, the elegant galleries of Japan Society have reopened to the public. The first exhibition up is a celebration of the resilient spirit of Japanese craftsmanship through woodworking tools, architectural patterns, and models. When Practice Becomes Form: Carpentry Tools from Japan will be on display through July 11th; admission is free for the balance of March.
GOYA AT THE MET
Image: Seated Giant.
Spanish artist Francisco Goya (1746–1828) was one of the most remarkable figures of his time. You can learn more at the newly opened Met show Goya's Graphic Imagination, which explores the artist's skills as a draftsman and printmaker. The 100 works on display further show off the way Goya thought about politics, superstition, and intellectual oppression.
JAPANESE ART AT THE MET
Zao Gongen, Heian period (794–1185). The Harry G. C. Packard Collection of Asian Art, Gift of Harry G. C. Packard, and Purchase, Fletcher, Rogers, Harris Brisbane Dick, and Louis V. Bell Funds, Joseph Pulitzer Bequest, and The Annenberg Fund Inc. Gift, 1975.
Over the past decade, the Met has transformed its Japanese art collection through a series of gifts and acquisitions. The new exhibition Japan: A History of Style tells that story across centuries of creation. Explore 10 galleries, each highlighting a distinct genre, school, or style. Don't miss the woodblock prints from the Lee E. Dirks Collection and the contemporary metalwork by Living National Treasures and emerging artists.
LIVE BEATS

If you're looking for a getaway without running up the mileage, head out to Brooklyn's Industry City for a range of possibilities. On top of drinks, bites, shopping, and ice skating, you can also groove to live music. Look for live Latin music from Cuarteto Guataca (above) at Sahadi's outdoor seating in Courtyard 3/4, in addition to sets of live bossa nova and jazz.
MRS. MAISEL'S MARVELOUS TOUR OF NEW YORK CITY

On Location Tours, the city's premiere TV and movie location tour company, has added 1950s New York City to its stable. And you can enjoy it from a prime seat inside a 1957 Studebaker—the very one used in all three seasons of the show. Mrs. Maisel's Marvelous Tour of NYC is ongoing on Thursdays and Saturdays (it's not cheap, but you'll have a highly personal experience—tours are limited to 2 or 3 guests). An energetic guide shows off locations used in the series and shares secrets about how the crew disguised modern-day NYC to pass for 60 years ago.
ARTISTS & FLEAS

Shop local this weekend at Artists & Fleas in Williamsburg. This flagship Brooklyn scene connects makers and browsers, bringing in more than 45 sellers every weekend. Get a first look at the latest trends in fashion, vintage, art, and design.
LIVE MUSIC ACCOMPANIMENTS

Enhance your experience of the galleries at the Museum of Arts and Design with live music activating the spaces on select Thursdays and Saturdays. Meant to be enjoyed informally as visitors explore the art on view, performances from an international roster of celebrated instrumentalists take place in accordance with the museum's safe social-distancing practices. Curated by Laura Metcalf and Rupert Boyd of Boyd Meets Girl, the roster includes international soloists, Grammy winners, and members of the New York Philharmonic, the Met Opera, and the Hamilton orchestra. Performances take place Saturdays 2–4pm and Thursdays 5-7pm and are free with museum admission.
MODERN ART IN POSTER FORM
If you're craving New York culture you can check out a double layer of it at Poster House. The only poster museum in the U.S., this Chelsea newcomer has a mini-exhibition focused on philanthropist Vera List and the creation of a poster program advertising the new Lincoln Center complex in 1962. Contemporary art stars from Andy Warhol to Roy Lichtenstein, Ben Shahn, and Robert Indiana joined in. New exhibitions include Austrian designer Julius Klinger (1876–1942), one of the leading graphic artists of the modern age. Julius Klinger: Posters for a Modern Age spans three decades, with more than 80 Klinger's posters, illustrations, and advertisements, plus additional context from the work of contemporaries like Gustav Klimt. Also opening Thursday is Freak Power, a visual telling of Hunter S. Thompson's plan to become Sheriff and transform Aspen, Colorado.
THE SECRET SIDE OF ELLIS ISLAND

hodgepodge brigade/Flickr
Get a behind-the-scenes look at the unrestored Ellis Island Immigrant Hospital Complex. This gateway to America for millions of people is accessible again via Statue Cruises—the only ride to Ellis Island and the Statue of Liberty. (If you opt for the Hard Hat Tour Ticket and its 90-minute guided tour of the hidden part of Ellis Island you'll get round-trip ferry service and audio Tours of Liberty and Ellis Islands.) The art exhibition "Unframed—Ellis Island," by renowned French artist JR, is on display throughout the hospital complex. Tours run on Saturdays and Sundays.
ASIA SOCIETY'S FIRST TRIENNIAL

Sun Xun. "July Coming Soon" (detail), 2019. Ink and color on silk. 24-page folding album. Courtesy of the artist and ShanghART Gallery. Photograph: Alex Wang (ShanghART Gallery).
The inaugural Asia Society Triennial, a first-of-its-kind installation, is now open. In addition to the art on display at the Upper East Side's Asia Society and Museum, other venues and multi-media performances are included in the mix. You'll find work by more than 40 artists representing 20 countries sharing work that reflects Asian nations and the Asian diasporas. We Do Not Dream Alone is slated to run in two parts through June 27, 2021. Entry to the Triennial is by timed tickets.
BEAT THE BOMB IMMERSIVE VIDEO GAME EXPERIENCE

Beat The Bomb, an immersive video game experience based in Dumbo, Brooklyn is opening up with new experiences and safety measures. The ultimate social distancing activity, Beat The Bomb is perfect for families, small groups, learning pods and quaranteams who are looking for a new kind of challenge—kind of like an escape room. The hour-long experience features a series of four games broken out into different rooms, allowing for a unique flow that separates groups for better distancing. The goal: earn time on the bomb clock by beating levels. Then disarm the paint bomb before time runs out…or GET BLASTED! (PPE has always been a part of the experience, but it's really coming in handy now.) beatthebomb.com
VIRTUAL TOURS OF THE UNITED NATIONS

Ahead of an in-person reopening, UN Visitors Services is presenting virtual tours and briefings, hosted by the UN's legendary multilingual tour guides. Online visitors can learn about the organization's roles and can get insider angles on famous spaces like the General Assembly Hall and Security Council. Tours are available for groups or "UN Kids." visit.un.org
YANKEE STADIUM VIRTUAL TOURS

Yankees Stadium holds many stories inside its walls. Experience the historic team's history from your own grandstands with Yankee Stadium Tours' new virtual visits. The Yankees are holding tours twice a week, every Tuesday at noon and every Thursday at 2pm, for about half an hour each. You can reserve a spot here, and prepare to learn more about New York. The tour features iconic sites like Monument Park, essentially the Yankees' Hall of Fame, honoring the franchise's greatest players, managers, and coaches. You can also get a peek at the New York Yankees Museum, which features historic jerseys, baseballs, and more detailing the Yankees history. Book now, as tours are quickly reaching capacity.
HAVE A QUESTION ABOUT THE CITY?

City Guide brings you "Everything to Do NYC," a community of people helping each other get everything we can from the city. Looking for a restaurant? Ask ETD. Want to share a great find? Let us know about it. It's your go-to group for how to get everything you can from everything in New York. facebook.com/groups/everythingtodonyc
STATUE OF LIBERTY

Statue City Cruises is once again out and about in New York Harbor. In fact, they're adding 60% more service for Memorial Day Weekend and restoring capacity up to 100% over the next couple weeks as ridership trends up. The Liberty State Park departure point in Jersey City, NJ reopens this weekend. Tickets can be purchased in advance (strongly encouraged) from the Statue City Cruises website or at Gangway 5 in Battery Park. statuecruises.com
IT'S ALL HAPPENING AT THE ZOOS

Photo: Julie Larsen Maher © WCS
COVID couldn't stop New York's zoos—the Central Park Zoo, Prospect Park Zoo, Queens Zoo, and the most famous of all, the Bronx Zoo. (Famous for a good reason—there are 8,000 animals there, spread across a habitat that includes 265 acres of hardwood forest). Guest health and safety are the top priority, with social distancing, limited capacity, one-way paths through the park, and touchless interactions. Open exhibits at the Bronx Zoo include the African Plains, African Wild Dogs, American Bison, Baboon Reserve, Big Bears, Birds of Prey, Children's Zoo, Himalayan Highlands, Sea Lion Pool, Tiger Mountain, and the Wild Asia Monorail. Visit the Bronx Zoo's Know Before You Go section to learn more. You'll need to get your ticket in advance (no tickets will be sold at the gates). A touchless entry will let you in, but you must have a face covering, and follow spacing markers to ensure social distancing. bronxzoo.com
TALKS, LECTURES, AND EVENTS
Thought Gallery has hundreds of livestream talks, lectures, performances, and more. Check out sessions with celebs, live concerts, and opportunities to learn the latest on everything from science to philosophy to social justice.
VIRTUAL ESCAPE ROOM
Missing escape room adventures? NYC fave The Escape Game has some great play-at-home editions including Unlocked: The Heist—Vol. 1: Chasing Hahn, which includes all the pieces of the original mission kit, ready for play in quarantine. They've also just launched a new series, The Escape Game Remote Adventures. These are escape games you play with your friends, family, and co-workers on Zoom from anywhere in the world. Players progress through the room using an online clue bank, a live Game Guide, and a 360-degree view of the room. theescapegame.com/remote-adventures
Keep up with the best of NYC—newsletter just launched!
NEW YORK'S ACTIVITY AUTHORITY
Get editors' curated recommendations and have more fun:
FHITTING
ROOM
PRIDE
2021
VIRTUAL
BENEFIT
CLASS
The special donation-based virtual benefit class hosted on Fhitting Room LIVE! will be led by trainers Ben W. + Chris S., with a special appearance by the fabulous drag queen and Crossfit Princess JuiceBoxx. A curated playlist will set a very upbeat tone. 100% of donations will go to the Human Rights Campaign, an organization that envisions a world where every member of the LGBTQ family has the freedom to live their truth without fear, and with equality under the law, and GRIOT Circle, which provides a welcoming space, culturally sensitive services, and programming for LGBTQ elders of color. The class takes place on Wednesday, June 23rd at 5:30pm. Donate to register here. Anyone who makes a donation will be automatically reserved a spot in the class. Event participation details, including a link to access the event, will be sent to all donors 1 hour before the event.
HOTEL BONUSES—THE HAMPTONS (AND NYC)
​
Bedside Reading is celebrating the start of its twentieth beach season of placing complimentary books by the bedside in popular hotels in The Hamptons. Sexy beach reads, riveting thrillers, engrossing memoirs, and fun children's books—all comprise The Bedside Reading summer program which continues to be a "must-have" amenity for its 10 local hotel partners. (In addition to beach reading, NYC hotels participate, including The Conrad New York Downtown and The Pierre, A Taj Hotel.) All summer long look for celebratory events including book signings, book giveaways, virtual and in-person author meet-and-greets, and the second annual Hamptons Beach Lovers Guide. Beach book totes filled with the best books of the summer will be delivered to hotel partners on 10 select summer weekends. If you're out Hamptons way, Wednesday, July 21 will be a book signing with four local authors—including Amanda M. Fairbanks, whose The Lost Boys of Montauk was listed in the New York Times's top 15 books to look for in May. A full twentieth season activity calendar can be found here with activities for the community and visitors to share in the celebration as well as a top 20 beach reads listing here. Books are complimentary. bedsidereading.com
E

VERYTHING TO DO NYC
​
Want free advice on what to do and see in New York? Join our Facebook Group Everything to Do NYC, a place for people to ask questions and get tips on how to make the most of the city.