Looking for what to do in NYC today, or this week, or this weekend? There's tons of things to do in New York, like festivals, pop ups, photo ops, and more. We've got the full roundup of New York activities here.
SPONSORED BY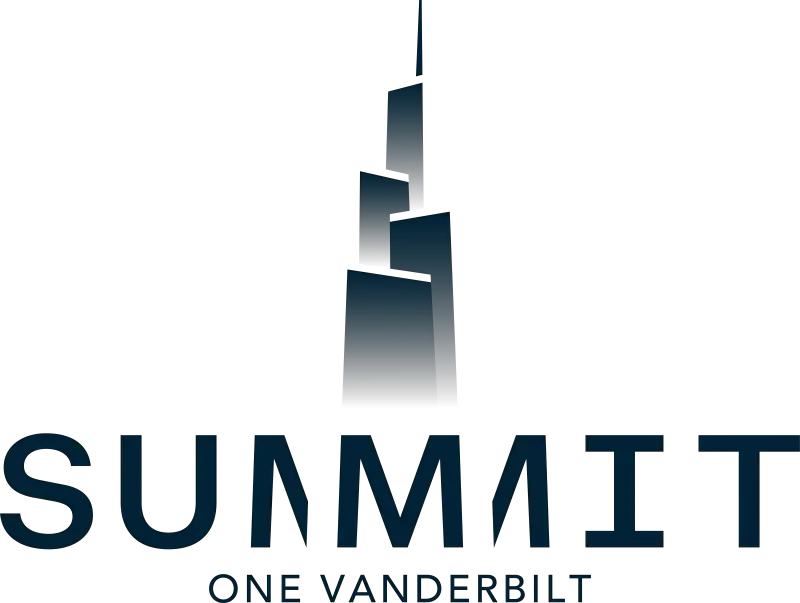 ​A multisensory experience in the New York sky.
THINGS TO DO IN NYC THIS WEEKEND
ECO CRUISE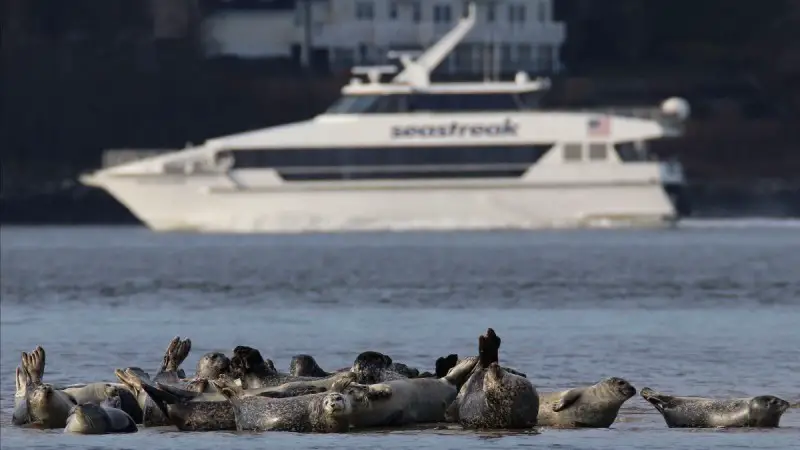 New York Harbor continues to make a remarkable return to environmental health, enticing all kinds of nature back to the city. The local pros at Seastreak are running eco cruises right in our own back yard. This Saturday marks the last seal trip of the year. Cruise past multiple seal hangouts (ships usually have a 100% success rate for sightings). Once you get a good look at the seals near Sandy Hook—one of their favorite gathering spots—you'll cruise north towards Hoffman and Swinburne Islands, where seals like to "haul out" and sun themselves on the rocks. You can do some birding as well, with loons and double-crested cormorants among the shorebird possibilities. A wildlife expert from the American Littoral Society is on hand for IDing species and sharing background on the critters. Trips leave from Highlands, NJ, but Manhattan visitors can connect via ferries at Wall Street in the Financial District and East 35th Street in midtown. (Beyond wildlife, it's just great to get out on the water and take in the skylines.)
FLOWER SHOW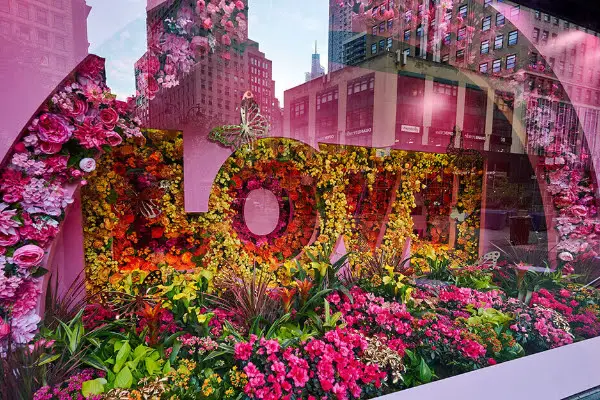 Window display from a previous year.
Another sign of spring: the 48th Annual Macy's Flower Show launches on Sunday. The Herald Square flagship will be transformed into a dream-like city in the sky, with thousands of plants, flowers, and trees taking root, many in defiance of gravity. A special DIOR showcase adds scent to the mix. Free, through April 10th.
AMAZIN' DAY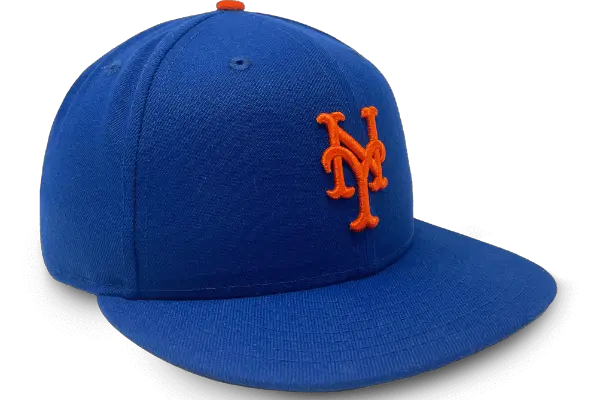 The Mets' 2023 opening day is next week and NYC gets in the spirit with a Mets city takeover on Saturday. Grab a Mets cap and make the most of Amazin' Day, with free admission to city icons, merch giveaways, and tons of chances to win Mets tickets.
NEW YORK WATER WEEK

Image: Robert/Flickr.
The city's look at its waterways wraps up with a three-hour guided tour from midtown on Friday. Stewardship on the Water: A Boat Tour from the Bronx to Brooklyn will sail past community-led projects including kelp farms, constructed salt marshes, floating gardens, and new river access. A box lunch is included in the ticket price.
ARTISAN MARKET
Launching this Saturday, Hudson Yards will help you shop local from pop-up artisans. Look for custom jewelry, tufting, apothecary, self-care, and sustainable options. There will be workshops as well; the Artisan Market runs Saturdays through April 29th.
BRUNCH LAUNCH
Image: Seeds & Weeds, courtesy Nicole Franzen.
The Tin Building is the culinary epicenter of the Seaport, a mix of cuisines and atmospheres all under the singular vision of star chef Jean-Georges Vongerichten. The latest here is weekend brunch. Among the highlights: lobster Benedicts at Fulton Fish Co.; baked eggs at The Frenchman's Dough; brioche French toast at T. Brasserie; and a farm egg dosa at the artisanal Seeds & Weeds. In keeping with brunch traditions, Bloody Marys and other craft cocktails are available as well.
FLAMENCO FESTIVAL
A living legend in flamenco, Sara Baras returns to City Center for the first time since 2019. Through Sunday, she'll bring her mix of classic forms and modern sensibilities with her new show Alma.
NEW IMMERSIVE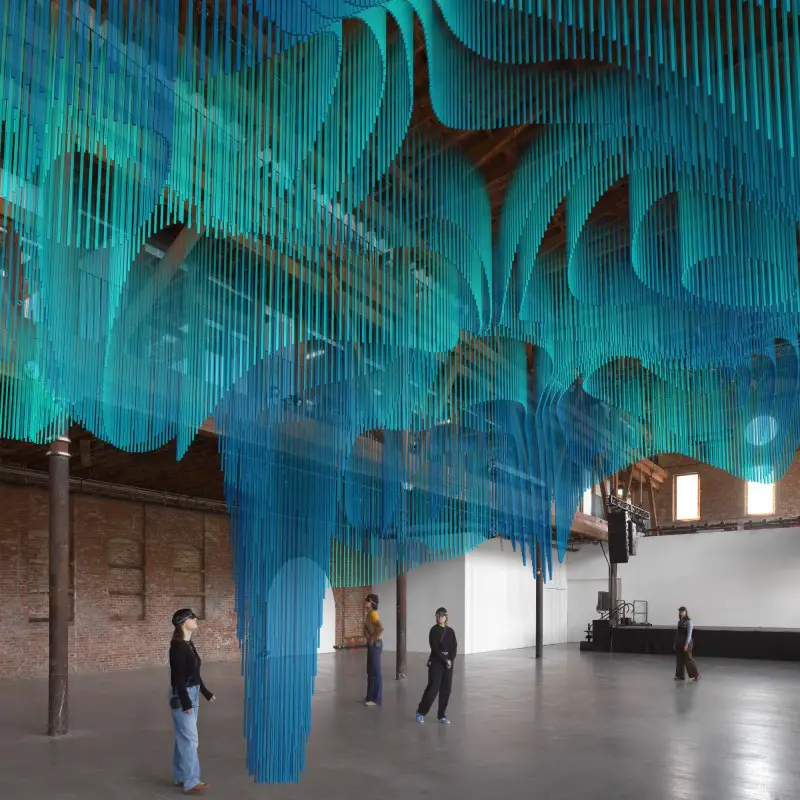 Brooklyn creative space Pioneer Works presents a new mixed reality experience, Medusa. Created by Tin Drum, the world's leading Mixed Reality studio, the show uses special glasses to overlay virtual architecture on Pioneer Works' soaring historical industrial space. Inspirations come in part from the aurora borealis and underwater bioluminescence; strap on the special glasses and find yourself mesmerized.
SUMMIT ONE VANDERBILT
SUMMIT One Vanderbilt blends elements of art, technology, architecture, and thrill to take the concept of "observation deck" to entirely new heights. With three floors of immersive space that will challenge, inspire, and thrill, guests can awaken their senses and surrender to new perceptions of what is possible. Consisting of 30,375 square feet of mirrors and sweeping 360-degree views of Manhattan, SUMMIT offers one of the most Instagrammable experiences in the world. Beyond the photo-op, guests are encouraged to interact with the experience through floating orbs in the "Affinity" room, cloud portraits in the "Unity" room, and a trip on the world's largest external glass elevator, "Ascent."
FOLK ART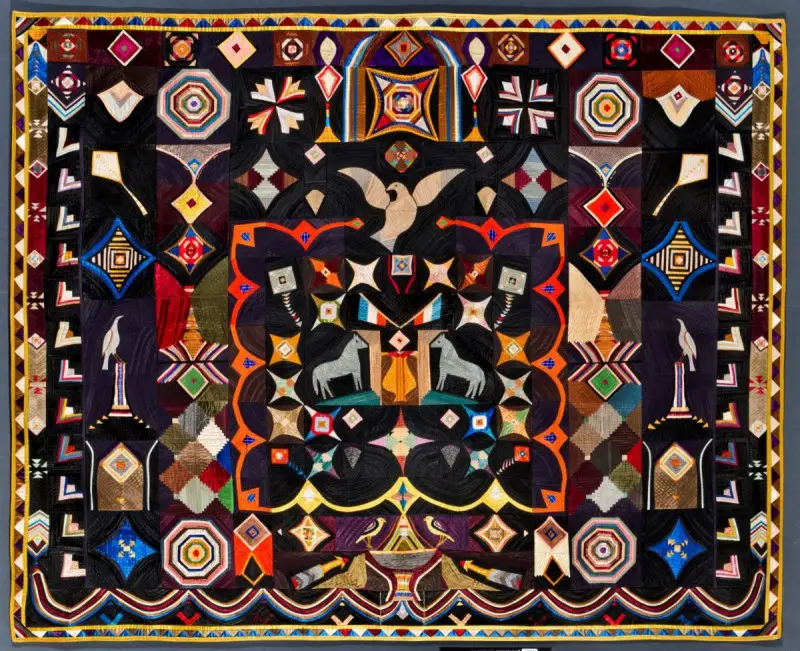 Carl Klewicke (1835–1913), Original Design Quilt, Corning, New York c. 1907. Pieced silk, faille, taffeta, and satin, 60 x 72 1/2 in. American Folk Art Museum, New York, Museum purchase, 2012.1.1.
Through 35 quilts and related works of art, What That Quilt Knows About Me explores the personal, emotional power of quilting. See some unexpected life stories through work spanning the 19th through 21st centuries. Now open at the American Folk Art Museum.
IMMERSIVE THEATRE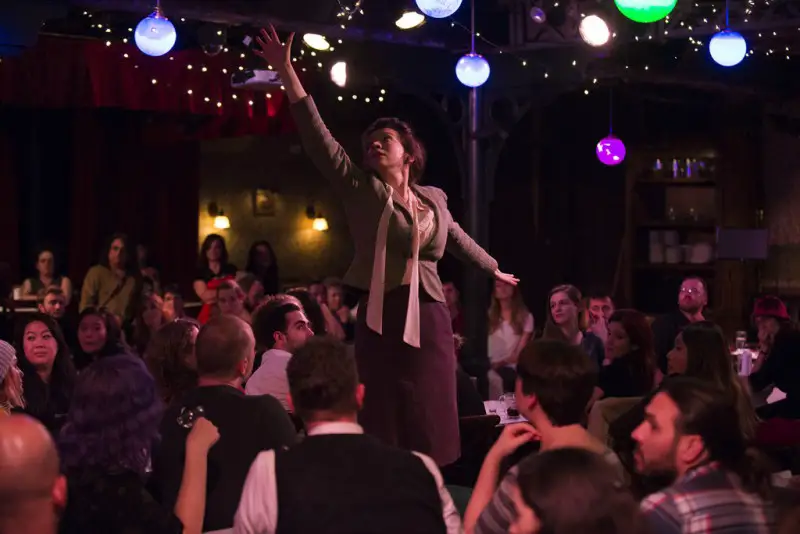 New immersive theatre comes to the McKittrick Hotel with the opening of The Strange Undoing of Prudencia Hart. A transporting and music-filled Scottish fable unfolds among and around its audience, weaving an ingenious, lyrical, and enchanting story. (The space is transformed into a high-spirited Scottish pub for the occasion.)
SPRING FLINGS
Spring makeovers have begun at Loreley Beer Garden, which has launched its Spring Beer & Cocktail Festival. Look for a riot of flowers along with specials like the Frozen Espresso Martini—topped tableside with a coffee aroma smoke bubble.
SMALL IS BEAUTIFUL
Photo: © Slinkachu, Fever.

Think small. After successful runs in Europe, the Small is Beautiful: Miniature Art Exhibition has arrived in NoHo. Gain a fresh appreciation for detail as you explore 130 miniature works of art at this pop up experience. Great for kids, or adults looking to reconnect with childhood fascinations with small-scale universes.
ORCHID SHOW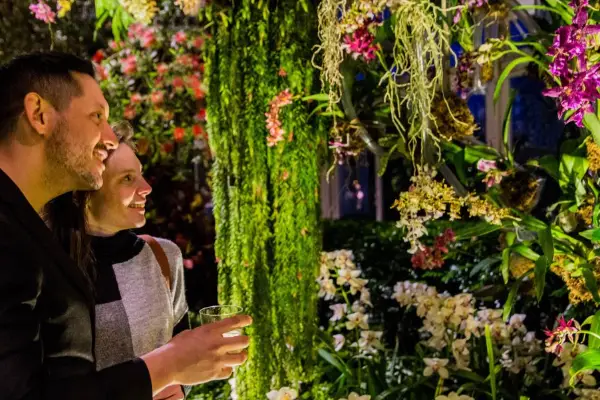 This year marks the 20th anniversary of this annual rite of spring at the New York Botanical Garden. Saturday sees the launch of The Orchid Show: Natural Heritage, designed by Lily Kwong, immersing visitors in a fantastical vision using thousands of flowers.
PINK PIER POP UP

The city's newest romantic pop up is now open at the Seaport. Pink Pier at Watermark brings together Instagrammable moments and panoramic views of the East River and Brooklyn Bridge. Through the end of March you'll find heated glasshouses and a floral hallway among multiple photo ops. Brunch and dinner temptations include heart-shaped macarons, chocolate fondue, cotton candy Prosecco, and "Cupid's Quiche."
HIP HOP: CONSCIOUS, UNCONSCIOUS

Lisa Leone—Wyclef Jean and Lauryn Hill, East Harlem, New York City, 1993 while shooting Vocab video.
Fotografiska New York is a museum experience for the modern world. A new exhibition here looks at a New York City original creation.Hip Hop: Conscious, Unconscious takes in a massive outpouring of creativity, starting in the Bronx in 1973, and drawing on African, Latino, and Caribbean American contributions. Laid out by chronology and geography, focus areas include the early years, East Coast, West Coast, the South, and the newer wave of artists who have emerged since the mid-aughts. Among interwoven themes, the exhibition highlights the role of women in hip-hop, the "four elements of hip-hop" (rapping, DJing, breakdancing, and graffiti), and several debated "fifth elements" including fashion and beatboxing. Ephemera complements the photography to create a vibrant portrait of a New York City-born culture that went on to sweep the world.
NYC SPRING MARKET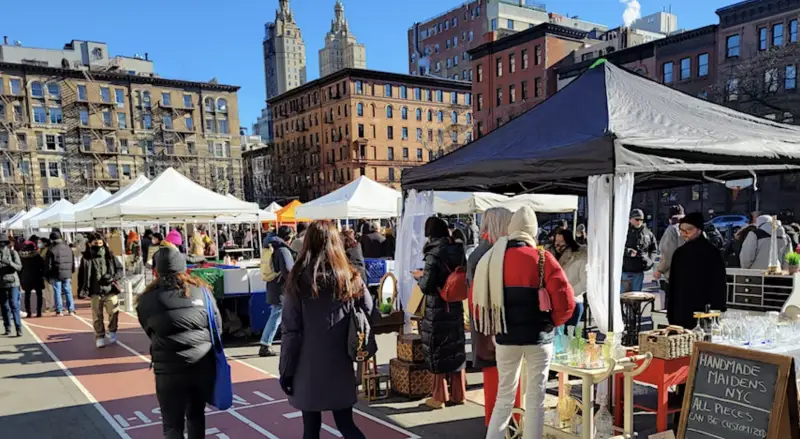 Every Sunday on the Upper West Side you can check out Grand Bazaar NYC, the city's largest curated market—and most distinctive. This week you'll also find the NYC Spring Market. Explore more than 150 vendors showing off their new spring collections. Shop both indoors and out from local dealers with rare goods including fashion and accessories, art, pottery, stationery, and home decor. Come hungry! There are great artisanal bites as well. 10am-5pm.
CULTURAL THINGS TO DO IN NYC
Wangechi Mutu, In Two Canoe, 2022. Bronze, 180 × 68 × 72 in (457.2 × 172.7 × 182.9 cm). Courtesy the artist and Gladstone Gallery.
Downtown shows off the city's more cutting edge side, with a broad range of institutions. Along the Bowery you'll encounter the only museum in the city dedicated to contemporary art, the New Museum, which was founded in 1977 to showcase the work of underrepresented artists. Currently on view is a full-building immersion in Wangechi Mutu: Intertwined, with painting, collage, drawing, sculpture, and film by the Kenyan-born American artist.
Deeper on the Lower East Side is the Tenement Museum, a time capsule of immigrant life in the early boom years of New York City. The museum can be accessed through tours of restored apartments, reflecting a variety of eras and cultures.
In the Financial District, the National September 11 Memorial & Museum features two core exhibitions at the foundation of the former World Trade Center complex downtown. A memorial exhibition—In Memoriam—pays tribute to the 2,983 men, women and children killed on 9/11 and in the 1993 WTC bombing. On the plaza outside you'll encounter two reflecting pools, featuring North America's largest man-made waterfalls.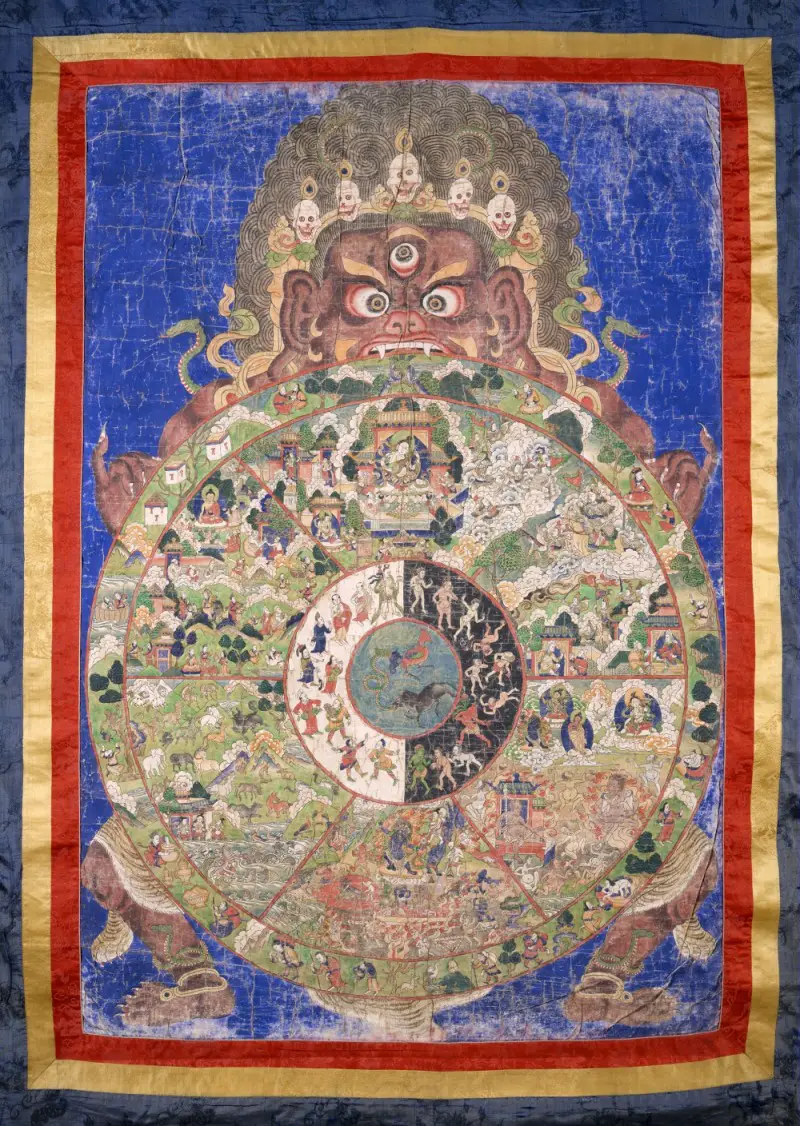 Wheel of Life; Tibet or Mongolia; 19th century; pigments on cloth; Rubin Museum of Art; gift of Shelley and Donald Rubin; C2006.66.131 (HAR 78).
Chelsea is home to the Rubin Museum of Art, dedicated to the art and culture of the Himalayas. You can get an overview of the Rubin's collection in current exhibition Gateway to Himalayan Art, which introduces visitors to the main forms, concepts, meanings, and traditions of Himalayan art. The latest exhibit at the Rubin Museum of Art brings together the art of Christianity and Tibetan Buddhism. Get a look at visions of the afterlife through "Death Is Not the End," which includes oil paintings, bone ornaments, prints, sculptures, and ritual objects spanning 12 centuries.
Near Grand Central stands The Morgan Library & Museum, a showcase for both its holdings of rare books and manuscripts and its exquisite Italian Renaissance-style palazzo setting. The nearby AKC Museum of the Dog holds a treasure trove of canine art and artifacts, from watercolors and prints to bronzes and ceramics.
The Upper East Side is home to some of the most famous institutions in the world. The Frick Collection is known for its focus on European sculpture and decorative arts, as well as Old Master paintings. While its permanent location is closed for renovation, a selection can be seen at Frick Madison, where the holdings benefit from the fresh perspective provided by a very modernist, mid-1960s temporary home.
Celebrating works of art created in Austria and Germany, the Neue Galerie focuses on important movements of the 20th century. Inside an immaculate Beaux-Arts mansion you'll find decorative objects and famous paintings by the likes of Gustav Klimt, Paul Klee, and Egon Schiele.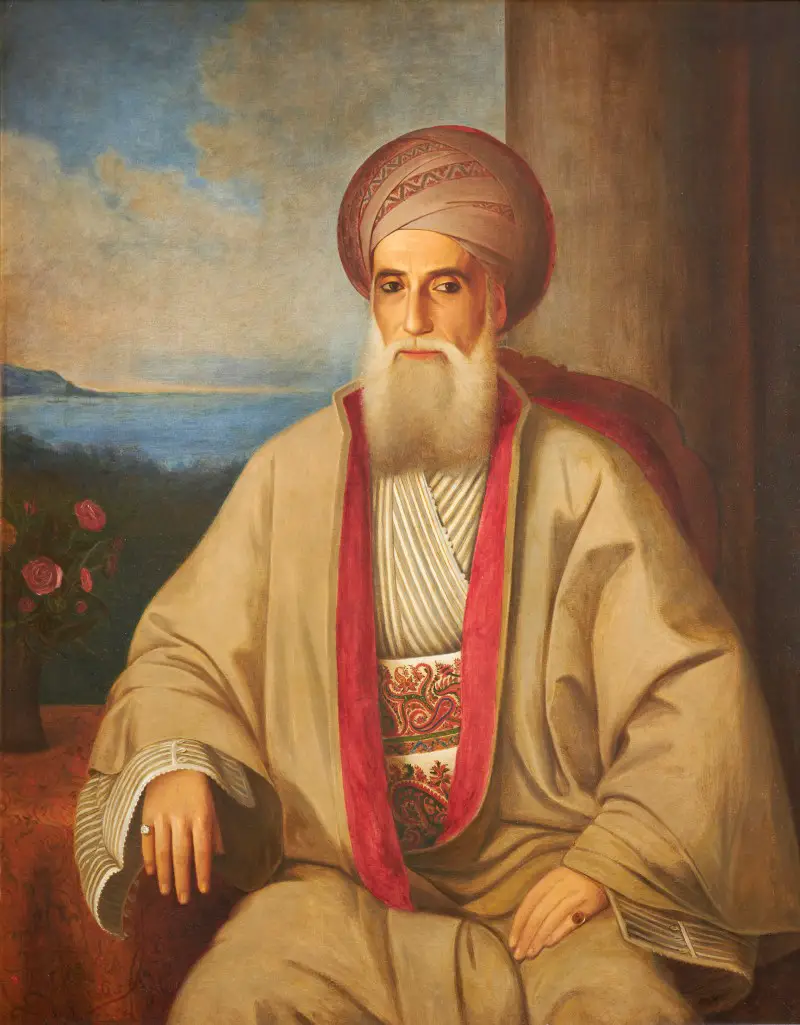 Attributed to William Melville. David Sassoon, mid-nineteenth century. Oil on canvas; 41 ½ × 33 in. (105.4 × 83.8 cm). Private collection.
Also on uptown's Museum Mile is The Jewish Museum, founded in 1904 to enhance appreciation of Jewish culture and history. On view now is The Sassoons, which follows four generations of the Jewish Sassoon family around the globe. More than 140 works collected from the early 19th century though World War II populate the exhibit, not only charting the history of the family but also the major issues of the times.
Further uptown is The Museum of the City of New York, which interprets, celebrates, and documents New York—past, present, and future. The latest show here is New York Now: Home, A Photography Triennial, with images on the concept of home representing perspectives as diverse as the city itself.
Across town on the Upper West Side is the city's oldest museum, the New-York Historical Society. Kara Walker: Harper's Pictorial History of the Civil War (Annotated), on view now, highlights the artist's powerful silhouette-like imagery and prompts a reconsidering of American legacies.
Brooklyn has become a tourist destination to rival Manhattan, complete with its own world-class institution: the Brooklyn Museum. Fashion-inspired shows have been a hit here of late, including the current Thierry Mugler: Couturissime, which shows off the creativity, elegance, and excitement of the legendary French designer. Also on view are historic Brooklyn dwellings and art that ranges from ancient Egypt to European masterpieces.
More on NYC museums and current exhibitions can be found here.
IMMERSIVE THINGS TO DO IN NYC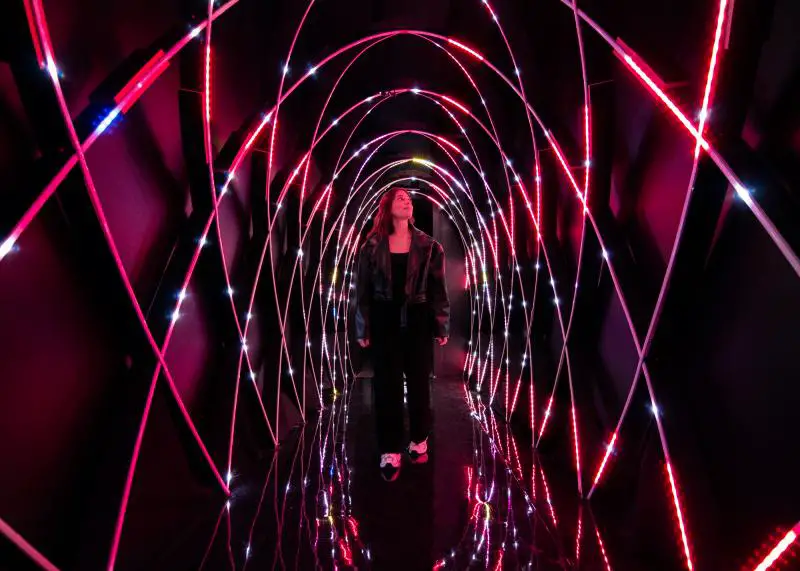 ARTECHOUSE Studio.
Head to the historic boiler room of Chelsea Market to experience the immersive art space ARTECHOUSE. You've never seen art like this before, as room-sized digital projections merge with sound design to create a cinematic experience. On view now is MAGENTAVERSE, highlighted by a 22-minute audiovisual exploration of Viva Magenta, Pantone's Color of the Year for 2023. (Pantone selected the color for its evocations of fearlessness, exuberance, and optimism.) The experience draws inspiration from nature, NASA, and the James Webb Space Telescope's views of outer space. Bespoke audio and projection technologies create a metaverse-like immersion—without having to strap on a headset. A new twist here is Beyond the Bar, a fresh slant on Happy Hour, taking place Monday and Tuesday evenings. In addition to all-night specials, your ticket comes with admission to the exhibition and a drink at the XR cocktail bar.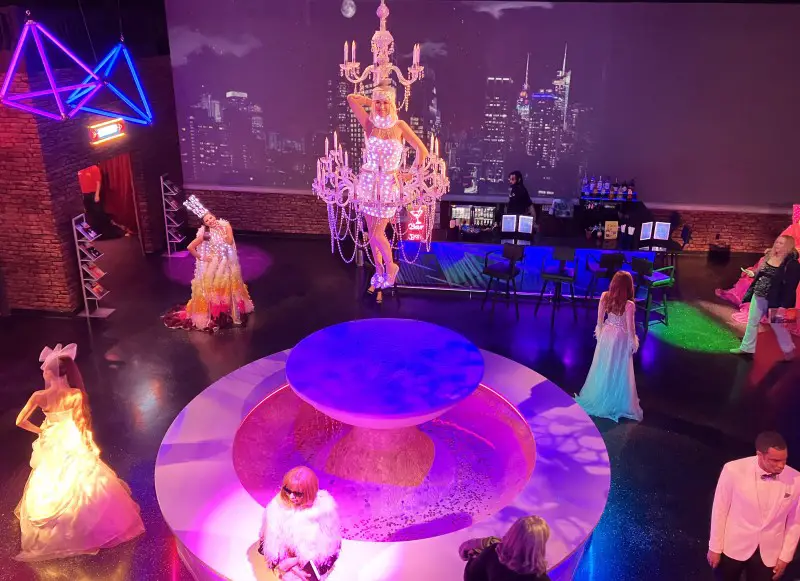 New York City is famous for its gala culture. For the first time ever, you can immerse yourself in the scene right in Times Square. The Madame Tussauds flagship holds 19 celebrity figures, including new and never-before-seen wax figures of Ariana Grande and P. Diddy, at the Glow Gala.

(If your tastes are darker, don't miss Madame Tussauds's Warner Bros. Icons of Horror, displaying chillingly lifelike wax figures within four fully immersive scenes. Celebrate legends, including Pennywise and Regan from The Exorcist. If you dare.)

Photo: Monique Carboni.
The city's newest destination is The Museum of Broadway . This interactive, experiential museum leads guests on a journey through a visual history of Broadway, with costumes, props, photos, and videos. The Phantom of the Opera, The Lion King, HAIR, and Rent are among the hundreds of highlighted productions, running from the 1700s up to today.
The inaugural Hall des Lumières exhibition, Gustav Klimt: Gold in Motion, brings the Austrian symbolist painter's works to life. The setting, a landmark former bank building downtown, adds to the experience with its soaring Beaux-Arts architecture. A new limited-time show joins the offerings on April 6th. Destination Cosmos: The Immersive Space Experience will take you on a voyage across the universe, starting at Cape Canaveral and passing over Martian canyons alongside rovers, diving into the heart of Jupiter, gliding across the rings of Saturn, and exploring beyond the frontiers of our solar system to experience the immensity of our universe. A curated soundtrack complements stunning images from NASA.
The Museum of Illusions will leave you in awe as you explore realms of eye-fooling tricks and Instagram-worthy installations. Kids and adults alike find wonder aplenty as they test their abilities to conquer illusions. You (or your prankster friend) can become a head on a platter, plus there's an Anti-Gravity Room, an Infinity Room (a hall of mirrors for the 21st century), and a room where you'll walk on walls. Open daily in Chelsea—until midnight Fridays through Sundays!

Immerse yourself in one of the greatest stories of the 20th century just a few blocks from the Titanic's intended destination at Pier 59 in Chelsea. Titanic. The Exhibition brings visitors back to 1912 through the stories of passengers, illuminated by photographs, letters, and keepsakes. You'll also get to walk through a recreation of the ship's interior, from a humble third-class cabin to a first-class suite.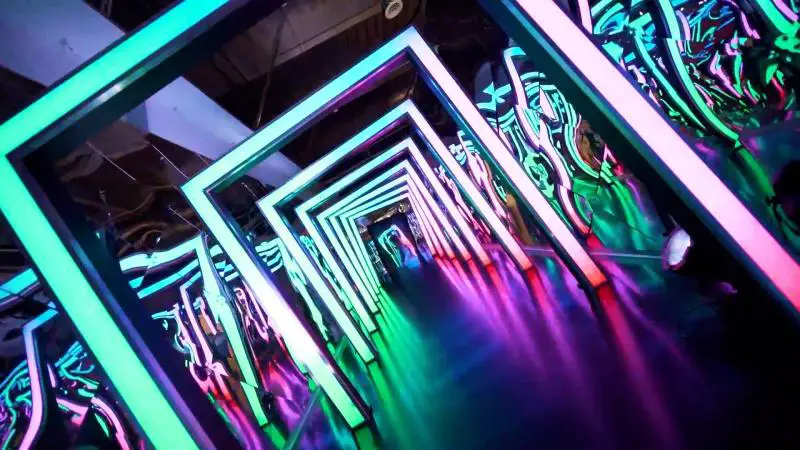 If you've ever wanted a tour of Willy Wonka's chocolate factory, you'll get a taste at Candytopia (without the imminent peril). Dive into a ball pit of marshmallows, view portraits made of candy, and take killer pics with candy-inspired scenes.
For an adventure with shades themselves, the SoHo art space Color Factory delivers a colorful interactive adventure. A sweet Manhattan stop is The Museum of Ice Cream. Check out the three-story slide that ends in a pool of sprinkles and walk through a hall of ice cream scoops. There's branded ice cream to taste and MOIC merch to take to the folks back home.
EVEN MORE THINGS TO DO IN NYC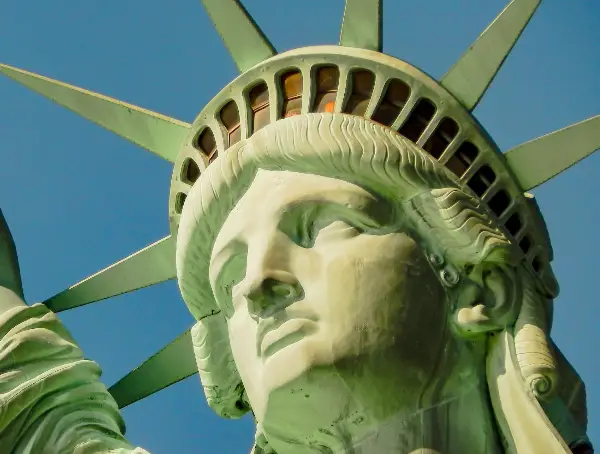 Photo by Sarah Brown on Unsplash.
After a long Covid pause, the crown of Lady Liberty is once again open to visitors. This icon requires a 162-step climb (there is no elevator) but will reward you with an entirely unique perspective on the city. Along a double-helix spiral staircase you'll see the intricate structure that keeps the statue standing, capped by 25 windows overlooking New York Harbor.
THE TIN BUILDING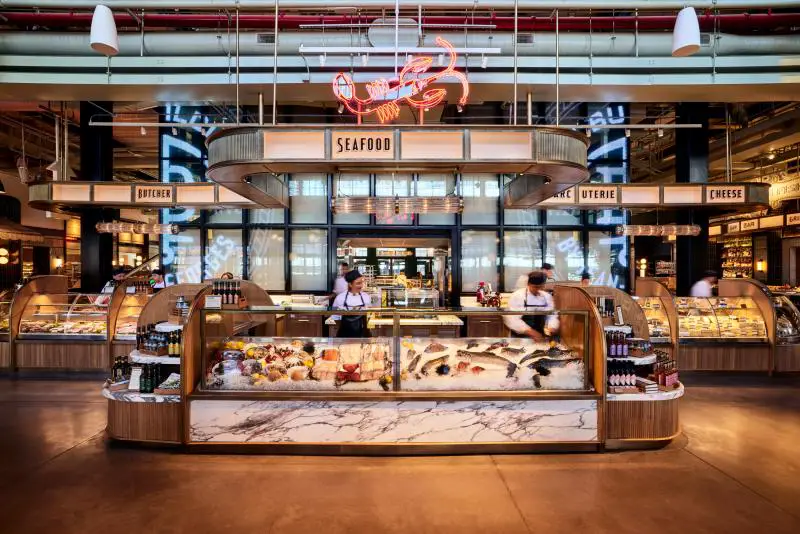 Downtown along the East River, two centuries of New York City come together at The Seaport. This district blends quaint cobblestone streets with contemporary shopping and dining. There are also incredible perspectives on the Brooklyn Bridge and the water. The South Street Seaport Museum is also here, telling the story of "Where New York Begins" through art, artifacts, and a fleet of historic vessels. Don't miss the area's latest addition, the Tin Building by Jean-Georges. Legendary chef Jean-Georges Vongerichten has filled a historic two-story space with retail, restaurants, and an impeccably stocked central market with locally sourced seafood, meats, cheeses, seasonal produce, chef-grade pantry staples, and rare ingredients.
A EUROPEAN POP UP
Every Wednesday in March you scan sample the best of coastal Spain, Portugal, and Italy. Candlelit Georgia O'Keeffe-inspired space Bar Calico will be joining forces for the Bar Calico x Luisa Wine Bar Pop-Up. Natural wines from Europe complement plates like Spanish ham and head-on prawns with chili oil and citrus salt.
BLUE MAN GROUP FOR TWO
No plot, dialogue, or ripped from headlines drama, just a romp and a half orchestrated by the three blue-hued alien dudes of Blue Man Group. This long-running Off-Broadway show and international sensation combines music, paint drums, snacks, high-tech hijinks, and unpredictable physical comedy. Get two tickets for $99 on select performances through the end of March.
Looking for all the latest notes and updates on Broadway and Off Broadway? Check out our comprehensive These Are Off Broadway Shows in NYC 2023: Everything You Need to Know.
AN INSTAGRAM SMASH IN NOHO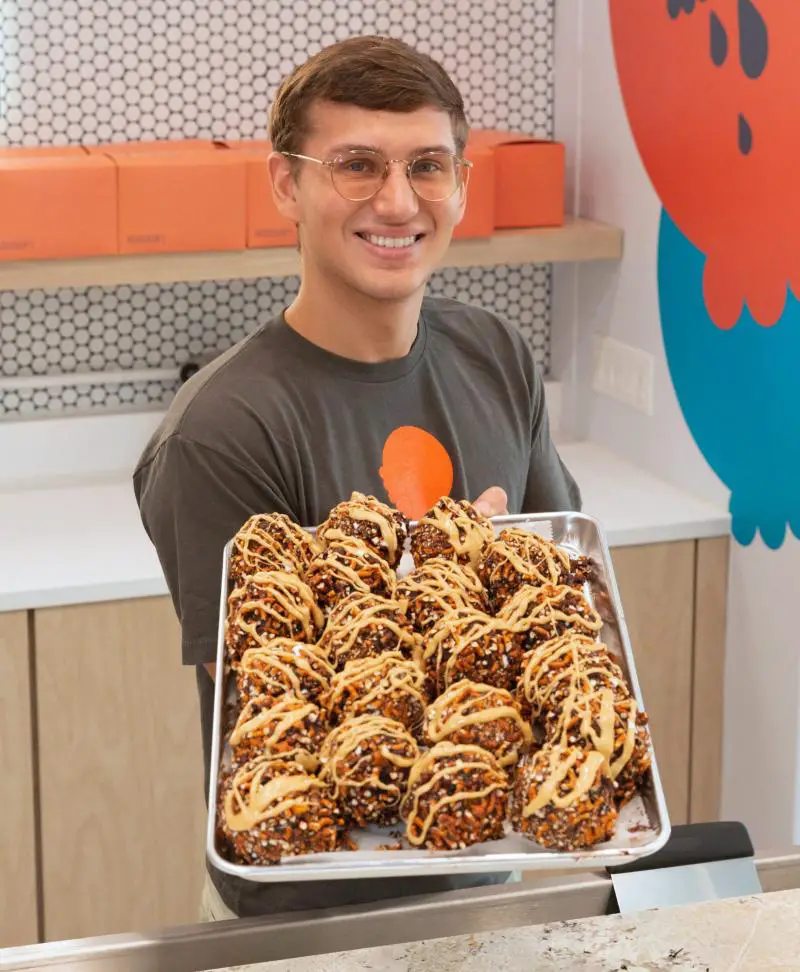 Top ice cream creator Dylan Lemay is throwing and catching artisan ice cream balls at his newly opened store, CATCH'N Ice Cream in NoHo. Stop in to catch your next favorite flavor of ice cream. Open daily from noon to late—don't miss the Behind the Counter experience, where you can make your own ice cream ball, coat it in chocolate, and roll it in your favorite toppings!
HAVANA IN TIMES SQUARE HAPPY HOUR SPECIAL
Havana Central has introduced 1/2 price empanadas during Happy Hour at the bar! Diners must purchase a drink, 3 empanadas max per drink purchase. Available in the bar only, Monday-Friday from 4-7pm. Choose from a variety of homemade savory pockets including beef, chicken, cheese, shrimp, and ropa vieja! Havana Central also features Happy Hour drink specials including $7 classic mojitos, classic margaritas, and red sangria, in addition to other specials.
#STANDWITHUKRAINE

Ukrainian Museum Facebook.
In the East Village, long a home of Ukrainian immigrants (and their food and culture), you'll find the largest museum in the U.S. committed to the rich heritage of Ukraine. The Ukrainian Museum's state-of-the-art home holds a folk art collection (one of the most important collections outside of Ukraine), a fine arts collection (including works by the well-known primitif artist Nikifor), and an extensive archive.
MIDTOWN ADVENTURES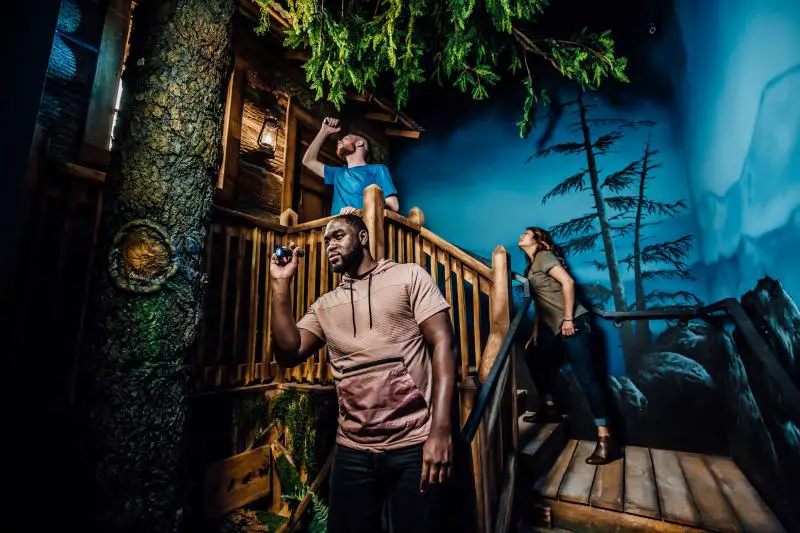 Be the hero of your very own adventure at The Escape Game in Midtown East. You and your team will find clues and solve puzzles on your way to completing a mission. Have fun, use your brain, and work together as you follow clues to escape the room in 60 minutes. At The Escape Game's convenient location near Grand Central you can choose from five different rooms: The Heist, Prison Break, Gold Rush, Playground, and Special Ops: Mysterious Market. Begin with a quick video to brief you on your mission and cover some basic guidelines, and then after that it's up to you (a Game Guide is available at all times throughout the adventure).
THE CLIMATE MUSEUM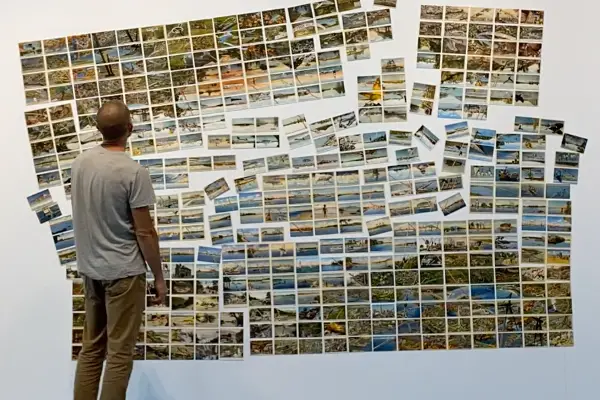 The Climate Museum's mission is to inspire action on the climate crisis with programming across the arts and sciences. The focus of a free pop up in SoHo is a major new work, Someday, all this by draughtsman and sculptor David Opdyke. The exhibition is paired with a climate action incubator, where visitors can engage with the artwork. The ultimate goal is to deepen understanding, build connections, and advance just solutions.
THINGS TO DO IN NYC: LIVE PERFORMANCES
LIVE BEATS & MORE DOWNTOWN
Downtown has one destination for eclectic, compelling music. The programming at the East Village's Drom runs from jazz, rock, electronic, soul, and funk to international music.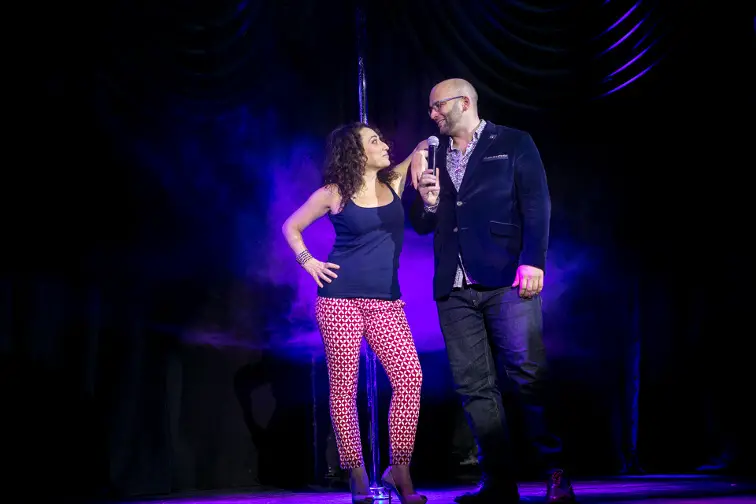 JoAnna Ross and Dan Goodman, photo by Paul Park.
Drom is also your local choice for comedy and pole dancing. Schtick A Pole In It has for the past 9 years been NYC's best (and only) comedy and pole dancing show. Comics tell jokes and pole dancers pole dance. Laugh lines alternate with death-defying tricks. If you don't see shows like this, why are you even paying NYC rents? The show has just expanded to four dates a month as part of an open-ended run. Tickets and more information are here.
LIVE JAZZ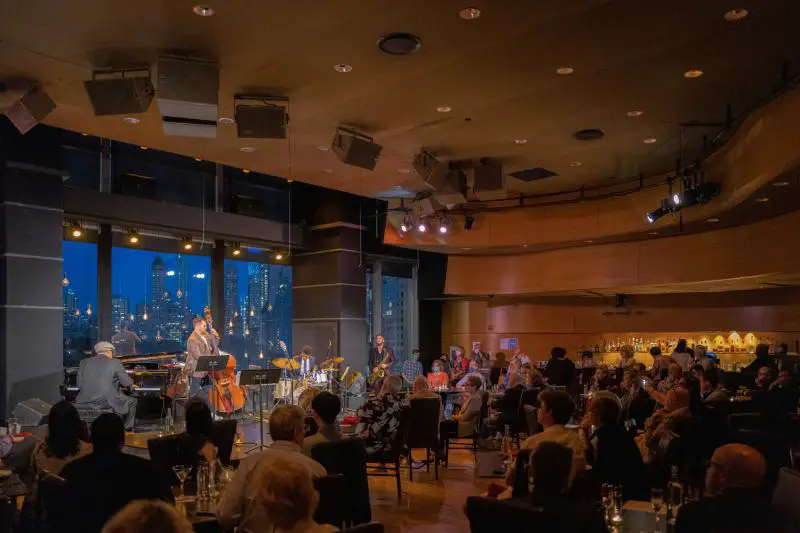 Photo by Lawrence Sumulong.
For world-class musical experiences, head to Jazz at Lincoln Center's intimate Dizzy's Club. You'll find a warm ambiance, a tasty seasonal menu, and panoramic views of the Manhattan skyline. There are shows nightly, in addition to Late Night Sessions Thursdays through Saturdays, starting at 11:15pm. Dizzy's space was expressly designed for superior live jazz experiences—you'll hear the difference at every show.
LIVE MUSIC AND FINE WINE AT CITY WINERY

Adam Pass/City Winery.
City Winery New York City at Hudson River Park brings together great bites, wine to match, and views to remember. Enjoy brunch, lunch, or dinner in City Winery's restaurant and wine bar, where the food is meant to be paired with a great glass of wine. They're open daily, with two stages hosting a stellar array of music and comedy.
LIVE MUSIC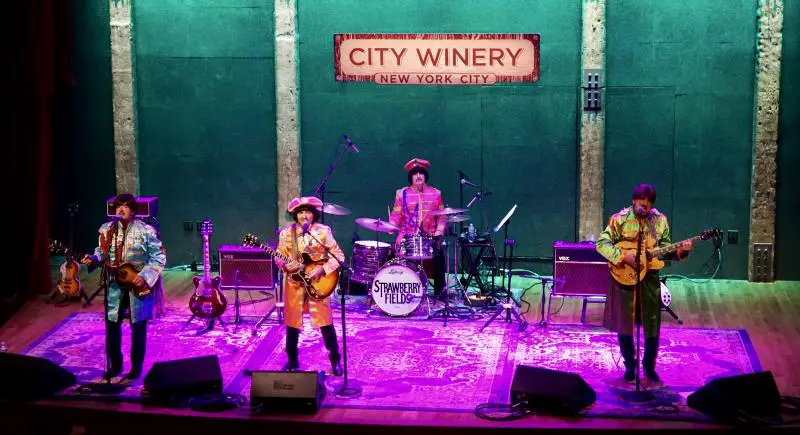 Strawberry Fields. 12pm in The Loft; Ultimate Beatles brunch concert (buffet brunch included in ticket price; free admission to children under 12)
https://citywinery.com/newyork/Online/article/new-york-strawberry-fields-lp-2023
Strawberry Fields is the closest you can get to seeing the Beatles perform live! Close your eyes, you won't believe your ears! These four acclaimed musicians deliver a unique theatrical experience. They take audiences of all ages on a chronological journey through the Beatles timeless catalog. The use of costumes, vintage instrumentation and amplification delivers a truly authentic audio and visual experience.
UPCOMING SHOWS AT CITY WINERY
James Maddock (solo) | 3.22 ($30 advance / $35 day of show)
7:30pm City Vineyard
https://citywinery.com/cityvineyard/Online/Article/CVNYC-James-Maddock-3-22-23-730pm
James Maddock's status as a fixture on the Folk and Americana scene is confirmed with every listen of any song in his prodigious catalog.
The Comedy Spotlight hosted by Chris Millhouse feat. Jessica Kirson, Joe List & more | 3.22 ($30)
8pm in The Loft
https://citywinery.com/newyork/Online/article/NYLFT-Comedy-Spotlight-3-22-23-8PM
Join Chris for a night of laughs featuring some of the biggest names & best up and coming stand ups in comedy! (Lineup Subject To Change.)
The Music of The Supremes & Dreamgirls feat. Emilie Surtees | 3.22 ($25)
7:30pm City Vineyard
https://citywinery.com/cityvineyard/Online/article/CVNYC-Music-of-Supremes-3-23-23-730pm
For a singer with such powerful pipes, it's something of a shock to hear vocalist Emilie Surtees describe herself as primarily "a listener." Then again, maybe it's her extraordinary capacity to listen that gives her tribute to both '60s girl group The Supremes and the beloved musical Dreamgirls its almost surreal accuracy. Surtees not only replicates hit songs, power note for power note, but communicates the soul of each singer who originally recorded them — something that requires not only incredible vocals but also a profound appreciation of music.
Bob Schneider (solo) with special guest Tom Freund | 3.23 ($25 - $40)
8pm in Main Venue
https://citywinery.com/newyork/Online/article/NYC-Bob-Schneider-3-23-23-8pm
Austin, Texas-based singer-songwriter and former frontman of The Ugly Americans and The Scabs, Bob Schneider has become one of the most celebrated musicians in the live music capital. Drawing from a range of diverse musicals styles, Schneider's talent has defied genres.
Ellis Paul with special guest Radoslav Lorkovic | 3.24 ($25)
7:30pm City Vineyard
https://citywinery.com/newyork/Online/article/CVNYC-Ellis-Paul-3-24-23-730pm
A troubadour, a singer/songwriter, a folky, and a storyteller -- all are fair labels for this artist, but they do not quite suffice. However, the tattoo of Woody Guthrie worn proudly on his arm is a good starting place from which to grasp Ellis Paul, for it is from the Woody Guthrie tradition that he hails, and Maine as well.
J. Ivy with special guest Tarrey Torae | 3.24 ($30 - $45)
8pm in Main Venue
https://citywinery.com/newyork/Online/article/NYC-J-Ivy-3-24-23-8pm
J. Ivy and his band visit City Winery on the heels of their Grammy win for The Poet Who Sat By The Door which brought home the inaugural Best Spoken Word Poetry Album award. J. Ivy provides an opus of observations on life with messages of endurance, love, passion, oppression, inspiration, faith and healing. The poet is the national spokesperson for Bulleit Bourbon, is Time Magazine's Editor at Large for Poetry, and he is featured on this year's Ebony Power 100 List. J. Ivy is widely known for his appearances on HBO Def Poetry and for his feature with Jay-Z on Kanye West's 2004 album, The College Dropout.
Jordan Temple & Friends | 3.25 ($20 - $25)
7:30pm in The Loft
https://citywinery.com/newyork/Online/article/NYLFT-Jordan-Temple-3-25-23-730pm
Jordan Temple is a New York City born, N.Y. based, multi-hyphenate comedian-playwright-writer-standup-actor who grew up in the projects peeing in the staircase and also the elevator. Joining him on Saturday night are Brittany Carney and Nore Davis.
Jill Hennessy | 3.26 ($25 - $40)
7:30pm in The Loft
https://citywinery.com/newyork/Online/article/NYLFT-Jill-Hennessy-3-26-23-730pm
Singer/songwriter, Jill Hennessy, is mostly known for her acting on Law & Order and her star turn on Crossing Jordan. She should be more widely recognized for her music career ….that's where it all started….Busking on the streets of Toronto as a 17 year old explorer. She wrote all of the music and lyrics on her debut album, Ghost In My Head and she performed on the Lilith Tour with Sarah McLachlan, The Indigo Girls and the Dixie Chicks and was featured on The Indigo Girls' live album "Staring Down The Brilliant Dream".
Peter Yarrow (of Peter, Paul & Mary) | 3.26 ($40 - $50)
7:30pm City Vineyard
https://citywinery.com/cityvineyard/Online/article/City-Vineyard-Peter-Yarrow-3-26-23-730-pm
Peter Yarrow's talents as a creative artist—both with the legendary trio Peter, Paul & Mary and as a solo performer—are frequently directed at using music to convey a message of humanity and caring.
The Band of Heathens | 3.27 ($25 - $40)
8pm in Main Venue
https://citywinery.com/newyork/Online/article/NYC-Band-Of-Heathens-3-27-23-8pm
With their ninth studio album, Simple Things, The Band of Heathens came home—geographically, as they returned to their longtime base of Austin for the recording; sonically, in an embrace of the rootsy, guitar-based rock with which they made their name; and thematically, with lyrics that speak to appreciating friends and family and our limited time on this planet. It's a confident, assured statement of a group finding its place in the world amid uncertain and troubled times.
The Comedy Spotlight featuring Mark Normand & more! | 3.27 ($30)
8pm in The Loft
https://citywinery.com/newyork/Online/article/NYLFT-Comedy-Spotlight-3-27-23-8PM
Join host Chris Millhouse for a night of laughs featuring some of the biggest names & best up and coming stand ups in comedy! (Lineup Subject To Change)
Bonny Doon Winemaker Dinner with Randall Grahm | 3.28 ($125)
7pm
https://citywinery.com/newyork/Online/article/NYC-Bonny-Doon-Wine-Dinner-3-28-23-7pm
City Winery, in collaboration with Randall Grahm, is hosting a five-course dining experience featuring Bonny Doon wines! Indulge your senses with one of the most iconic winemakers and the largest collection of Bonny Doon wines in the United States.
Magic in a Bottle featuring David Corsaro, Sean Dylan, and Carl Mercurio | 3.28 ($30 - $40)
7:30pm in The Loft
https://citywinery.com/newyork/Online/Article/NYLFT-CW-Magic-3-28-23-730pm
Magic in a Bottle features a lineup of the most in-demand magicians and mentalists in New York City. Our performers have appeared on the hit TV shows "Penn & Teller: Fool Us" and "America's Got Talent" as well as the world famous Magic Castle in Los Angeles and the Magic Lounge in Chicago. (Lineup Subject To Change)
The Music of Buena Vista Social Club: Tribute to Cuba's Golden Age | 3.28 ($25)
7:30pm City Vineyard
https://citywinery.com/cityvineyard/Online/article/CVNYC-Music-of-Buena-Vista-3-28-23-730pm
City Vineyard in New York City celebrates the dynamic and danceable music of the Buena Vista Social Club with this tribute to the Golden Age of Cuba. A red-hot trio of musicians, led by guitarist-vocalist Francois Wiss, will be playing. He'll be joined by Damian Quinones on guitar and vocals, and Danny Valdez on percussion and vocals.
The Best Available with Mark Normand, Jeff Arcuri & friends | 3.29 ($25 advance / $30 day of show)
7:30pm in The Loft
https://citywinery.com/newyork/Online/article/NYLFT-The-Best-Available-3-29-23-730pm
City Winery New York, Unhinged Entertainment & Greg Alperin present The Best Available - A New Live Comedy Experience with Mark Normand, Jeff Arcuri, Caitlin Peluffo, Jared Freid, Raanan Hershberg & Friends (lineup subject to change)
The Sea The Sea | 3.29 ($15 advance / $18 day of show)
7:30pm City Vineyard
https://citywinery.com/cityvineyard/Online/article/CVNYC-The-Sea-The-Sea-39-25-23-730pm
The Sea The Sea, Chuck E. Costa and Mira Costa, is an Upstate New York based indie folk-pop duo.
Sophie B. Hawkins with special guest Walter Lukens | 3.29 ($25 - $40)
8pm in Main Venue
https://citywinery.com/newyork/Online/article/NYC-Sophie-B-Hawkins-3-29-23-8pm
Hawkins emerged as a vibrant force on the musical landscape with the arrival of her platinum-selling debut album Tongues and Tails, and its iconic lead single "Damn I Wish I Was Your Lover." She defied categorization and embraced her individuality by embodying a daring fluidity as a musician, working with some of the most creative jazz musicians of the era on her debut album.
LIVE IN THE LOUNGE
Great Jones Distilling Co. is Manhattan's first whiskey distillery in a century. Their NoHo location celebrates whiskey past and present along with the culture of Prohibition-era New York. Every Saturday top local musicians perform in the Art Deco cocktail lounge. There are two shows, starting at 7pm and 9pm. Light bites, cocktails, wine, and beer are all available. If you opt for a meal at the distillery's New American restaurant The Grid you can get a 20% discount as well.
WHAT TO DO IN NYC
Stay in the loop with:
The week's best activities delivered to your email box with our free newsletter

Everything to Do NYC Facebook Group, which has real-time tips and advice from New York City experts

The city's latest openings and happenings on City Guide's Instagram
AN INTERACTIVE MUSEUM TOUR FOR THEATER FANS

Fable & Lark: Storied Adventures, which specializes in interactive museum tours inspired by great stories, is releasing its first post-pandemic tour, Staged: The Museum Tour for People who Love Theater. Staged looks at the development of theater through the lens of artwork in the Metropolitan Museum of Art, from early Greek statues of actors to depictions of stories that inspired Broadway musicals. Interspersed with activities and questions about theater, the tour takes participants across the museum and across cultures to see the ways artists have worked the theme of theater into their creations for thousands of years. Participants should bring their T (theater) game, and maybe even be prepared to do a little acting, because, after all, all the world's a stage. Sundays at 11am.
THE SECRET SIDE OF ELLIS ISLAND

hodgepodge brigade/Flickr
Get a behind-the-scenes look at the unrestored Ellis Island Immigrant Hospital Complex. This gateway to America for millions of people is accessible again via City Statue Cruises—the only ride to Ellis Island and the Statue of Liberty. (If you opt for the Hard Hat Tour Ticket and its 90-minute guided tour of the hidden part of Ellis Island you'll get round-trip ferry service and audio Tours of Liberty and Ellis Islands.) The art exhibition "Unframed—Ellis Island," by renowned French artist JR, is on display throughout the hospital complex. Tours run on Saturdays and Sundays.
HAVE A QUESTION ABOUT THE CITY?

City Guide brings you "Everything to Do NYC," a community of people helping each other get everything we can from the city. Looking for a restaurant? Ask ETD. Want to share a great find? Let us know about it. It's your go-to group for how to get everything you can from everything in New York. facebook.com/groups/everythingtodonyc
TALKS, LECTURES, AND EVENTS
Thought Gallery has hundreds of livestream talks, lectures, performances, and more. Check out sessions with celebs, live concerts, and opportunities to learn the latest on everything from science to philosophy to social justice.
NEW YORK'S ACTIVITY AUTHORITY
Get editors' curated recommendations and have more fun:
Get this week's best activities delivered to your email box

Discover the most fun on Instagram
E

VERYTHING TO DO NYC
​
Want free advice on what to do and see in New York? Join our Facebook Group Everything to Do NYC, a place for people to ask questions and get tips on how to make the most of the city.
COMING ATTRACTIONS:

APRIL FOOLS COMEDY FESTIVAL
Don't miss a lineup of the country's best comedians including Sommore, Bruce Bruce, Lavell Crawford, Arnez J, Talent the Comedian, and Ray Dejon for a laugh-filled April Fools night. Action begins Saturday, April 1st at 8:30pm at the Hulu Theatre at Madison Square Garden. Tickets for the April Fools Comedy Festival can be purchased here.