See NYC from above the turmoil of its streets. Helicopter Flight Services offers tours that include the Statue of Liberty, NY Harbor, the Chrysler Building, Central Park, Columbia University, the George Washington Bridge, Yankee Stadium, and the Financial Center. They also offer customized tours of the city & hourly rates. For reservations and more info call 212-355-0801. Night tours also available; call or email [email protected].
HELICOPTER FLIGHT SERVICES TOURS
The New Yorker Tour - Approx. 15 Minute Tour. $194 per person. All aboard for a fantastic bird's-eye view of the magic isle of Manhattan. Experience the beauty of Central Park, the Hudson River, New York Harbor, and Intrepid. Marvel at the splendor of Rockefeller Center, plus the Empire State, Chrysler, Met Life buildings and the World Financial Center. Delight in flying by the historical richness of the Statue of Liberty, Ellis Island, Greenwich Village, South Street Seaport, and the 150-year-old Brooklyn Bridge. All this and more of the dramatic New York skyline makes this tour a best seller and a must for any visitor.
The Ultimate Tour - Approx. 20 Minute Tour. $244 per person. This tour of the Big Apple gives you all that is promised for THE NEW YORKER tour plus a generous bundle of extras. Seated in comfort, take in an extended harbor excursion that includes a distant view of the magnificent Verrazano Bridge and Governors Island. Then, cruising up the Hudson River, behold the man-made miracle of the George Washington Bridge and nature's miraculous New Jersey Palisades. Landmarks such as Yankee Stadium, the Cathedral of St. John the Divine and Columbia University will be yours for the looking. You will see from above, the Harlem that you have read and heard so much about. All the sights of the New Yorker tour, including the above, makes this tour an award winner and ranked #1.
The Deluxe Tour - Approx. 30 Minute Tour - $334 per person. Min 4 passengers. Why not go for the best? Experience a luxurious new perspective on this incomparable city by flying not only around the island, but actually above sites like the Time-Warner building, Times Square, Central Park, Fifth Avenue and Broadway. We will take you up close to the Empire State Building, Chrysler Building, show you the United Nations Building with the incredible city skyline as a backdrop. This, including our ULTIMATE tour, is your ticket to New York City's most extravagant and exhilarating city sightseeing and photo opportunity. It will be an everlasting memory for you and your family.
HELICOPTER FLIGHT SERVICES VIDEO
HELICOPTER FLIGHT SERVICES ACCOLADES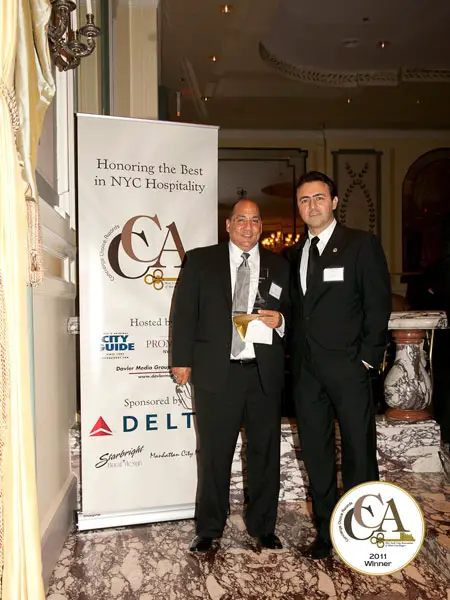 2011 Concierge Choice Award Winner - Best Tourist Transportation
*4.5 Stars on TripAdvisor & 2014 Certificate of Excellence